Kim Kardashian Pokes Fun At 'Long Handed' Kendall Jenner Following Her Photoshop Failure In New Bikini Pictures-READ BELOW
Kendall was also caught editing the photos she posted on February 11 and which featured her bent down at the knees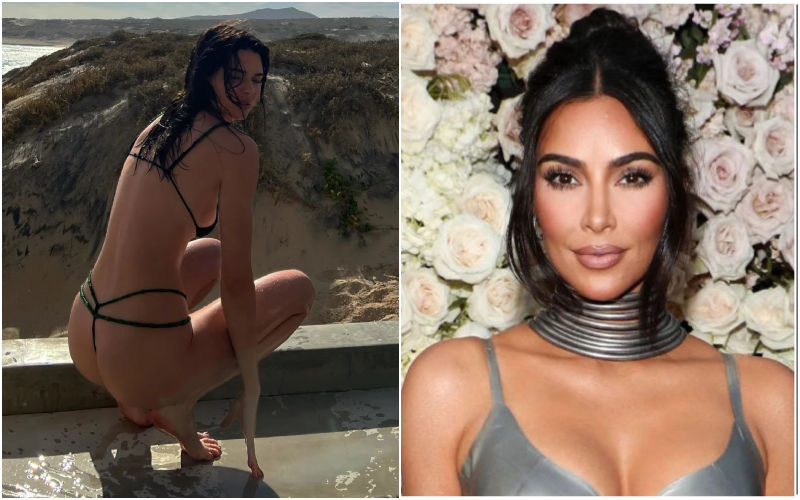 Kim Kardashian has poked fun at her sister Kendall Jenner's recent photoshop fail where she posed in a sexy bikini, however, it was her hands which looked bizarre and out of proportion. The reality TV star's hands appeared extra-long and flat.

In the recent pictures, Kendall played photographer for the SKIMS founder's new set of photos wearing a tiny white bikini, which she posted to Instagram on Friday, February 24. In the caption, Kim mockingly wrote, "Long handed @kendalljenner on the lens."
Kendall was also caught editing the photos she posted on February 11 and which featured her bent down at the knees. She touched the ground with her right hand and showed off her thong bikini-clad backside.
Below her wrist, Kendall's hand appeared to have been a foot long with narrow fingers that appear to be blending into one appendage.
Fans instantly stormed the comments section and shared their reactions to the latest photo editing failure. "What up with that hand tho?" one fan asked in the comments, which received more than 9,300 likes from fellow followers. "Who's here for the hand?" another user wrote with a laughing emoji. "Breaking: Kendall has been cast as the new Freddy in the reboot of Nightmare on Elm Street," one person joked about her extra-long fingers. "I hope you are okay. Did someone slam the door and was your hand between it?" another fan asked about how flat it looked.
The latest photoshop fail grabbed the followers' attention from the rest of the images in the post. She shared a photo in a neon green bikini, and a picture and video dancing on the beach in a skin-tight orange dress.
Image Source: Instagram