Kim Kardashian's Daughter North West Lands In Trouble For Going Live On TikTok, Gives Fans A Tour Of Their Family's House!
North West received a telling off from her mother Kim Kardashian on Sunday after she gave a live tour of their house without permission.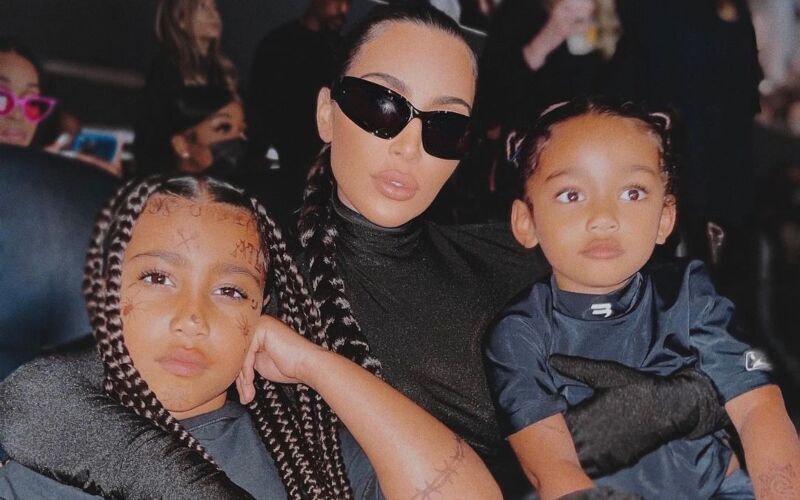 Kardashian's enjoy a huge fan following on the internet. Surprisingly, Kim Kardashian's eight-year-old daughter North West is also admired by her fans. However, the young social media sensation got in trouble after she went live on Twitter.

North received a telling off on Sunday after she gave a live tour of their house without permission.
On the festive occasion of Thanksgiving this year, Kim Kardashian gave a major surprise to her fans, as she launched her TikTok Channel. Interestingly, the account is being shared by the SKIMS founder along with her daughter North West. The reality star and the eldest of her four children have garnered more than 2.1 million followers and counting.
However, introducing the eight-year-old to Tiktok does not seem to be going well. North, in her latest Tiktok video, featured a tour of the family's posh Hidden Hills mansion that's decked out in Christmas decorations.
In the video, she roams in what appears to be her own bedroom, which featured an all-pink theme in stark contrast to the minimalist theme of the rest of the home.
While narrating her walk, and chatting to other children at the house, including her brothers and sister, North announces 'lets go downstairs we have rented this Sing thing,' in a reference to decorations and arts and crafts all related to the new animated sequel film, Sing 2.
Later in the video, North followed up with a quick 11-second clip where she confessed to being going live on TikTok to her mother. "Mom, I'm live," she tells her mom with mischievous laughs while walking with the camera in a bedroom, seemingly her mother's.
However, that did not seem to go well with the SKIMS founder and she can be heard responding to her daughter: "No stop, you know you're not allowed too."
It seems Kim was pissed at North sensing she may have crossed the line with her mother, North shoots back, "Okay bye," and signs off of the live feed, but not before Kim K is heard saying, "Is she really going live?" to an unknown female voice that answers, "I don't know."
"North went live on Tiktok and Kim had no idea. And this was after she gave a full house tour. I hope Kim doesn't mind this because I have never seen her more relatable than this! I feel like we are getting to see the Kardashians from a new lens and I think it will only impact them positively. As long as North doesn't expose any family secrets."
Image Source: Instagram/kimkardashian