Kourtney Kardashian Looks Totally UNRECOGNIZABLE With Her Massive Lips And Freckles In Selfie, Fans Wornder If Its Filter Or Surgery-SEE PIC!
Kourtney Kardashian shared a video on her Instagram Story wherein she was seen using a filter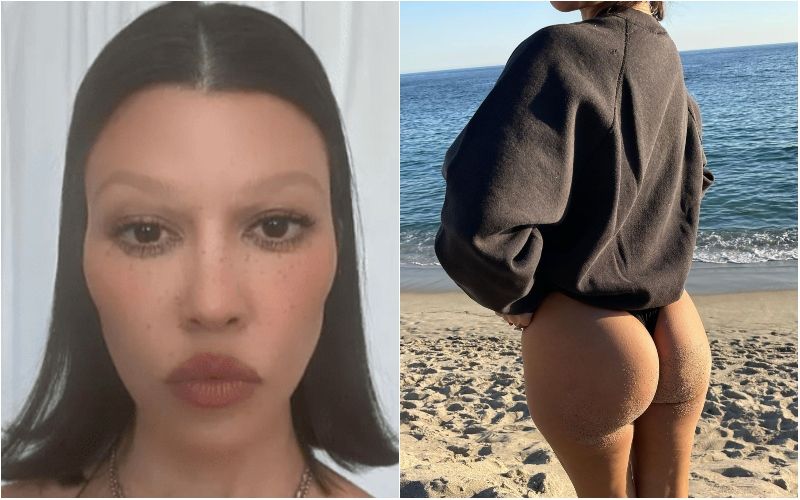 Lately, the Kardashains and Jenners have been receiving a lot of flak for their altered physical appearance done via implants.

Now, according to the latest reports, reality star Kourtney Kardashian turned out to the latest target for the trolls as many noticed that she looks fairly different in her latest snaps. The Keeping Up with the Kardashians alum faced brutal trolls as she shared a selfie on her Instagram Story where fans and followers noticed larger lips and some freckles.
The selfie was shared by Kourtney on Tuesday, June 21, and it also showed blush on her cheeks. However, it is yet to be confirmed if the transition is a result of makeup or filter.
Earlier on the same day, Kourtney even shared a video on her Instagram Story wherein she was seen using a filter, and her look appeared to have comprised of heavy makeup with light eyes.
Well, the recent video has caused a stir on internet and several specualted that the mother of three had underwent surgery. While many social media users believe her to be pregnant, some opined that she may have altered her physical appearance.
This isn't the first time when the Kardashian had to face rumours of undergoing the knife. Meanwhile, fans have took the discussion to Reddit to learn each other's opinion.

"Kourtney's butt before and after - figured I'd do a Kollage. I think she had Sculptra starting in 2017. She looks great, just saying I think there's been some enhancements," a post reads.

Another user replied, "I'm not saying she hasn't had any work done, but it's hard to tell from these pictures. In each comparison, the smaller butt picture is her wearing something low-waisted. And in the other pics she's in something high waisted. Low waisted stuff defi creates an early-00s pancake butt and high waisted stuff will give your butt a fuller look."
Another added, "Also I wouldn't compare photos where she's wearing heels to when she's wearing flats. Heels give a butt lifting look anyway." An alternative opinion was, "No, look at the under butt or the lower glutes. They look lifted now, more perky. It could be exercise. Pilates and yoga will help you lift your butt. It could be something else. The butt looks more shapely and toned. Almost rock hard."
Lately, she has been posting some cheeky butt snaps and fans also speclated surgery. Sculptra butt lift "uses a dermal filler injection to stimulate collagen production in the deeper layers of your skin," according to Healthline.
Image Source: Instagram