Kylie Jenner Gets 'Extremely Close' To BFF Anastasia 'Stassie' Karanikolaou! 'Licks Neck' And 'Pretends To Kiss' Her During Holiday Party-WATCH
Kylie Jenner and her best friend Anastasia "Stassie" Karanikolaou were seen getting 'extremely close' ahead of Christmas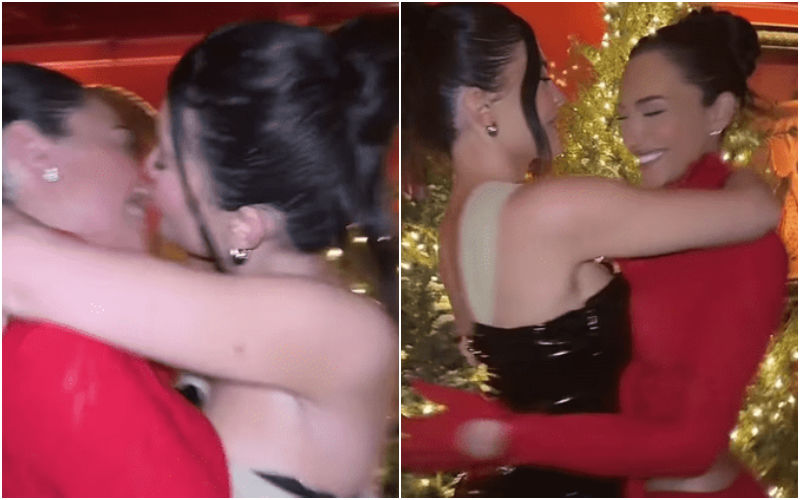 Christmas is just around the corner and the Kardashian-Jenner gang are now gearing up for this festive season. Interestingly, ahead of Christmas, Kylie Jenner and her best friend Anastasia "Stassie" Karanikolaou were seen getting 'extremely close' to the point that the latter was seen licking the former's neck and even pretended to kiss during her holiday party on Saturday, December 17.

Karanikolaou took to her Instagram stories and shared pictures of the event with her 10.9M followers. They were even seen having too much fun as they danced, while playfully hugging and pressing their cheeks together for a tender moment amid rivalry, reported DailyMail.
The video featured the bestfriends flaunting their curves. While Karanikolaou was seen wearing a lacy red skintight top, displaying her abs with a matching pant set and gloves, Kylie was seen sporting a short black PVC skirt dress with a tan strap that came over her left shoulder.
As for the hairdo, they pulled their long hair back in a tight bun and posed with their signature pouts. Kylie donned silver hoops while her BFF accessorized her look with large diamond stud earrings.
In a previous interview, Karanikolaou said, "We know too much about each other. We're stuck with each other forever," as reported by DailyMail. She also spoke about her mother dealing with addiction growing up, and that her friends had been an immense source of support throughout her journey.
"My friends have always been my rock. My friends are my family that I was able to choose," she reportedly said.

Image Source: Instagram