Madhya Pradesh-Based Cop Performs Ajay Devgn's Stunt From Phool Aur Kaante; Gets Slapped With A Fine Of Rs 5000 – VIDEO
A Madhya Pradesh cop gets fined Rs 5000 after a video of him copying Ajay Devgn's daredevil stunt from Phool Aur Kaante goes viral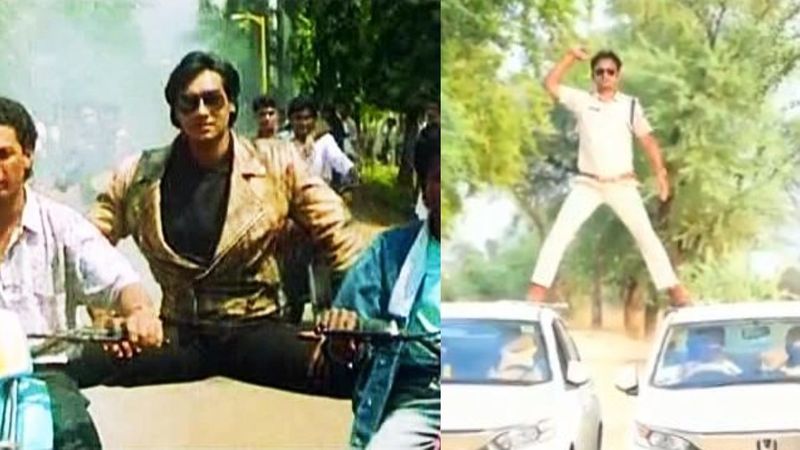 Ajay Devgn's Bollywood career has been synonymous with some daredevil stunts, in mostly all his films. The actor's trademark one, however, remains his entry of standing on the roof of two cars or bike seats. He, in fact, started the trend with his debut film Phool Aur Kaante by arriving on bikes and went onto to carry forward the tradition in the Golmaal franchise and other films. And who knew that more than two decades down the line, a cop in Madhya Pradesh would get into trouble after copying the same. Yes, you read that right!
In a video that has gone viral on social media, we could see a cop, who goes by the name of Manoj Yadav, doing a similar stunt, albeit on cars. The police officer is in charge of Narsinghgarh police station in Madhya Pradesh's Damoh district. The clip sees him balancing himself on the top of two slowly moving cars with his one foot on the left car and the other one on right. Its background music is that of Rohit Shetty's Singham, again an Ajay Devgn film. Manoj's looks, too, were inspired by Singham.
While Manoj looks heroic in the clip, he got into trouble after senior police officials took notice of it. It is being reported that he was fined Rs 5000 and also warned against any such daredevilry in the near future. As per them, it could send a wrong message to the youth and they are likely to follow it and risk their lives.
Check it out:
Reportedly, Anil Sharma, the Inspector General of Sagar range, urged Damoh Superintendent of Police Hemant Chauhan to look into this matter. Soon after the investigation and getting fined, Manoj was warned to not to repeat such actions.
image source: twitte/youtube