Madonna Fans Fail To Recognize Her As She Performs Slow Dance Video Early In Morning; Internet Calls Her 'Queen of Filters'
Madonna has recently been under fire for her extensive use of face-altering filters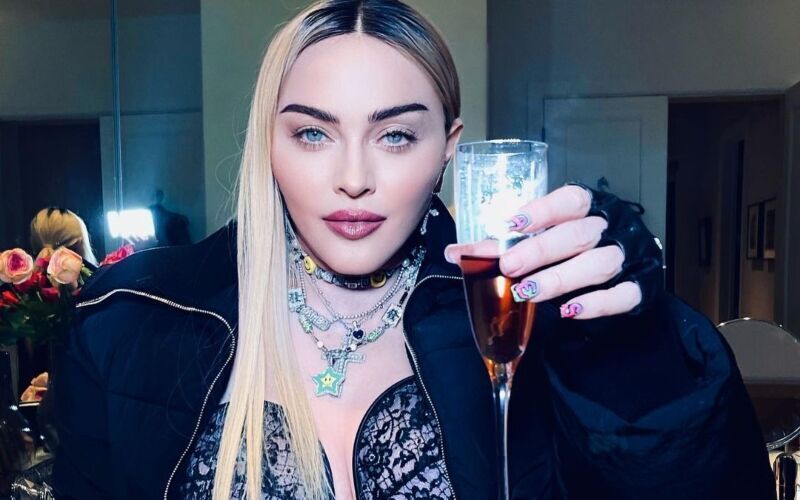 Madonna is quite an avid social media user and she often treats her fans with intriguing clips via Tiktok. The singer recently performed a slow dance for fans in a lace thong and black silk corset, which seemed to be barely there.

Adding heavy silver chains and crucifix necklaces, the Queen of Pop danced to CKay's song Love Nwantiti (Ah Ah Ah) with an expressionless look in her eyes in the TikTok video.
The 63-year-old singer has recently been under fire for her extensive use of face-altering filters, and in her latest clip, she shook her hips from side to side as the camera moved down her body.
However, many of her followers weren't impressed with her latest social media posts.
Many pointed out that she shared the video in the early hours of the morning, while others urged her to tone down the inappropriate content.
"Madonna it's 5 in the morning," one fan remarked. "It's almost 6 am Madonna, What're ye dooin?" another added. "I LOVE Madonna but seriously - what is going on with her lately!?" yet another fan questioned. Some even questioned if Madonna was even in the video just like one person wondered, "I'm so perplexed. Is this the genuine Madonna? Is it someone who paid millions of dollars to appear like Madonna?" "Is this really her?!?" another fan asked.
The Queen of Pop has been under public scrutiny owing to her excessive use of filters, as well as her aesthetic retouching, which was seen in this video, with many dubbing her the Queen of Filters just like one person wrote, "Queen of P[hotosh]op!"
Another pointed out, "Amazing what plastic and photoshop can do ain't it? This filter looks great," another fan joked. She's also been asked to post photos without filters, particularly by fans her age just like one wrote, "Now show unedited pics, Queen."
Image Source: Instagram