Megan Fox Gets BOOB JOB? Internet Says, 'They look painful' As She Flaunts Her CLEAVAGE And BUSTY Assets!
Megan Fox was seen dressed in a glitzy bra, while she wore high-waisted bottoms, knee-high socks and high heels, however, he 'revised' did not seem to do well with the netizens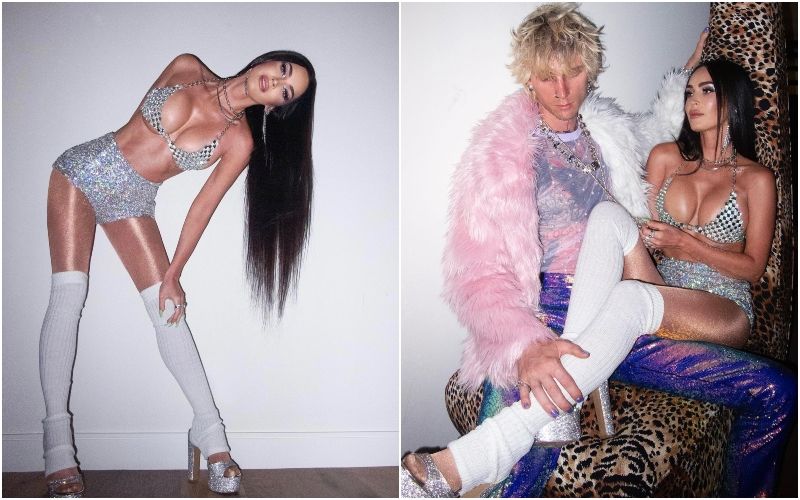 Megan Fox has raised the temperatures on social media as she posted a picture of herself sporting an all-silver ensemble via Instagram. This instantly sparked speculations among fans suggesting that she had done plastic surgery to enhance her appearance.

Dressed in a glitzy bra, Fox wore high-waisted bottoms, knee-high socks and high heels. Fans commented on the 36-year-old model's appearance as it showed off her plenty cleavage and toned abs.
Reacting to the same, a fan commented, "They're new," to which another responded, "glad someone said it because they are very new!👏." A third fan added commented, "She was gone from Instagram for awhile and I was wondering why... now I know. Implant recovery."
Another fan wondered, "New boobs? 👀," while another, not buying the boob job is helping in making her look better, commented, "holy f*****g boob job... girl get your money back those shits look rock hard and don't even fit your chest." Another fan who thought her boob surgery looked painful commented, "Welp, I guess now we know where Megan has been 🙄 😂 they look painful 😬."
Another concerned fan also commented, "Does anyone else think she got augmentation recently? Not judging or anything against it just genuinely wondering. She is beautiful & had perfect 🍈🍈 before, but they do look a bit different now in these pictures I don't think its push-up or an optical illusion." Meanwhile, many of her other admirers praised Fox, calling her "hot" and "perfect."
The latest Instagram post was clicked when Fox attended Beyonce's 41st birthday party, which was held at a mansion in Bel-Air.
Meanwhile, amid all the rumours, another social media post has fueled the speculations suggesting that a "revision" was likely to have occurred this year resulting from Fox's bust-enhancing Instagram posts that sparked suspicions of 'breast implants'.
Image Source: Instagram