Megastar Chiranjeevi Advises Rajinikanth And Kamal Haasan To Stay Out Of Politics, Says 'It's Only About Money'
Sye Raa Narasimha Reddy actor Megastar Chiranjeevi has recently been back to films after being a part of Indian politics. The former politician recently in an interview advises friends Rajinikanth and Kamal Haasan to stay out of politics as it is not worth it and is only about money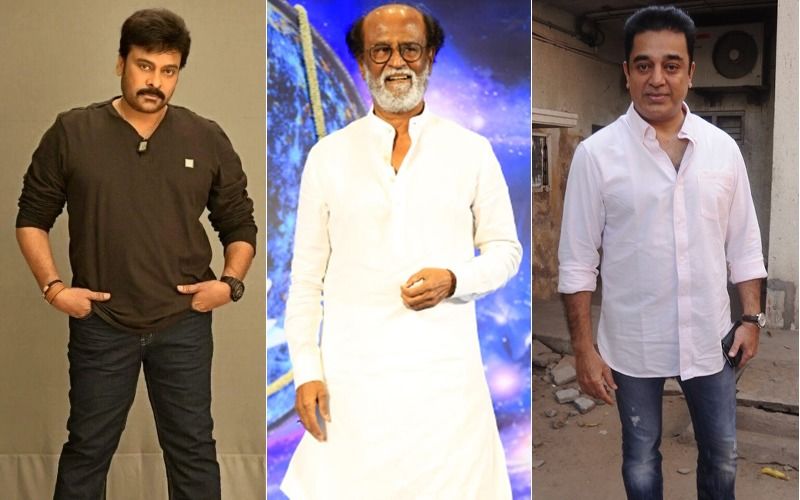 The megastar
Chiranjeevi
has marked his power-packed comeback into films after his long political career with second comeback film Sye Raa Narasimha Reddy. As the actor is busy promoting his upcoming period-drama film, Chiranjeevi has charmed the audiences with his power-packed performances in the film's trailer. With the excitement among the fans about the upcoming high-octane action film, during one such promotional stint, Megastar Chiranjeevi shared a piece of advice for his friends Rajinikanth and Kamal Haasan. The megastar said in an interview advising his friends Rajinikanth and Kamal Haasan to stay out of politics as it is not worth it and is based only about money.
Chiranjeevi had thrilled his fans with his performance in the
trailer of the film Sye Raa Narasimha Reddy
where the actor plays the role of the freedom fighter Narasimha Reddy. With the film releasing soon, the megastar is busy promoting his upcoming freedom struggle flick. In a recent interview with Tamil magazine Ananda Vikatan, the megastar advised friends Rajinikanth and Kamal Haasan to keep away from politics. During the interview with the magazine, the megastar was questioned about his views on the political entry of Rajinikanth and Kamal Haasan. Chiranjeevi had a befitting reply to the question and advised the stars to not enter into politics. Explaining the reason, the megastar said it's not worth it and added about being stressed on the fact that politics is all about money. Adding about thinking Kamal Haasan would win the elections this time, the megastar said that politics is not for people who are very sensitive and gave Rajinikanth and Kamal Haasan a piece of advice to not enter politics. Chiranjeevi also added that if one can handle defeats and setbacks and want to do good for the people, then you can enter into politics and expressed how maybe things can change someday.
The Megastar then went on to reveal the harsh truths in politics, he added that even though the people inside it are genuine and want to accomplish a good deed, they would not be able to. Explaining in detail, Chiranjeevi recalled his experience in politics and mentioned about the problems he faces. He added that when he entered politics he was the number 1 superstar and left everything behind to join politics. But added that he eventually was defeated by their own constituency as a rival of his spent crores of money to defeat him. The actor also mentioned how the same happened to another politician Pawan Kalyan as well.
While Megastar Chiranjeevi shared his political experience, actor Kamal Haasan contested in 37 constituencies in the recently held Lok Sabha Elections.
In the meantime, Megastar Chiranjeevi's film Sye Raa Narasimha Reddy is set to hit theatres on October 2 this year and revolves around the story of Uyyalawada Narasimha Reddy who started the first-ever rebellion against the British East India Company.
Image source: chennai365,imagz,twitter/lakkojurajeswa1