Melania Angrily Pulls Her Hand From Donald Trump's Grip, Twitter Screams Hand-Gate - VIDEO
Not all's well between Donald Trump and first lady Melania Trump. At least that's what one can derive from their latest video. As they attended the start of the College Football Playoff National Championship, a video of Melania angrily pulling her hand away from Trump's has made it to the internet. People are laughing hard on it calling it a 'Hand-gate'.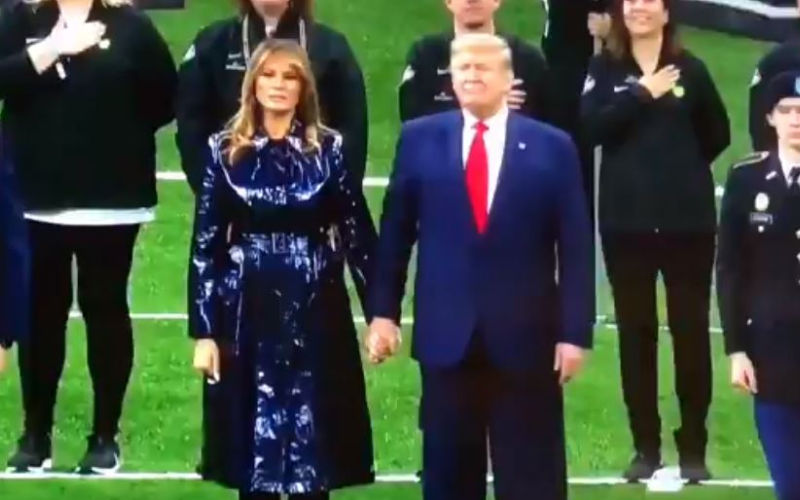 Twitter has found another subject to laugh about today. It is
Donald Trump
and first lady Melania Trump who are calling for a lot of attention. Thanks to their video from the College Football Playoff National Championship. The two attended the inauguration ceremony of this championship in New Orleans. They were there to watch the game between Louisiana State University and Clemson. While they stood up for the national anthem, Melania was caught pulling her hand off from Trump's grip. This led to people trolling both.
Melania and Donald are making people laugh. A user shared the video and wrote, "Not that I have any sympathy for her, but same, Melania. Same." Some were confused as to who let go of whose hand? Was it Melania who forcefully pulled back her hand, or Trump who just let go off her. A user wrote, "Ok watched it X10 Did he push her hand or did she yank it ?" Another wrote, "They probably don't speak when they not in public lol RT @SamZComedy: Yo trump threw Melania's hand so hard wth is wrong with him? #LSUvsCLEM." Another user wrote, "I saw it live. She snatched that hand back & trump did the patented "let me adjust my tie & jacket thing & pretend nothing happened" move."
(Also Read
:
Thanos' Creator Is Miffed Over Donald Trump's Avengers: Endgame Re-Election AD; Calls Him A 'Pompous Fool')
Ok watched it X10

Did he push her hand or did she yank it ?

— 💚🎶 DutyFree (@GabareeSuzanne) January 14, 2020
Bets are on that once Trump is out of office, Melania will "get her own space" and a hefty support settlement that will include a "non- disclosure" clause.

— Sara Williams (@SaraXR2016) January 14, 2020
Well, this is not the first time that Donald Trump and Melania have made it to the headlines for their hand sweep stint. In the past, there have been occasions when the two have been caught in awkward spaces.
Image Source: Twitter/
briantylercohen