Mia Khalifa Goes Braless! Ex-Pornhub Star Looks Irresistible As She Lounges By The Pool In The NEW Saucy Video Promoting Her Controversial Brand-WATCH
Mia Khalifa, in the new video, can be seen relaxing while she basked in the sun with an ice lolly and a copy of the newspaper "Sheytan World"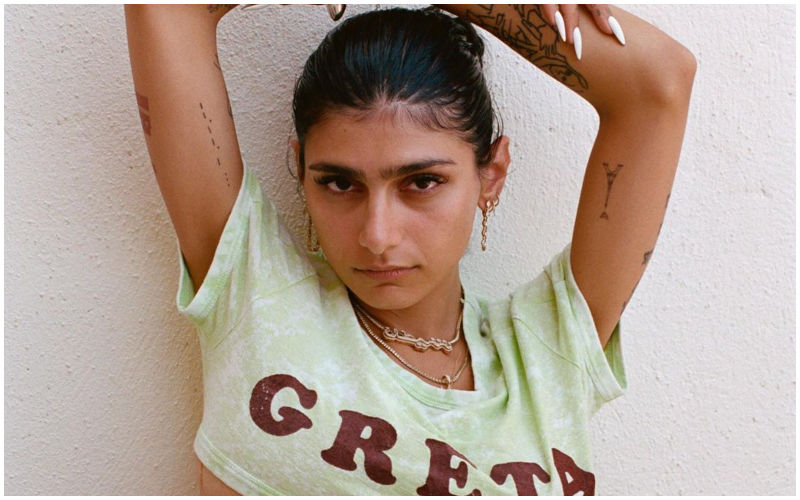 Mia Khalifa has once again left the internet in a total meltdown and fans cannot stop drooling over her hot looks. The former Pornhub Queen left everyone speechless as she relaxed by the pool in a risque video promoting her controversial new brand - Sheytan.

The Lebanese-American influencer took to Instagram with a clip promoting her "body jewellery" line.
The video begins with Mia, 30, walking through her home carrying a newspaper and a beach towel. The clip cuts to Mia lounging by the pool wearing only a bikini thong, a baseball cap and a pair of headphones and obviously some Sheytan Jewellery.
The social media influencer relaxed while basking in the sun with an ice lolly and a copy of the newspaper "Sheytan World". The headline of the broadsheet paper reads: "Can you keep a secret?"
Other articles on the front page are titled: "Magnificent beautiful rose in bloom" and "Existence to be unapologetic".
Mia tried to hide her busty assets with the newspaper, but the racy sights left no room for imagination. Later in the video, Mia heads for the pool - discarding both her headphones and her bikini bottoms, though not her Sheytan ankle bracelets. She dives into the shallow pool before turning to face the camera.
The video comes shortly after the trolls took a hit at the ex-pornstar for the name of the new jewellery brand. Things spiralled out of hand and a number of people did not seem impressed by the name that translates to "devil" in her native language, Arabic.
To note Mia's latest post appears to be a satirical take on the backlash she has received and she refuses to let her big moment be marred by hate from trolls and instead laughed at them for "losing their minds."
Donning a bright pink robe, she looked unbothered as she hit back at people scolding her name choice.
Sharing the video, Mia simply wrote: "dropping just in time for the weekend 🙃….available now at @sheytan.world ❤️‍🔥."
Image Source: Instagram