Mia Khalifa Goes Shirtless In Saucy Snaps, Skips Bottoms For Her Holiday In NYC! Fans Praise Her Naughty Sense Of Humour! Quips 'T****s Are Out'
Mia Khalifa once again sent the internet into overdrive with her latest tweet and her followers flocked to the comments section, where they shared their reactions to the funny comment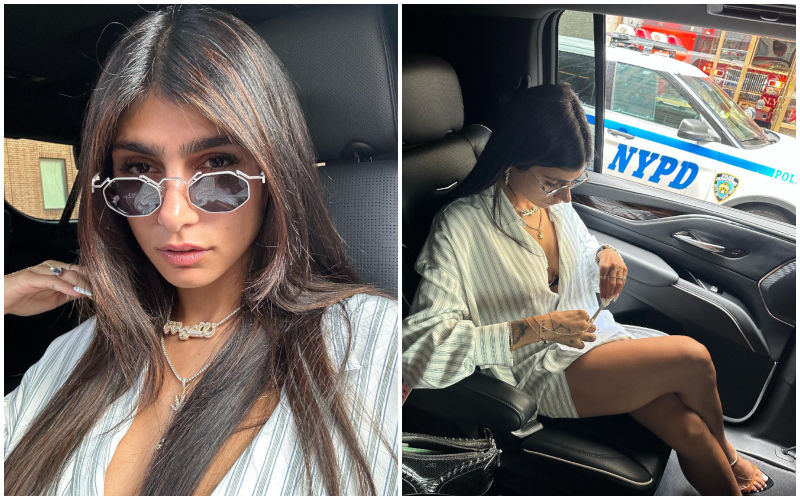 Mia Khalifa has once again impressed the internet with her 'witty humour' as she took to her social media handle and shared a slew of stunning snaps from her her holiday in New York City.

The former Lebanese-American adult film star took to her Twitter handle on July 31 and uploaded several pictures from her holiday in New York City while teasing, "titties are out". In one picture, Mia appeared topless while giving a smouldering look to the camera as she took a quirky selfie in the car while donning a pair of chic fun sunglasses.
Meanwhile, a second snap saw the glamorous model donning an oversized shirt as she's seen wearing several pieces of dainty silver jewellery.
Another snap captured New York's stunning skyline as Mia recently took a fun-fuelled trip to the Big Apple.
Well, despite her foxy looks and cheeky pics, it was her witty caption that caught her fans by surprise and she had them rolling on the floors with her caption: "Don't say my car's topless, say the titties is out."
Mia once again sent the internet into overdrive with her latest tweet and her followers flocked to the comments section, where they shared their reactions to the funny comment.
One admirer penned, "Oh, you do make me laugh, Mia, keep it coming." A second commented, "You're the real deal, and your humour is hilarious." A third person chimed in, adding: "You play too much, Mia, haha, but we love it."
Mia's recent snaps come after she left her internet into a meltdown with a cheeky trip to Walmart – but it was her choice of outfit that interested her followers.
Interestingly, Mia often treats her fans with steady online content across multiple platforms, but this latest update came via TikTok.
Image Source: Instagram