Mia Khalifa Raises Temperature As She Seductively Poses For New SULTRY Pictures In Green Monokini-WATCH
Mia Khalifa flaunted her iconic curves and priceless assets in the latest jaw-dropping pictures and the new series of images has tickled the internet with passion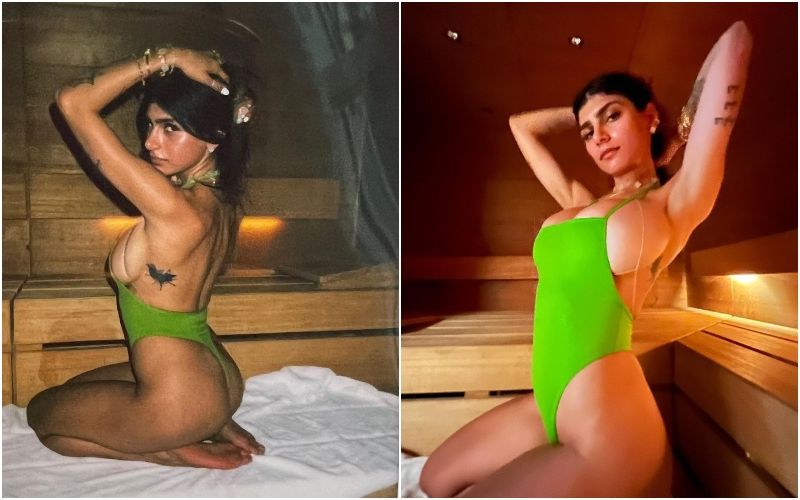 Former porn legend and activist Mia Khalifa leaves no stone unturned to wow her fans on Instagram. She has once again raised the oomph factor as she posed in a green monokini.

Mia who excels in the art of seduction has once again managed to raise the temperatures on social media with her sizzling hot pictures with rather sultry poses. The new series of images has tickled the internet with passion. Mia flaunted her iconic curves and priceless assets in the latest jaw-dropping pictures.
Taking to Instagram, Mia shared the pictures as she wrote, "My new passport photo options came back."
Well, it was obvious, that the latest post would get a thunderous response and; fans, and celebrities cannot stop showering love over the latest pictures. Reacting to the post, a few celebrities wrote, "this color green… where has it been my whole life", "Haha definitely 1! 🔥💚🔥", "the last one wow".
Meanwhile, fans and admirers flocked the comments section as a few wrote, "This is Your top post🤗⭐", "Sexcy 🥵", "Plаy with mе bаby💜🍭" and more. Some even applauded her with comments like Gorgeous, Queen, Hotty, Sexy and more.
However, a user quipped, "Who is your best rapper right now? 🙄🤔". Well, the strange comment comes after her heartbreaking break-up with rapper Jhay Cortez, and it definitely wasn't a cordial one.
Recently, Khalifa broke up with her rapper boyfriend Jhay Cortez and posted a cryptic message about "God's toughest battles" while on a solo trip to New York.
The 29-year-old OnlyFans star shared a post from the luxury restaurant Atera NYC, showing her gorging on gourmet food and wine, and posing in the hallway of the swanky establishment. "'God gives his toughest battles to his strongest soldiers'", she wrote, before adding "and the battle is serving looks on solo trips with only a self timer".
She and Cortez had been in a seemingly loved-up relationship for the best part of a year, but the couple reportedly split earlier this month.
Image Source: Instagram