Mia Khalifa Shares Seductive Eye-popping Images From Her New Photoshoot; Ex-Porn Star Flaunts Her Designer Bra And See-through Lingerie The Sexy Way-PIC INSIDE
Mia Khalifa has once again charmed her fans as she tried her best to contain her busty assets with her crimson designer bra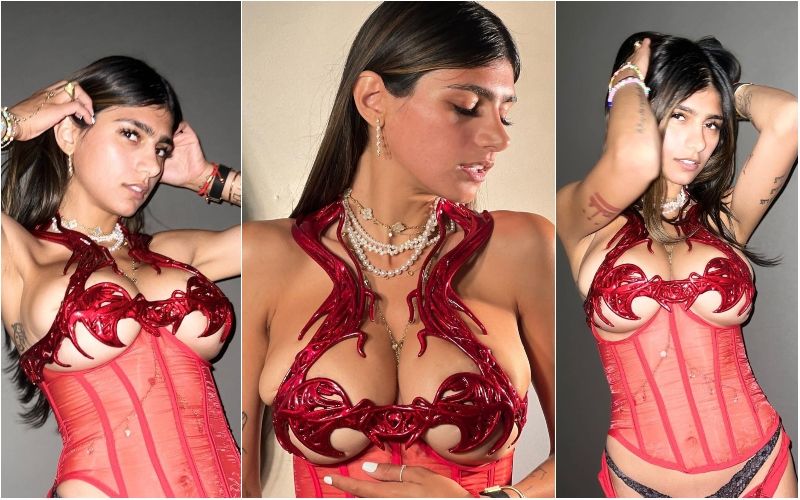 Ex-porn queen Mia Khalifa has once again taken over the internet as she dropped a series of pictures from her latest lingerie photoshoot and we cannot get enough of them. The former pornhub legend left the temperatures soaring on social media with her sultry outfit and seductive poses.

Mia has once again charmed her fans as she tried her best to contain her busty assets with her crimson designer bra. She also posed in her ultra hot see-through lingerie, we hope you are not drooling already.
Sharing the pictures she wrote, "Me: "omg we need to do a sick shoot to premier this commission!!" Also me .5 seconds after getting in the car: *photo dump* @nusi_quero you're a prism of creativity ❤️‍🔥"
Apart from sharing her hot pictures in sultry outfits, Mia is an avid social media user and she often shares engaging tweets via her Twitter handle. Now, she has again turned heads by revealing the "sluttiest thing a man can do" in a raunchy late-night tweet.
The sluttiest thing a man can do is wear a thin gold chain

— Mia K. (@miakhalifa) August 8, 2022
The tongue-in-cheek comment attracted almost 3,000 likes, and plenty of comments from fans rushing to grab the ex-Pornhub star's attention. "The sluttiest thing a man can do is wear a thin gold chain," wrote the porn phenomenon and OnlyFans star.
It was her version of a viral tweet template where users say "the sluttiest thing a person can do is" before adding something they find attractive.
Image Source: Instagram