Miley Cyrus' Plane Struck By Lightning, Singer's Step-sister Says, 'We Almost Died'-DETAILS BELOW
Brandi Cyrus gave an update about a recent scary incident wherein Miley Cyrus' plane was struck by lightening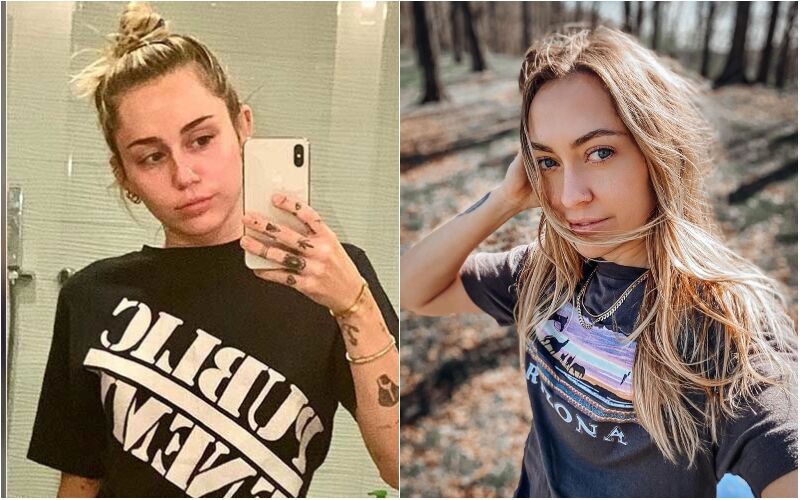 Miley Cyrus' plane was forced to make an emergency landing following the horrifying incident that conspired against her recently. The singer's private jet - while on her way to Paraguy on Tuesday, March 22 - was struck by lightning. In a brief video of the incident shared by the singer on her Instagram page, passengers could be heard gasping in shock as the fuselage was illuminated by lightning after being struck.

Shortly after the incident, Miley took to Instagram to assure her fans that she was safe. "To my fans and everyone worried after hearing about my flight to Asunción. Our plane was caught in a major unexpected storm and struck by lightning," Cyrus wrote. "My crew, band, friends and family who were all traveling with me are safe after an emergency landing. We were unfortunately unable to fly into Paraguay."
Now, we have an update from the singer's step-sister, Brandi Cyrus who was on board at the time, the unfortunate incident took place. Taking to her Instagram handle, Brandi posted an Insta story wherein she can be heard saying, "I'm going to try to not be dramatic but we almost died. Bottom's up!" while tipping back a glass that appeared to contain an alcoholic beverage to calm her nerves.
Meanwhile, Brandi's friend, Val Pina - a marketing, creative and communications consultant was also travelling in Cyrus' Gulfstream G450.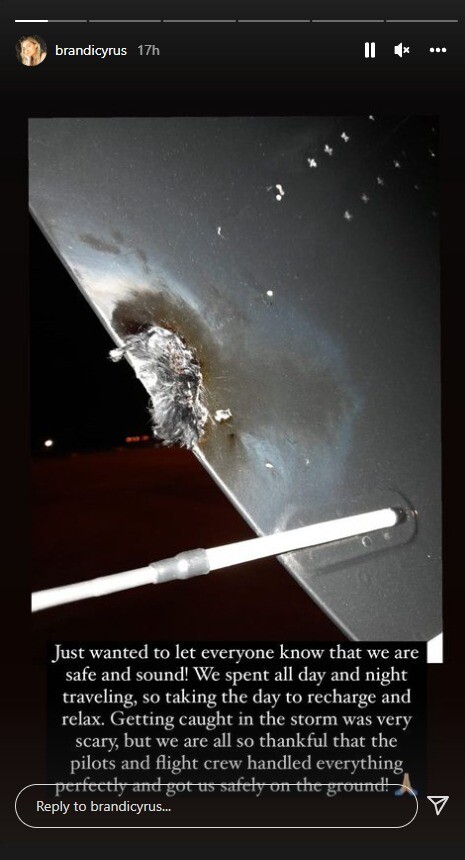 Val shared her take on the scary incident and said, "Literally almost died", in one of Brandi's Instagram Stories. "We just landed in I don't even know where, 200 miles away from where we're supposed to land and because lightning struck the plane so bottoms up!," added Brandi. To which Val said, "Cheers", before bumping drinks.
Cyrus, whose net worth is estimated to be at $160 million, is currently travelling throughout South America for her 'Attention' tour. The 29-year-old singer and her entourage made the emergency landing after being caught in a violent storm while travelling from Bogota, Colombia, to the Paraguayan capital city of Asunción.
Cyrus was scheduled to play a festival there - a date she had to cancel as a result of the incident.
Image Source: Instagram