Miley Cyrus' TEARFUL Tribute To Foo Fighters Drummer Taylor Hawkins, Dedicates 'Angels Like You' At Lollapalooza Brazil-WATCH
Miley Cyrus remembered the Foo Fighters drummer at her recent concert at Lollapalooza Brazil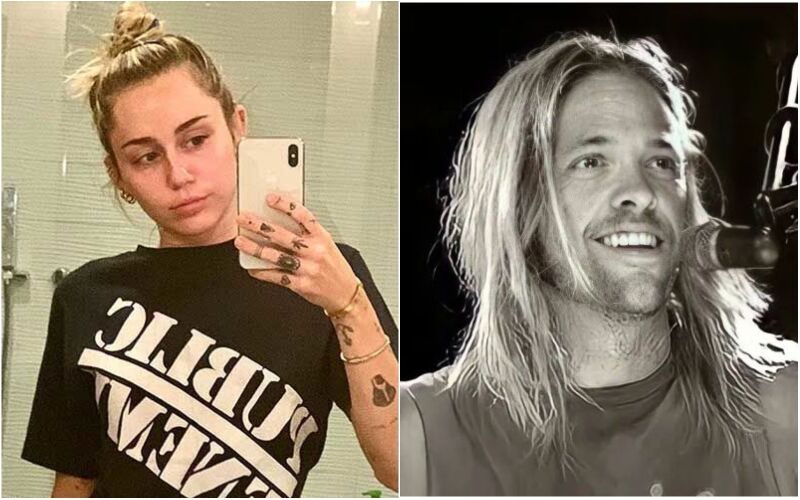 Pop icon Miley Cyrus got emotional during a memorial performance honouring her late friend Taylor Hawkins at Lollapalooza Brazil on Saturday, March 26.

The 'Wrecking Ball' singer remembered the Foo Fighters drummer and said, "We had to make this emergency landing and the first person that I called was Taylor because he was already at the festival." Cyrus continued in honour of Hawkins, "That would've been a time that I would've gone to see my friend, and I didn't, so it makes me really sad. I would've done anything to hang out with him one more time."
Desde el momento en que #Fiscalía conoció hechos por muerte del ciudadano extranjero Taylor Hawkins, baterista de banda Foo Fighters, quien se hospedaba en hotel en norte de Bogotá, se destacó equipo de fiscales e investigadores para atender actos urgentes y apoyar investigación.

— Fiscalía Colombia (@FiscaliaCol) March 26, 2022
Recently, as per a Page Six report, Miley Cyrus' jet was forced to make an emergency landing. The singer was scheduled to perform on Day 2 of the Asunciónico festival in Paraguay, but her trip was cancelled owing to safety reasons.
Cyrus wrote on social media, "To my fans and everyone worried after hearing about my flight to Asunción. Our plane was caught in a major unexpected storm and struck by lightning."
Hawkins, the Foo Fighter drummer died in Colombia on Friday, March 25, as per a statement released by the band.
I am just feeling heart broken & "human" today…. But I am putting on my super hero suit and going to be strong not only for YOU but for ME! I want to live my truth AND MY MESSAGE! Never give up!

— Miley Cyrus (@MileyCyrus) March 26, 2022
In a press release issued on Saturday, March 26, Colombia's District Secretary of Health revealed that the drummer, 50, died in the town of Chapinero after experiencing chest symptoms at his hotel.
According to the reports which have been translated into English, "The city's Emergency and Emergency Regulatory Center received a report about a patient with chest pain in a hotel located north of the city. An ambulance was dispatched to attend to the case."
Hawkins was attended to by a health expert who conducted 'resuscitation maneuvers', according to the report.
"However, there was no response and the patient was declared deceased," the release added. The statement remarked, "The District Secretary of Health mourns the death of this talented musician and drummer, widely recognized internationally for his work. In addition, the entity sends its message of condolences to the family, colleagues, and followers."
Image Source: Instagram