Millie Bobby Brown Sizzles In A New Look With Her Blonde Hair As She Celebrates Her 18th Birthday With Boyfriend Jacob Bongiovi!
Millie Bobby Brown looked absolute chic as she wore a vintage tapestry style corset worn over a white slip dress.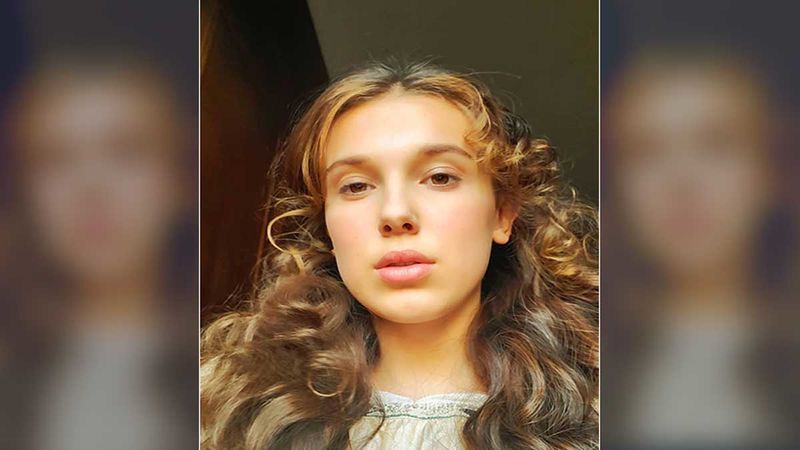 Actor Millie Bobby Brown had all eyes on her as she sported a completely new look on Saturday night, February 19, as she celebrated her 18th birthday with her boyfriend Jacob Bongiovi and other pals.

The 'Stranger Things' actress marked her milestone birthday by rocking a platinum blonde wig and a vintage corset dress while heading to London's Cirque Le Soir nightclub. The birthday girl appeared happy as she held on to her boyfriend - the 19-year-old son of rocker Jon Bon Jovi - as they walked inside the club and later moved to the Windmill Club.
The actress looked absolute chic as she wore a vintage tapestry style corset worn over a white slip dress and accessorized her look with an embellished handbag and towering orange heels as she took her beau's support as they walked together.
Brown completed the look with long blonde locks and highlighted her features with glam make-up. Meanwhile, Bongiovi rocked a matching platinum wig and wore a patterned black and gold shirt, which he paired with maroon leather trousers and black loafers, the Daily Mail reported.
The actress was seen in high spirits as her posse of around 15 friends, including Bongiovi, visited the circus-themed club at about midnight.
The group was greeted by manager Tom Eulenberg, who ushered them inside. After spending around two hours at the establishment, they moved to Soho's Windmill club and eventually ended the night at around 3 am.
Meanwhile, the couple's recent outing comes months after Brown made her relationship with Bongiovi official on Instagram, sharing a sweet photo of the pair on the London Eye.
Brown had her arms wrapped her Bongiovi's neck as he planted a kiss on her cheek. At the time, Brown wore a brown and white striped shirt and denim jeans, while Bongiovi sported a patterned sweatshirt and black textured trousers.
Image Source: Instagram/Millie Bobby Brown