Miss Universe Philippines Michelle Dee Comes Out As Bisexual: CONFIRMS Her Sexuality As She Says 'I've Been A Loud And Proud Ally'
Michelle Marquez Dee put an end to all the speculations around her sexuality and revealed that she is bisexual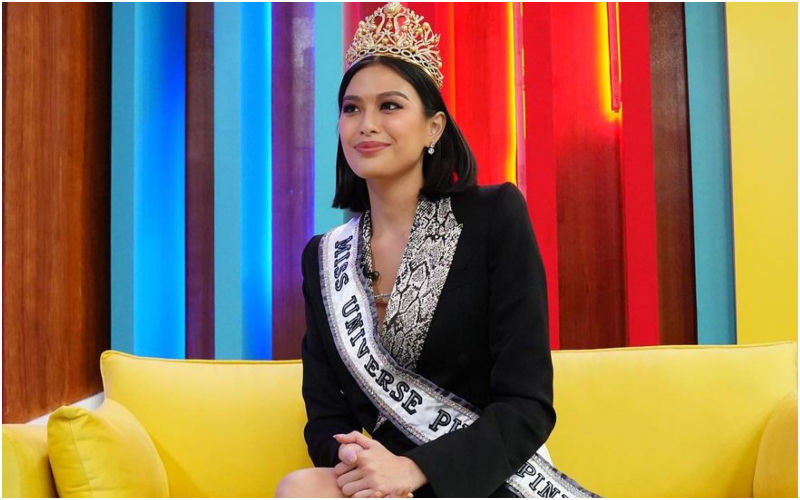 Miss Universe Philippines 2023 Michelle Marquez Dee decorated the headlines after pictures of the beauty pageant winner, showcasing her in cosy positions with other girls on camera, garnered widespread attention on social media. This ultimately sparked curiosity about her sexual orientation among netizens.

Dee put an end to all the speculations and revealed that she is bisexual. "I'm attracted to all forms of beauty, all shapes and sizes," she said.
In a recent interview with MEGA magazine, she offered a "confirmation rather than a revelation" of her gender identity, which she said is an "open secret".
"I definitely identify myself as bisexual. I've identified with that for as long as I can remember," said Michelle Marquez Dee, who will be representing the Philippines at the Miss Universe pageant in El Salvador later this year.
She also spoke about discovering her sexuality as she grew up and revealed that she never had to struggle to accept her identity because of "getting positive feedback" for just being herself.
"I never had to identify myself. I never had to quote, unquote come out. I was never really confronted about it by my parents or people who matter. When I get into a relationship, the first thing I will tell that person is 'Okay, let's get this out of the way.' And then you can decide if you want to date me," Dee said.
Dee also maintained that it was the realisation that she's a public figure which felt challenging for her.
"Although my parents really gave me free reins to self-express, choose my wardrobe, choose everything, I felt that because I had such high-profile parents, I had to conform with societal standards," she admitted. "I understood the responsibility of being the child of that and this. I wanted to make sure that I wasn't hurting anyone else's or my parents' reputation, despite the fact that my parents never told me it was wrong. That struggle ended in maybe high school. It has long passed."
The 28-year-old beauty pageant winner also added that her gender identity is no one's business but hers and that she didn't come out during the pageant as it "wasn't the right time".
"It was never an issue because I felt—and I still feel like—I'm so much more than how I identify myself. I have so much more to offer the world and the universe than how I identify myself. This is also the reason why I chose not to come out despite the pressure to come out during the competition," she said.
Dee added, "I said, 'No.' I joined the pageant because this is much greater than myself. This is not about me. This is about the cause I'm fighting, advocating for: autism awareness. That's my main goal. My identity is not what I want to be remembered for. I felt like coming out during the competition would shock everyone, and cloud everyone's judgment. I also wanted to do that within my own timeline, and it wasn't the right time. Because I want all of my focus and everyone's focus to be on all the good causes."
The model also believes that it is the right time for her as she believed that the recently viral pictures "were spread with malicious intent — to kind of distract me, make me feel I'm not worthy of the crown".
"I acknowledge that it was so malicious that I felt—and this applies to everyone—when somebody takes away your story, then you should take control of that narrative. Turn it around and make it an empowering story," she said.
She further added that it is important when people try to knock you down and use your past against you.
"We all have to realise that we've come such a long way to just let our past define us. Again, how old was I? That was 2014, and it's 2023."
Michelle Marquez Dee also shared that her coming out was one of the ways she could inspire people who have felt that their story and narrative was taken away from them.
"Be more empowered and do not let other people control your life, your narrative. Own who you really are and have that self-worth and confidence to control your life. If you try to take that away, I'll take it back. It boils down to respecting people and spreading love and spreading light. There's too much hate in the world. Let's make a conscious effort to make this a better world," she said.
Even before coming out, Dee has been an advocate for LGBTQIA+. "I've been attending pride marches. I have too many friends and best friends in the community. I've been a loud and proud ally. It's just that I never gave a confirmation," she said.
Image Source: Instagram