Navratri 2022 Day 6: Maa Katyayani Puja Vidhi, Mantra, Auspicious Time, Color, Significance- All You Need To Know
The sixth day of Navratri is dedicated to the ferocious warrior avatar of Goddess Durga, who is known as Maa Katyayni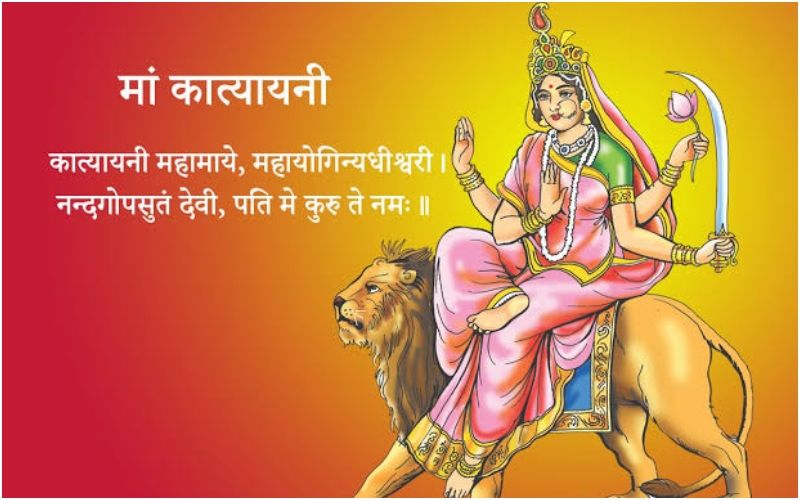 Navratri is one of the most auspicious festivals for Hindus and it is celebrated across the entire nation with great pomp. This nine-day festival is observed twice a year, in spring and autumn. On Sharad Navratri, devotees worship the nine incarnations of Goddess Durga, known as Navdurga.

The sixth day of Navratri is dedicated to the ferocious warrior avatar of Goddess Durga, who is known as Maa Katyayni. She rides a lion and holds a lotus flower and multiple weapons including a sword and Lord Shiva's trident which is worshipped on Shashthi.
This year, Shashthi falls on Saturday, October 1 and devotees all across India pray to the warrior avatar of Goddess Durga seeking blessings.
Here's all that you need to know about the legend of Maa Katyayni, and the puja vidhi and bhog that should be offered to her.
Navratri 2022 Day 6 Colour: Grey
The colour for day six is Grey and it represents balanced emotions.
Navratri 2022 Day 6: Date and Muhurat
The Shashthi falls on Saturday, October 1. The Shukla Shashthi begins at 10:34 PM, on September 30 and Ends at 08:46 PM on October 01.
Navratri 2022 Day 6: Puja Vidhi
The puja vidhi for worshipping Maa Katyayani isn't difficult. Devotees must bathe in clean water and wear clean clothes before performing the ritual.
Offering fresh flowers to Maa Katyayani is deemed a good omen, especially lotus. Devotees can then chant mantras and recite prayers to complete the ritual.
Navratri 2022 Day 4: Significance
Maa Katyayani is worshipped on the sixth day of Navratri for resolving marital woes, and unmarried girls are advised to perform Maa Katyayani puja to seek a perfect suitor for them. In addition, the legend has it that Maa Katyayani, apart from resolving martial problems, helps in removing all the obstacles standing in the way of one's success and blesses devotees with good fortune.
Navratri 2022 Day 4: Mantra
Om Devi Katyayanyai Namah
Ya Devi Sarvabhuteshu Ma Katyayani Rupena Samsthita. Namastasyai Namastasyai Namastasyai Namo Namah
Chandra Hasojja Valakara, Shaardulavar Vaahana, Kaatyayani Shubham Daddya, Devi Daanav Ghaatini
Navratri 2022 Day 4: Maa Katyayani Bhog
It is believed that Maa Katyayani should be offered honey in Bhog.
Image Source: Instagram