No Trousers Tube Ride 2023: Londoners Strip Their Pants And Travel In Underwear For THIS Bizarre Tradition-DETAILS BELOW
Hundreds of Londoners were seen stripping off their pants down to underwear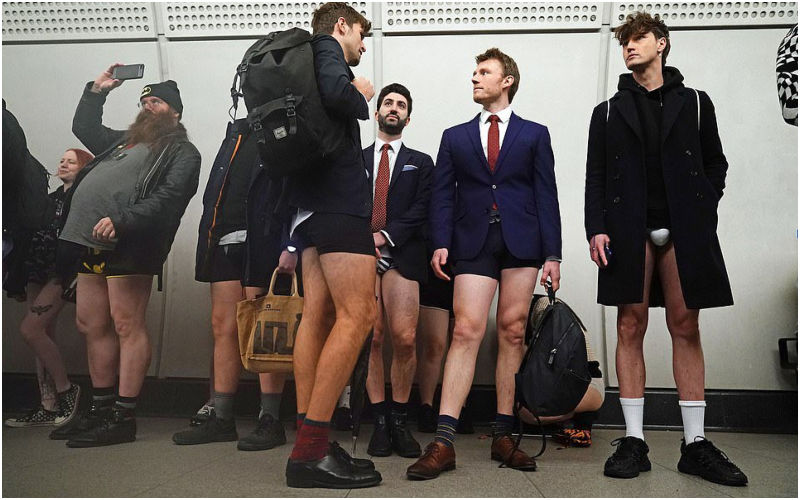 Londoners are engaging themselves in a strange act and their actions have taken over the internet by storm. London's commuters commemorate the annual No Trousers Tube Ride event by stripping off their pants. The tradition was started twenty years ago, and the winter chills do not seem to deter the residents of London who appear to be living a normal life - enjoying their Metro ride in their underwear.

Hundreds of Londoners were seen stripping off their pants down to underwear and walking around with broad smiles on their faces.
This tradition is a part of the annual celebrations where Londoners brave the winters and walk out of their homes while wearing nothing but underwear while covering their top while elegantly dressed in ties and long coats. However, the catch is, you have to wear only sports briefs and undergarments.
A series of inundating pictures and videos have been taking over social media sites and it featured the partially disrobed people walking across London tube stations for a happy journey to the office and other destinations.
No Trousers Day started twenty years ago in New York in 2002 by a comic performance art group, Improv Everywhere. As per the reports, the group said that the silly tradition began as a simple practical joke involving seven people who pretended not to see one another as they boarded a train at each station for seven consecutive stops.

Years later, the No Trousers Tube Ride has turned into a celebration day as people let their hair down and throng the streets in all sorts of fashionable and trendy underwear. This has become an annual event and is being celebrated in at least 60 cities of the world today.
The celebration marked the beginning of festive time and even this year thousands of travellers went trousers-free and took a ride to Elizabeth Line.
Image Source: Twitter