OMG! Pete Davidson Seeks 'Trauma Therapy' Due To Kanye West's 'Online Harassment'; Kim Kardashian Condemns Ex-Husband's Behaviour!
Pete Davidson is seeking help for online harassment he has received at the hands of Kanye West, a source close to the comedian tells PEOPLE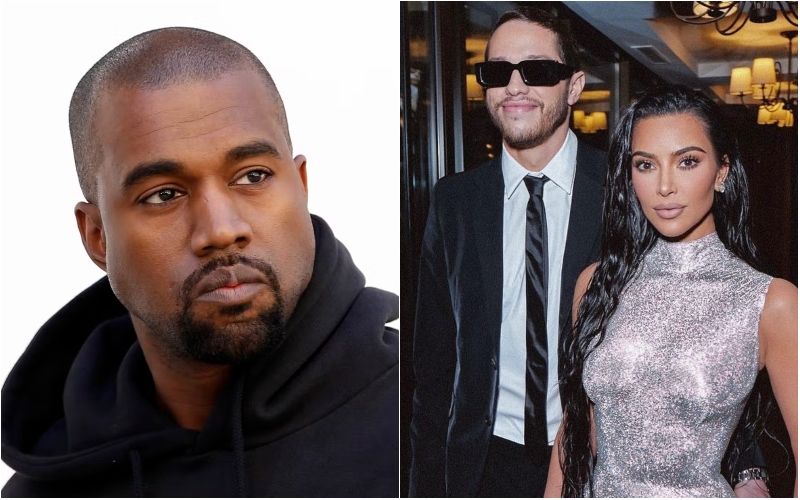 Pete Davidson is reportedly seeking 'trauma therapy' following Kanye West's online harassment. But, the story does not end here! According to recent reports, the rapper and Kim Kardashian's ex-husband has returned to Instagram and this might spell trouble for 'Skete'.

Things do not seem to be going well for Pete Davidson ever since he started dating Kim Kardashian. The actor and comedian even inked his former girlfriend's name on his body, but that's not all, he even desired to take their relationship to the next level. But, all these troubles seem nothing, literally, compared to the alleged online harassment he has suffered at the hands of Kanye West.
Pete is seeking help for online harassment he has received at the hands of Kanye West, a source close to the comedian tells PEOPLE.
The SNL alum since the beginning of April this year "has been in trauma therapy in large part" due to threatening posts that West has posted on multiple occasions while Davidson was dating the rapper's ex-wife, Kim Kardashian.
The PEOPLE Magazine report quoted an insider saying, "The attention and negativity coming from Kanye and his antics is a trigger for [Pete], and he's had to seek out help."
The source further added that Davidson, following his split with Kardashian recently, "has no regrets for dating Kim and wants it to be made very clear that she's been nothing but supportive of him throughout their relationship."
"Moving forward he just wants to focus on his career," the insider adds of Davidson.
The latest developments come after Pete and Kim decided to part ways after nine months of dating. "Part of the reason they split was because of their busy schedules," said a source as quoted by PEOPLE Magazine. "They both travel all the time and it was hard."
However, amid the shocking headlines, West reacted to their break-up via Instagram on Monday morning, with a since-deleted post, featuring an image of an altered New York Times newspaper with a headline that read, "Skete Davidson Dead at Age 28."
Below the headline, another part of the fake mockup said, "Kid Cudi meant to play funeral but fearful of bottle throwers" — a nod to an incident that occurred at the Rolling Loud Miami festival last month, where fans in attendance threw water bottles at him. (Cudi, 38, and West have admitted to beef of their own.) reported PEOPLE.
Obviously, this did not go well with Davidson and Kardashian, and their respective teams have even reached out to Instagram about the post.
"His team and Kim's have reached out repeatedly to Instagram asking to make the platform a safer space," the insider told PEOPLE magazine, also noting that West's repeated attacks are one reason why Davidson has "been absent from social media."
A source close to Kardashian also said that Davidson's involvement with trauma therapy played no role in their breakup whatsoever. "Kim does not tolerate this type of behaviour from Kanye," the source says.
"She's upset about the breakup. But the schedule made it so hard, and the fact that they were living in two different cities," the insider adds, reiterating the reason for the pair's split.
Meanwhile, another DailyMail report quoted a source close to the fashion mogul and said, "Kim has tried to get Kanye to take it down and has vigorously defended Pete. She very much cares for him and will continue to defend him.'
However, this has also sparked speculations that the ex-power couple who shared four children together, could soon reunite. "She'll never get back together with Kanye over the way he's treated the people she loves and respects," a source insisted to DailyMail.
The insider continued, "She has tried incredibly hard to have a good co-parenting situation for the children. She won't stand for this type of behavior from him."
Kim Kardashian and Kanye West walked down the aisle in 2014, but it wasn't to last and the Skims businesswoman filed for divorce last February.
Image Source: Instagram