Paris Hilton's Mom Comes To Kim Kardashian's Rescue Following Backlash Over Her Controversial Christmas Outfit; Calls It 'Silly' And 'Ridiculous'
Kim Kardashian was dubbed 'disrespectful' for showing up at a Holiday party seemingly without making much effort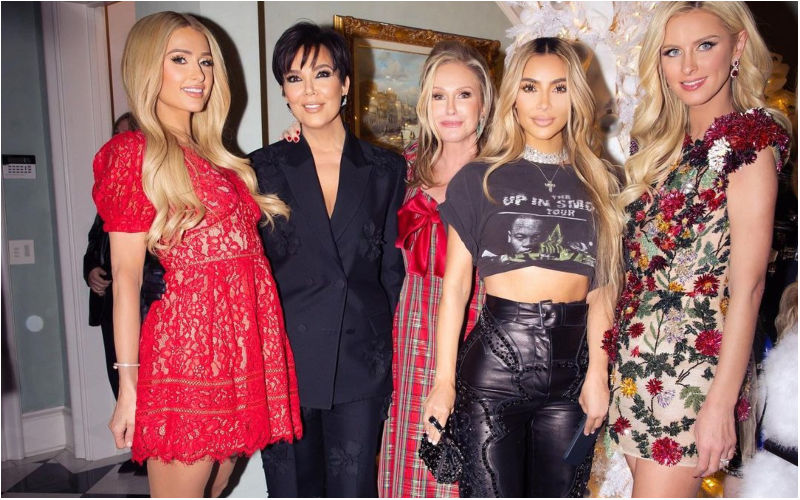 Paris Hilton's mother has defended Kim Kardashian after she faced netizen's wrath for one of her Christmas outfits. Kathy Hilton, 63, reacted to the uproar Kim sparked following a festive party. The fashion mogul was slammed by fans when she rocked up to a party hosted by the multi-millionaire Hilton family sporting a simple rock band t-shirt and leather trousers.

However, others were dressed to their finest, while many opted to wear festive colors and designs. Nevertheless, Kim was dubbed 'disrespectful' for showing up at a Holiday party seemingly without making much effort.
Speaking with TMZ, Kathy expressed her views over the backlash and declared it to be "silly" and "ridiculous" that Kim was coming under fire. She explained: "Everybody was just to come as they want and be comfortable," adding, "She always looks beautiful."
This isn't the first time Kim has invited backlash over her outfits. Previously, she was blasted at Hilton's Holiday Party wearing a cropped concert T-shirt and studded black leather trousers. She faced public scrutiny by her fans online who contrasted what she was wearing compared to more elegant stars - including Paris herself who was dressed in a festive red minidress.
On Christmas Eve, however, it was the turn of the Kardashians to host an extravagant festive party - with fantasy forest decor and huge amounts of food and drink.
For the occasion, Kim was seen sizzling in a dazzling silver outfit which shimmered on the dance floor. However, she was immediately subject to flak as some fans flaunted their extreme wealth at the time when many around the world are struggling to keep their lights on due to the surge in the cost of living.
Image Source: Instagram/Kevin Ostajewski