Prince Harry And Wife Meghan Markle Face Backlash For Not Congratulating Queen On Platinum Jubilee; Angry Netizen Says, 'This Is Simply Unforgivable'
Queen Elizabeth II recently celebrated her platinum jubilee, and received wishes from the entire family except for Prince Harry and Megan.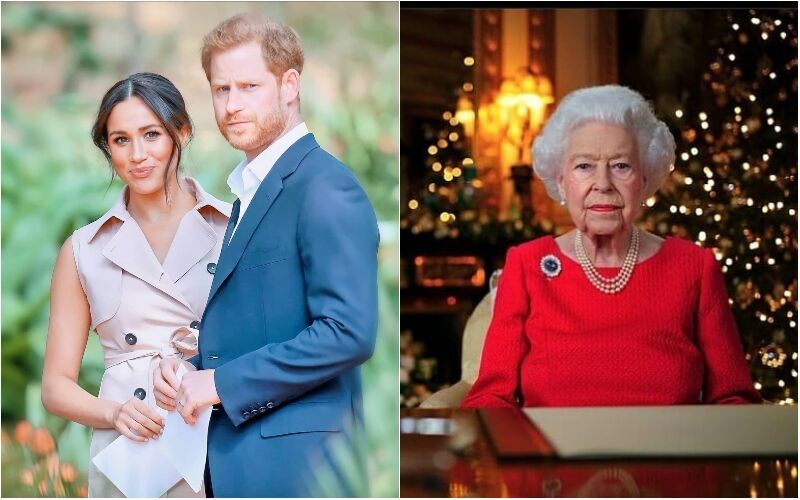 Prince Harry and his wife Meghan Markle yet again landed themself been at the centre of criticism for not sending a congratulatory message to their grandmother Queen Elizabeth II as she celebrated her platinum jubilee.

The recent development comes after the Queen celebrated her 70-year reign and she expressed her wish that Camilla should be "Queen Consort" when Prince Charles becomes the King. Addressing the nation, the 95-year-old monarch called herself "Your Servant, Elizabeth R" as she noted, "When, in the fullness of time, my son Charles becomes King, I know you will give him and his wife Camilla the same support that you have given me; and it is my sincere wish that, when that time comes, Camilla will be known as Queen Consort as she continues her own loyal service."
Following the Queen's announcement, Clarence House issued a statement mentioning that the Prince of Wales and Duchess of Cornwall were "touched and honoured".
Charles said in the statement, "We are deeply conscious of the honour represented by my mother's wish. As we have sought together to serve and support Her Majesty and the people of our communities, my darling wife has been my own steadfast support throughout. The year of this unprecedented Platinum Jubilee brings an opportunity for us all to come together in celebrating the service of The Queen, by whose example we will continue to be led in the years to come."
While Prince William and Catherine, Duchess of Cambridge, did not issue any statement on the Queen's announcement, they retweeted the Royal Family's post.
Meanwhile, Duke and Duchess of Sussex chose to remain silent following their departure from the royal duties in 2020 before beginning their new life in the US, which has irked many royal fans.
This is simply unforgivable of Harry. I dont expect anything classy or reasonable from his wife, but Harry knows better.

— Luca 🇬🇧 (@Luca31404488) February 7, 2022
A frustrated user tweeted, "This is simply unforgivable of Harry. I dont expect anything classy or reasonable from his wife, but Harry knows better."
The second one wrote, "They're in the corner pouting because the spotlight is shining on HRH instead of them. God bless Queen Elizabeth." And when a fan of Harry and Meghan tried defending them by saying, "Not everything has to be public, maybe Harry contacted his grandmother privately to congratulate her. Not sure why everyone is out to make Harry a bad grandson, he loves his grandmother or he would not have named his daughter after her."
A hater fired back, "Lol They named the baby after her for money and notoriety purpose, and if he loved his Grandmother so much why would he give that O interview when her beloved Prince Phillip was on his deathbed, Wake Up."
Image Source: Instagram/meghandharry/queen_elizabeth_ii__