Priyanka Gandhi's Harivansh Rai Bachchan Post Has A Rajiv Gandhi Connection - Details Inside
On Harivansh Rai Bachchan's birth anniversary, Priyanka Gandhi recalls reading his poems and shares an old picture of him clicked by her late father Rajiv Gandhi. Is this an attempt to bury the hatchet between Gandhis and Bahchans?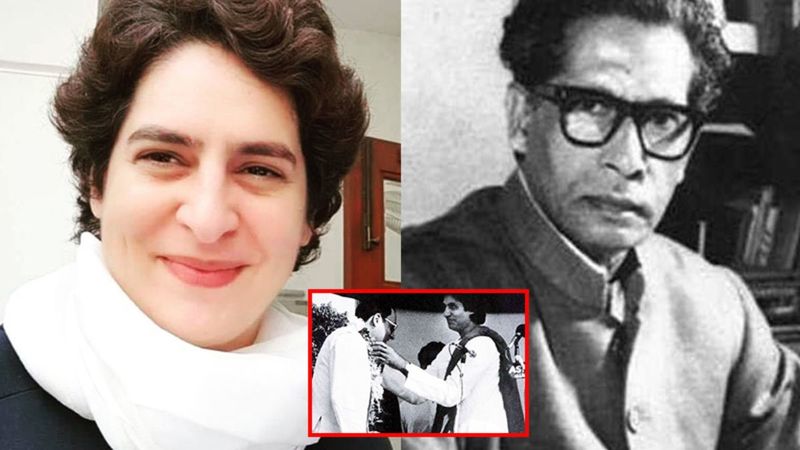 The history between Bachchans and Gandhis is not hidden from the world. There was a time when the bond shared between these two families stood as a prime example of brotherhood among the Indians. However, their relationship, with time, got sour and they parted ways. Well, now, after decades, it looks like someone from the Gandhi clan is trying to bury the hatchet and start afresh with the Bachchans. We are talking about Congress' Priyanka Gandhi, who recently took to her Twitter and recalled reading poems by Amitabh Bachchan's father, Harivansh Rai Bachchan, on his birth anniversary.
Interestingly, the picture of Harivansh Rai Bachchan shared by Priyanka Gandhi Vadra was clicked by her late politician father, Rajiv Gandhi. In her caption, Priyanka wrote how she used to read Bachchan ji's works after her father's demise. She credited Bachchan Ji's works for bringing peace to her mind. "Harivansh Rai Bachchan ji who we knew as Uncle Bachchan was a great son of Allahabad. There was a time when after the death of my father, I used to read Bachchan ji's works for a long time. His words brought peace to my mind, for which I will be grateful to him for life," she wrote and, in her second tweet, Priyanka revealed that this picture was taken by Rajiv Gandhi.
Check out the tweet below:
हरिवंशराय बच्चन जी जिन्हें हम अंकल बच्चन के नाम से जानते थे, इलाहाबाद के एक महान पुत्र थे। एक वक्त था जब मेरे पिता की मृत्यु के बाद बच्चन जी की रचनाओं को मैं देर-देर तक पढ़ती थी। उनके शब्दों से मेरे मन को शांति मिलती थी, इसके लिए मैं उनके प्रति आजीवन आभारी रहूँगी। pic.twitter.com/eOIgaF0Z4J

— Priyanka Gandhi Vadra (@priyankagandhi) November 27, 2019
For those unaware, there was a time when the Gandhi family shared very close ties with that of the Bachchans. The friendship between them blossomed during the Jawaharlal Nehru era, where Harivansh Rai Bachchan was a Hindi officer in the Ministry of External Affairs during his tenure as the Prime Minister. The friendship then reached to their respective families. Amitabh Bachchan became good friends with Rajiv Gandhi, while Indira Gandhi and Teji Bachchan shared a good bond. In fact, Rajiv Gandhi was the reason behind Big B's plunge into politics. The bond between these two families reached great heights until the 80s; however, it went for a toss after Amitabh Bachchan entered into politics. Soon after the actor won from Allahabad, his and Rajiv's friendship turned sour. Things got worse after the Bofors scam and the two broke all the relationship with each other. After three years, Amitabh Bachchan exited politics.
image source: instagram/withpriyanka,newseastwest.com, jagran