Real-life Addams Family! Jon And Kyummi Claim To Live In Haunted House And They Even Take Their Kids Ghost Hunting In Hearse
Jon Paul Kennedy and Kymmi Jeffery who are dubbed as the family even go ghost-hunting in their hearse car called Morticia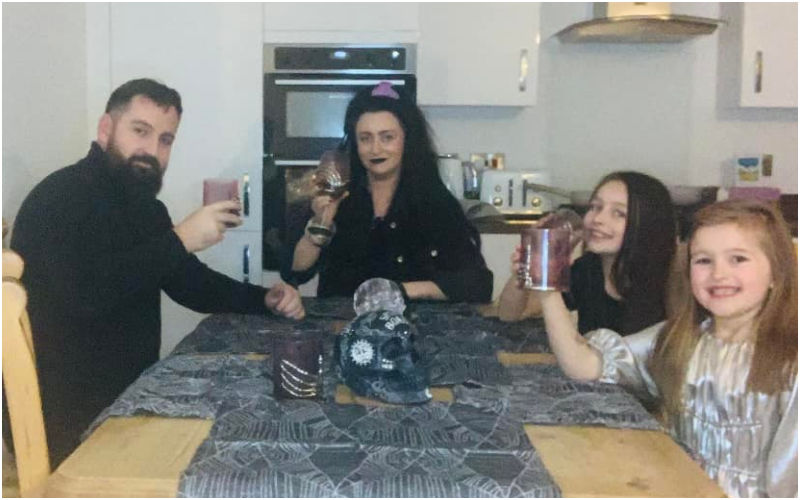 You thought Addams Family was just a fictional setting, well think again! A family is being dubbed as the real-life Addams Family have claimed their house is haunted and smells of rotten eggs. Jon Paul Kennedy, 33, and partner Kymmi Jeffery, 38, have informed how they hear a little girl crying in the home when they moved into just a few months ago, in September 2022, reported The DailyStar.

They also claimed to have smelled 'rotting eggs' and are so convinced about the possibility of living in a haunted house that they, alongside side children Snow, 10 and Pebble, six – have installed cameras around the home.
That's not all!
The family even go ghost-hunting in their hearse car called Morticia. They are even looking to set up a museum for their artefacts which include - two dolls, Mini and Esther pieces of jewellery and dybbuk box.
Jon, who is a teacher from Winsford, Cheshire, said, "We thought we had a gas leak because it was smelling like rotten eggs, so we called an engineer out and he couldn't find a leak. Suddenly the smell just vanished. Sulfur smells can be associated with demons."
Meanwhile, Kymmi, a therapist, said: "The other night I woke up at 3am and heard a girl crying. I checked on Snow and Pebble but they were fast asleep. We're going to buy cameras to try and capture anything."
Back in August 2022, the couple started their business of ghost-hunting after going on a tour for Kymmi's birthday. The family also visits sites together and claim their daughter Snow can see ghosts and demons.
"She saw these really long fingers on a ghost hunt and keeps picking up stuff in the house. The girls loved being involved with experiments on our different artefacts," Jon was quoted as saying The DailyStar.
Kymmi added: "Pebble finds it hilarious. She put out all her Barbies to see if they would move. They'd moved when she woke up and she was adamant it wasn't her."
The couple reportedly bought each other 'haunted' gifts for Christmas - with Jon buying Kymmi a demonic ring, which turned out to be depicting a sexual demon that preys on women.
Kymmi had even spent £250 on a haunted doll for Jon called Mimi. The family are hoping to add to their artefacts in the hope of someday opening up a museum. "We have a dybbuk box which is bound in rope and sealed in wax," Kymmi said.
Image Source: Instagram