Rihanna Finally Reveals Her Baby's Face For FIRST Time Via Adorable Video! Fans Say 'He Has All Of Her Features'
Rihanna has finally shared the first video of her son on TikTok revealing her baby's face for the first time, ahead of Christmas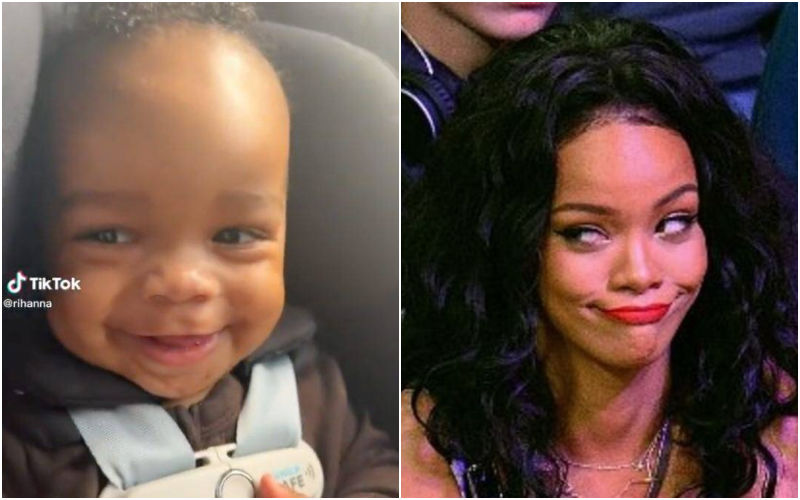 Rihanna's pregnancy journey was all about her setting new maternity fashion goals. Despite the birth of her baby boy, Riri's maternity pictures are quite popular amongst her fans. While the singer-actor had initially decided to keep her baby away from the spotlight, it seems she is reconsidering her decision.

Now, Rihanna has finally shared the first video of her son on TikTok revealing her baby's face for the first time, ahead of Christmas. In the adorable video, her son was seen smiling and making adorable expressions. She welcomed her son with rapper boyfriend A$AP Rocky in May 2022 which was confirmed by Page Six and TMZ.
Meanwhile, several reports suggested that the baby was born on May 13 in Los Angeles.
While recording the baby who was seen attempting to take his mommy's phone, Rihanna can be heard saying, "You are trying get Mommy's phone?" Towards the end of the video, the baby yawned and looked blissful as he looked out of the car through the window.
Fans are awed by the 'cute' video and have taken over the internet in no time. Many couldn't stop admiring his super cute looks and others retweeted with hearts.
One person wrote, "He's so adorable, I can't. Another person added, "Cute!" Other person commented, "He's so adorable, he has all of her features."
Interestingly, fans have managed to get a hold of the family's photos at the beach. In one of the pictures, Rihanna and her boyfriend were seen twinning in black as Rocky held the baby.
One fan wrote, "Baby is so cute! Have they said his name?" Another person added, "A beautiful family."
Speaking of Rihanna's maternity outfits and pregnancy, fans cannot stop admiring her photoshoots. She and A$AP Rocky have been going strong since early 2020. They let the public know about their relationship in November, 2021.
In April 2022, there was much speculation about the rapper cheating on her but were later found to be false, as per Page Six.
Image Source: Instagram