Rihanna Is PREGNANT With SECOND BABY; Announces Her Pregnancy At Super Bowl Show! Get Ready For More Maternity Fashion Goals-DETAILS BELOW
Rihanna's baby bump was visible in her outfit as she wore tight clothes under her babby red jumpsuit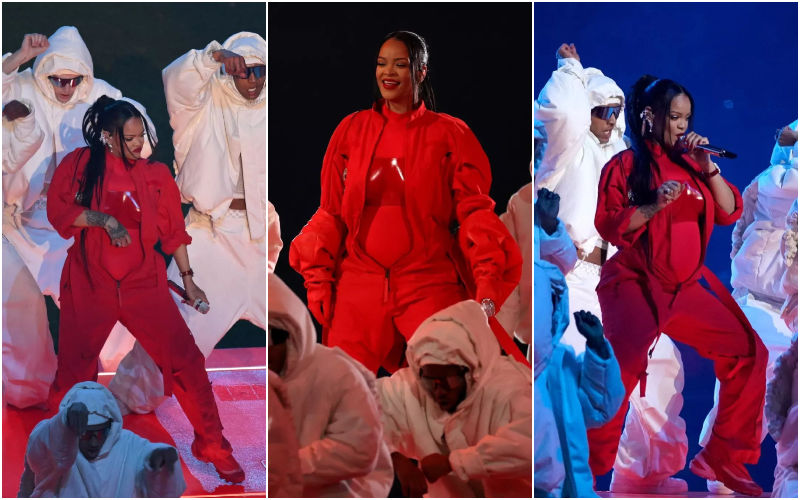 The recent landmark revelation comes after the iconic singer's representative confirmed the pregnancy shortly after Rihanna ended her 13-minute set Super Bowl halftime show on Sunday. She hovered high at times as she performed a number of hits including 'We Found Love', 'Diamonds', and 'Work' during a halftime break between the Kansas City Chiefs and Philadelphia Eagles at the State Farm Stadium in Glendale, Arizona.
With her second baby on the way, Rihanna has once again set new work goals.
Rihanna's baby bump was visible in her outfit as she wore tight clothes under her babby red jumpsuit. The sight of her burgeoning stomach set off a wave of social media speculations that she might be pregnant again.
For the unaware, the 34-year-old has a 9-month-old son with rapper A$AP Rocky.
Rihanna, during her media preview on Thursday, was initially unsure if she should take up the challenge of performing during the time she was three months postpartum and wondered "should I be making major decisions like this right now? I might regret this."
"But when you become a mom, there's something that just happens where you feel like you can take on the world, you can do anything," Rihanna said. "The Super Bowl is one of the biggest stages of the world. As scary as that was, because I hadn't been on stage in seven years, there's something exhilarating about the challenge of it all," reported India.com.
Rihanna is a nine-time Grammy Award-winner, and has 14 No. 1 Billboard Hot 100 hits, including 'We Found Love', 'Work,' Umbrella' and 'Disturbia'.
Image Source: Instagram