SHOCKING! Kim Kardashian's 9-year-old Daughter North, Claims R-rated 'The Conjuring 3' Is Her Favourite Movie-READ BELOW!
North's TikTok video which saw her claiming that 'The Conjuring 3' was her "favourite movie" has garnered over 890,000 views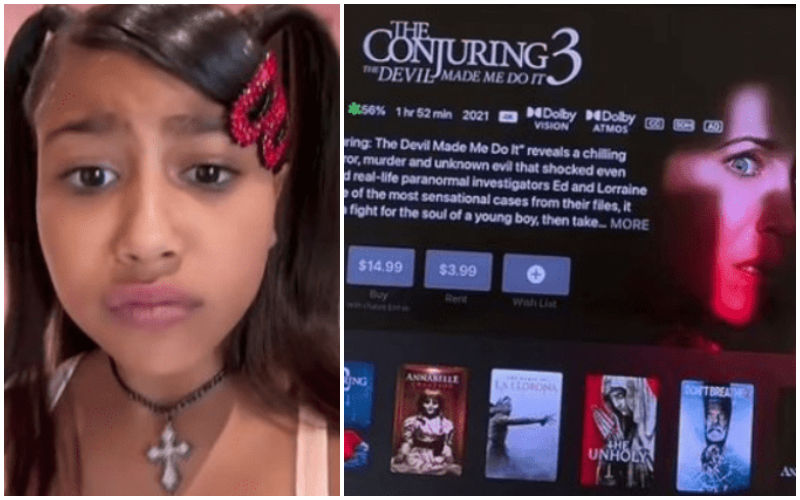 North West, Kim Kardashian and Kanye West's eldest daughter, has sparked fresh trouble as she reportedly stated that 'The Conjuring 3' was her "favorite movie." Taking to her TikTok handle, a merely nine-year-old North shared a video with her 9.4 million followers on her official kimandnorth TikTok account with the caption "Beginning my day."

In no time, North's TikTok video garnered more than 890,000 views. 'California Gurls' by Katy Perry can be heard playing in the background while she said that in the opening line of the video that she watches her "favorite movie" first thing in the morning.
Well, it's rather strange to watch 'The Conjuring 3' first thing in the morning!
Kim and Kanye's youngest daughter even shared an image from the horror movie 'The Conjuring 3: The Devil Made Me Do It', which stars Vera Farmiga. For the unversed, the film's plot details two paranormal investigators as they look into a murder that might have been the result of demonic possession.
Interestingly, the Motion Picture Association has labelled the film an R rating for "terror, violence, and some disturbing images."
Now, the question remains, if North has actually seen the movie or if she was just joking, as per DailyMail.
Furthermore, after her claims, North continued filming herself and getting her hair done as she exclaimed that it looked 'so cute'. While concluding the video, she even posed for the camera which showcased an outfit she had put together for the day.
Later, she posted a video of herself lip-syncing to a sped-up version of Michael Jackson's 'Beat It'.
North is an avid TikTok user and has shared more than 150 videos on the account she shares with her mother.
Meanwhile, her father, Kanye, has previously expressed disapproval of her social media activity. Kim even had an argument with Kanye regarding his strong disapproval of allowing North to use social media.

Image Source: TikTok/kimandnorth