Snoop Dogg Is Overwhelmed As He Reunites With His Lost Doggo Frank; Promises Gifts To 'Lovely Couple' Who Found Him!
Snoop Dogg tagged the user - who found Frank - in the caption of his latest Instagram video and expressed his gratitude.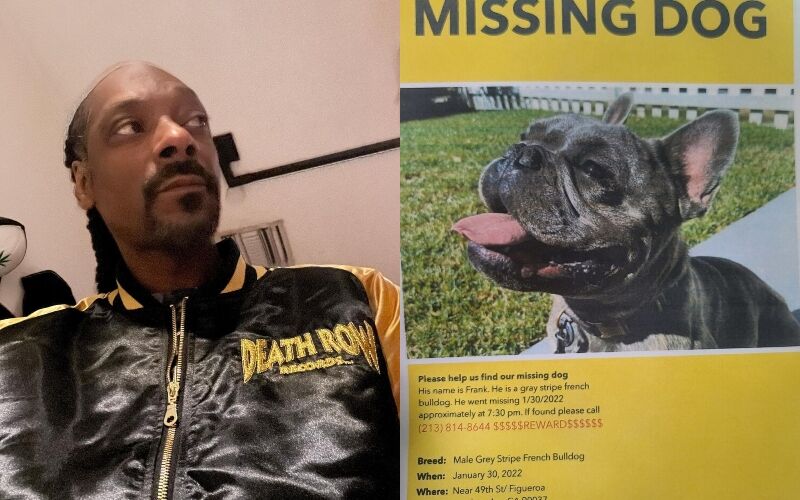 Snoop Dogg was overwhelmed to announce that his pet dog Frank was safely returned to him after he went missing in South LA over the weekend. The popular rapper even appealed to his fans to help him locate his missing dog. Following his disappearance, the 50-year-old rapper also shared flyers with a picture of the Grey French bulldog along with his last known location on Instagram and even announced a reward in exchange for his safe return.

"I want to thank you all for returning the dog back to us. We appreciate that Frank made his way back home," said Snoop Dogg in a video posted on Instagram on Tuesday, February 1. He continued 'We appreciate all the love and the support we got on Instagram to get the dog back.'
The rapper tagged the user - who found Frank - in the caption of his latest Instagram video and wrote, "Thank you @ganderwess.stupid for reuniting us back with our dog."
He concluded the video by appreciating the 'couple' who returned the dog and said he plans to repay them for reuniting him with Frank. "And to the lovely couple that brought the dog back, I got some gifts for y'all for looking out," he added.
Snoop Dogg, who enjoys a massive fan-following of 67.5 million followers, was reunited with his missing dog within two days of posting about his doggo.
The dog had gotten away on Sunday, January 30 in southern Los Angeles. "Our dog Frank went missing on January 30th 2022 in South LA (49th St/ Figueroa)' Snoop shared in an urgent post. 'If you see him please DM me at @reyg213," he added.
Apart from his raps, Snoop Dogg is also known for his love for dogs. Back in 2019, the rapper had offered to give a permanent home to the dog who was abandoned by his owner just days before Christmas and shares the same name as the rapper, according to reports. It wasn't a surprise when hundreds of people came forward to adopt Snoop, the rapper also joined in and expressed his desire to take the dog home. The dog was cruelly abandoned at the side of a road by its owner.
Image Source: Instagram/snoopdogg