Terminator: Dark Fate Trailer - Arnold Schwarzenegger Teams Up With Sarah Connor and James Cameron After Decades
Terminator: Dark Fate Trailer was released a few hours back and it has already created a lot of buzz online. The film sees Arnold Schwarzenegger who reunites with Sarah Connor and James Cameron after years. Disney will distribute the upcoming science-fiction action franchise in 6 different languages across India. Along with English, it will be released in Hindi, Tamil Telugu, Kannada and Malayalam as well on November 1, 2019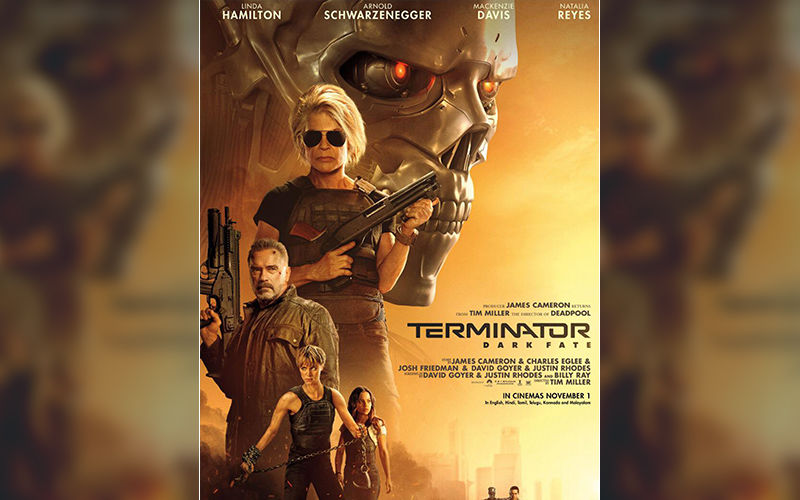 The much-awaited trailer of
Terminator
: Dark Fate is finally out, giving goosebumps and raising several questions in the minds of its avid fans who were eagerly waiting for the return of the franchise. But this time the makers have something special to announce. Of late, many movies across the borders are getting dubbed in the languages familiar to the Indian territories. Hence, the Hollywood makers are convinced with the fact that the Indian market is the biggest market when it comes to earning revenues as well as popularity.
Joining the league is Terminator: Dark Fate, the movie is set to release in Hindi, Tamil Telugu, Kannada and Malayalam along with English. Disney will distribute the film in India leading to its acquisition of Fox, that enjoys distribution rights of several movies outside the territory of the US. Paramount plays a key role in distributing the movies in North America. Movie releases on November 1, 2019. It gets back the original Terminator Arnold Schwarzenegger on the silver screen and also unites Sarah Connor and James Cameron after decades.
This movie picks up mostly from where it left in 1991's Terminator 2: Judgment Day and series of the events justify the same. According to producer James Cameron, all the things happened in the three films of this franchise took place in an alternative space, thus disconnecting this one from them.
Sharing the official trailer on the Twitter handle Paramount Pictures tweeted, "Welcome to the day after #JudgmentDay. Watch the official trailer for @Terminator: Dark Fate, in theatres 11.1.19. #TerminatorDarkFate"
Directed by Tim Miller it stars Linda Hamilton, Arnold Schwarzenegger, Mackenzie Davis, Natalia Reyes, Gabriel Luna, Diego Boneta and Edward Furlong in a pivotal role.
Image Source:PR