TikToker Gives Shah Rukh Khan, Salman Khan, Hrithik Roshan 'Perfect Faces'; Netizens Troll The Artist, Say 'The Perfect One Is Imperfect And Unrealistic'
A graphic artist on TikTok perfected the faces of Shah Rukh Khan, Salman Khan and Hrithik Roshan! Have a Look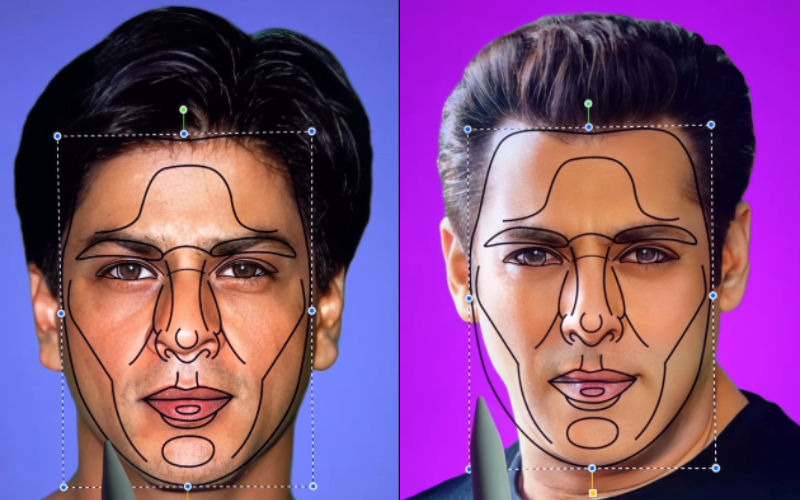 Graphic artist SISWA on TikTok is trending on social media with his unique talent of perfecting the faces of Bollywood celebrities. He recently perfected the faces of actors including Salman Khan, Shah Rukh Khan, and Hrithik Roshan. And, the surprising results have left netizens shocked! SISWA gave B-Town celebs perfect faces. The graphic artist took a photo of SRK from his film Kal Ho Naa Ho and made a few changes to his face.
He shared a photo of the Raees actor with a few changes. He made Shah Rukh's nose smaller, chiseled his jawline and further made his eyebrows straighter, and revealed the final image. The new SRK undoubtedly looked better and younger than the original. He captioned the post, "trying the PERFECT FACE on Shah Rukh Khan #art #shahrukhkhan #digitalart." However, fans did not like the final results. One fan wrote, "Eww He already has the perfect face why would anyone ruin that." Another said, "The perfect one is so imperfect and unrealistic. God knows what perfect and he already made him perfect."
SISWA also shared the perfected image of Salman Khan. He took his look from Ek Tha Tiger and expanded his jawline and made his lips bigger. His eyebrows and nose were perfectly fit in the template. However, netizens were not happy with the results as they thought the original was better. One user commented, "You make it imperfect." Another said, "Agr salman bhai ne yeh video dekh li....phr uskay zimaydar hm nhi."
The graphic artist then took a handsome Hrithik picture from Krrish where he had long hair and made his face perfect. SISWA made his jawline a little softer, his lips a little smaller and his eyebrows were brought a little bit down. The final results of the actors' perfect faces left the internet unimpressed!