Tom Hanks To Host Primetime Inauguration Of US President-Elect Joe Biden And VP Kamala Harris; 90-Min Program To Air On Jan 20-REPORT
According to the latest report, Hollywood actor Tom Hanks is to host the primetime inauguration of US President-elect Joe Biden and vice-president Kamala Harris. The report stated that the 90-minute program is to feature on January 20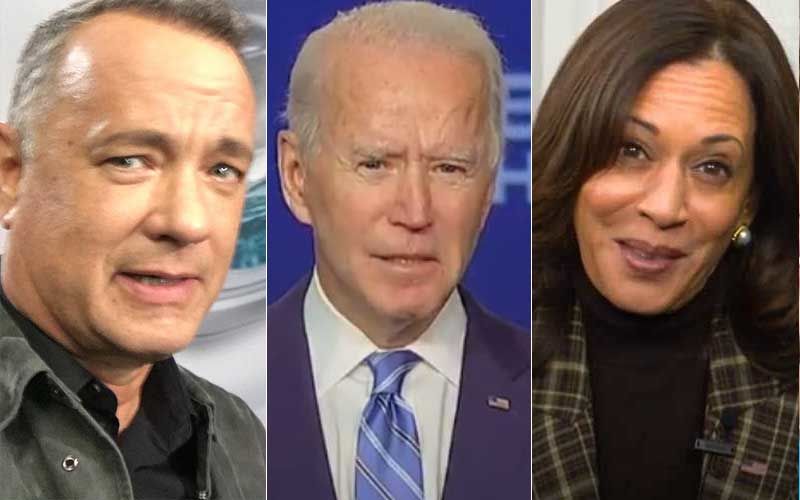 In the US presidential elections 2020, former Vice-President of the US, Joe Biden from the Democratic Party defeated US President Donald Trump. He won the elections and became the President-elect with Kamala Harris as Vice-President elect. Joe Biden will be assuming office from January 20, 2021 onwards. According to the latest report in People.com, Hollywood actor Tom Hanks is to host the primetime inauguration of US President-elect Joe Biden and vice-president Kamala Harris. The report stated that the 90-minute program will feature on January 20 on the day of the inaugural.
The report stated that the special program will include speeches from both President-elect Biden and Vice President-elect Harris. It will also include performances by celebrities, said the report. As per the report, the program will air on the major broadcast and cable news networks. The report stated that the program will not air on Fox News since they are streaming it.
A news release was shared by the inauguration team. The organisers said, "The program will celebrate American heroes who are helping their fellow Americans through this crisis, including frontline workers, health care workers, teachers, citizens giving back, and those who are breaking barriers." As per the report, the inaugural team is calling a "capstone" to feature the American people's resilience, heroism and unified commitment. Biden's team also said in the release reported that the program will highlight the strength of democracy.
America, I'm honored that you have chosen me to lead our great country.

The work ahead of us will be hard, but I promise you this: I will be a President for all Americans — whether you voted for me or not.

I will keep the faith that you have placed in me. pic.twitter.com/moA9qhmjn8

— Joe Biden (@JoeBiden) November 7, 2020
Image source: Instagram/ Tom Hanks, Kamala Harris; Twitter/ Joe Biden