UFC Stars Colby Covington Gets Into A NASTY Street Fight With Jorge Masvidal, Cops Swarm The Scene!
Colby Covington and Jorge Masvidal got into a brawl outside Papi Steak in Miami, which quickly led to an intervention by police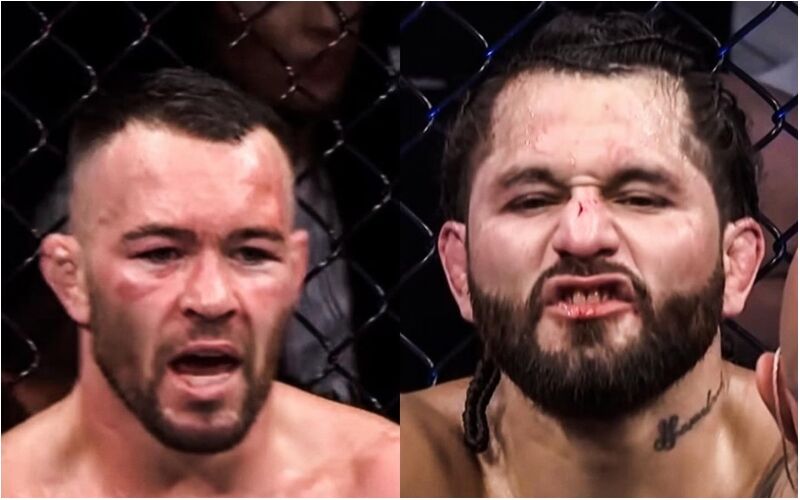 UFC stars Colby Covington and Jorge Masvidal were seen engaged in yet another battle outside the ring on March 21, 2022. The two were also seen getting into a brawl outside Papi Steak in Miami, which quickly led to an intervention by police.

We don't know yet if anyone was arrested, and police have so far refused to comment on the incident.
Until now, neither Covington nor Masvidal have faced criminal complaints. But fans are expected to witness yet another dramatic turn, if police officials decide to charge either one of them for their now-viral fight, which comes just weeks after the duo got into a bout which Covington won by unanimous decision.
The now-viral video was first published by TMZ shows the Covington surrounded by police on March 21. It was taken around 11:30 PM, around 30 minutes after the two got "into a physical altercation" outside the Miami restaurant.
However, the exact details of what conspired between the two is yet unavailable. But according to the TMZ report, Covington was at the venue for dinner with the Nelk Boys. Masvidal then met him outside as Covington was leaving, with the encounter turning physical.
"He's over here swinging, trying to come at me, and I ran..." Covington can be heard telling the cops. He then turns to social media star Bob Menery, and asks, "How would (Masvidal) know I'm here?" Social media posts from earlier that night by Menery and the Nelk Boys show Covington inside the restaurant. In the footage, Masvidal is nowhere to be seen. Shortly after that video was released, he posted a video on social media saying, "If you talk that s--t, you've got to back it up."
For the unversed, Fights outside the ring aren't an uncommon phenomenon for MMA fighters or even WWE wrestlers.
In September 2021, Jon Jones was reportedly arrested for domestic violence in Las Vegas. The next month, ex-UFC star Chuck Liddell was arrested in Los Angeles for domestic battery, after he got into an altercation with his wife. Back in May 2020, we also reported on the arrest of former WWE star Alberto Del Rio, after he raped and beat up a woman for hours.
Image Source: Instagram