UFO Spotted In Sky? Netizens Suspect Strange Alien Activity From A Light Source Floating In Sky! WATCH VIRAL VIDEO
A strange video of an eerie light in the sky has been going viral on the internet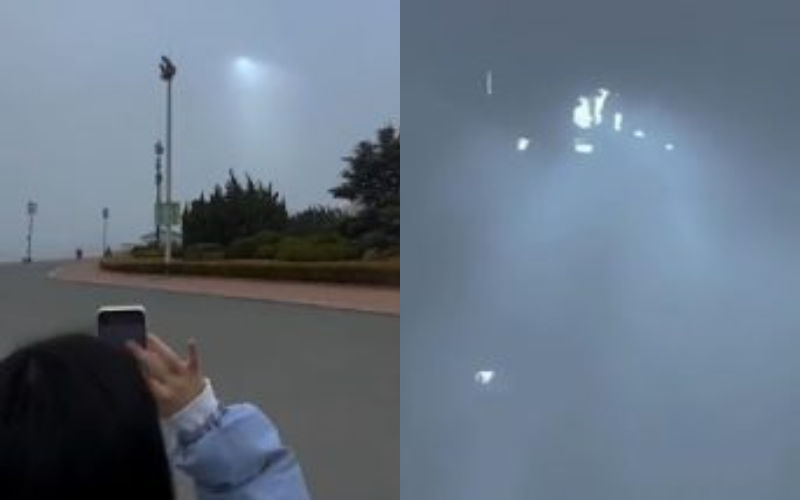 The existence of intelligent life outside our ecosystem has been one of the hottest debated subjects across the world. However, scientists are yet to find any proof of extraterrestrial life, but people are often treated with UFO sightings and stories about individuals who claim to have been abducted by aliens.

Now, a strange video of an eerie light in the sky has been going viral on the internet. Since space stations are well outside of our planet's atmosphere and are not visible to the naked eye, it is doubtful that they are the light source when you zoom in on the video.
Many shared their views about the viral video and opined that it cannot be a spacecraft as people were able to capture it with their mobile phone cameras. While a lot of people on social media think it's a simulation like in the 1998 film 'The Truman Show', others are of the opinion that it's indeed a UFO.

In the film, the central character Truman, whose life is a complete lie, lives in a made-up setting with actors and extras on the 'world's largest set', with his life being filmed and broadcasted live around the world every single day without him realising that he is trapped in a simulation.
it's whatever was added after the fact.

no one else is even looking at the artifact in the sky aside the 2 dorks standing next to each other making the video.

2 people walking not even noticing it and a person running that doesn't even look up.

— The Great Karenholio (@GreatKarenHolio) April 4, 2023
While the video appears through a portion of the sky has been torn apart and light is shining through, netizens assumed that we also exist in an artificial world and are comparing the video to the movie.
Meanwhile, the viral video remains unknown and the clip has inspired some local ideas from internet users. According to one user, it could be a massive skyscraper that is being built but is hidden by fog.
Image Source: Twitter