VIRAL! Priyanka Gandhi Vadra Dancing With Tribal Women, Indian Politician Calls Them Strong And Confident
Congress General Secretary Priyanka Gandhi Vadra performs a folk dance with tribal women in Goa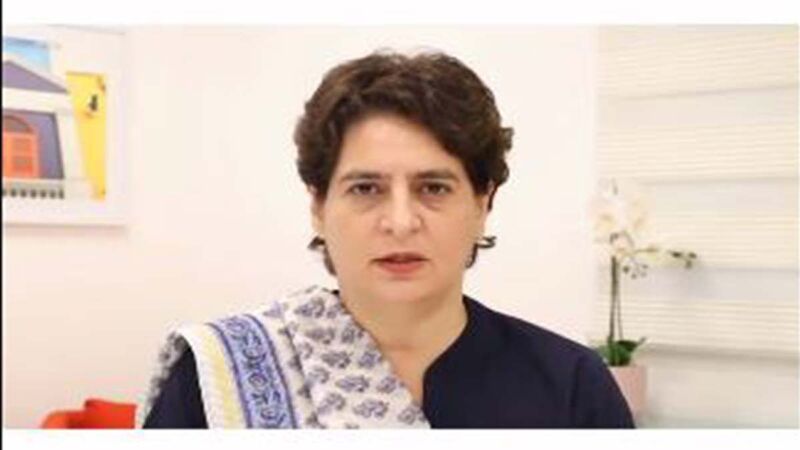 Congress General Secretary Priyanka Gandhi Vadra is known to mingle with the tribes across India. The Congress General Secretary while campaigning for the upcoming assembly elections was seen dancing with the Goa's Morpirla village's women on a folk song. The video has gone viral which has Priyanka Gandhi Vadra in a pink saree, matching steps with the tribal women. While she dances with them, a few other women are seen dancing with pots on their heads.
This 45-second-long dancing video has now garnered 45 thousand views on Twitter. Priyanka Gandhi Vadra herself posted pictures from this campaign, addressing these tribal women as strong and confident. Her Tweet read, "With the strong & confident women of the Morpirla. These women have been instrumental in the environmental conservation and preservation of greenery in Goa." Her Twitter account also carried pictures of her assembly. But the video of the Indian politician dancing along with the tribal women has gone viral.
The Congress party sharing the video of Priyanka dancing wrote in the caption, "Smt. @priyankagandhi joins the tribal women of Morpirla village during a phenomenal performance of their folk dance." Watch the video-
Earlier in 2021, she was seen performing the famous folk dance of Assam, Jhurmur with the young girls of the tea tribe.
The Indian politician during the assembly promised 30% job reservation for women if her party comes in power in Goa. She was heard saying, "Goa is a known tourism destination. Tourists from across the world come to Goa. However, during the pandemic, the state government did not help people involved in the tourism sector."
Image Source: Instagram/priyankagandhivadra