VIRAL VIDEO! Man Translates Iconic Bollywood Dialogue 'Mere Pass Maa Hai' In English, Netizens React 'RIP English'- WATCH
In a viral video, a man is seen doing word to word translation of Bollywood dialogue in English language which will leave you in splits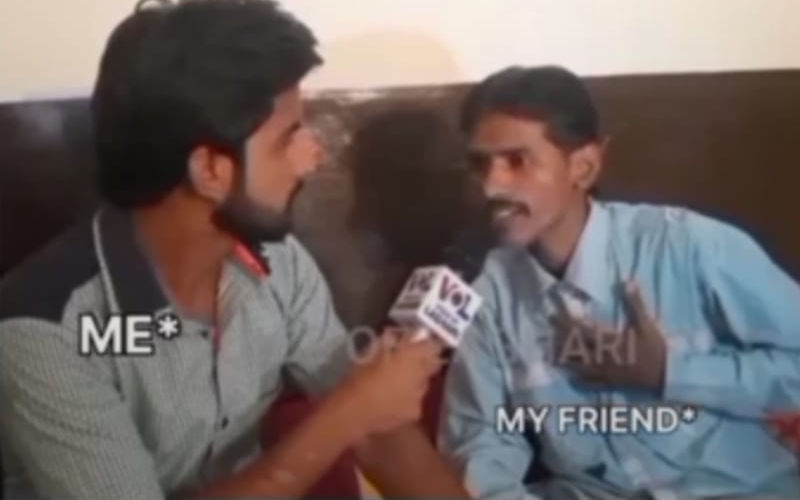 In the new age of social media, everything goes viral in no time. Social media platforms are filled with funny and hilarious videos that go viral in no time. Even the content creators make sure that these videos create laughter riots. Now, a hilarious video is surfacing on the internet in which a man tries to translate a Bollywood dialogue into English and it will leave in splits.
In a viral video shared on Instagram, a man is being interviewed by a news reporter and asked the man to translate a Bollywood dialogue into English. That man is trying to translate word-to-word iconic Bollywood dialogue of legendary Amitabh Bachchan and Shahi Kapoor from Deewar into English. He translates, 'Tumhare pass kya hai? Mere pass maa hai' as "You have what is? (Tumhare pas kya hai?) Me have mom is! (Mere pas maa hai!) Mom is me have. (Maa hai mere pas.)".
After this translation, you can only say one thing, 'RIP English'.
The man was sitting on a sofa when the reporter asked him to translate the question. After translating the dialogue he gave a funny expression and assurance that he translated in correct English.
The content creator shared the video and wrote, "My Friend after learning English". As the content is hilarious netizens have made funny comments. One comment read, "U don't know when d surprise test is but d surprise test comes here" and another comment read, "kon se sir yaad aayaa tum logo ko". One user tagging his friend wrote, " inka bhi English same h" and another one wrote, "after some liquor."
Image Source: Instagram