VIRAL! VIDEO Of Japanese Tourist Being Harassed During Holi Celebrations In Delhi Takes Internet By Storm; Delhi Cops Launch Probe
A young woman from Japan was groped, harassed and manhandled by a group of men in Delhi during the Holi celebrations on Wednesday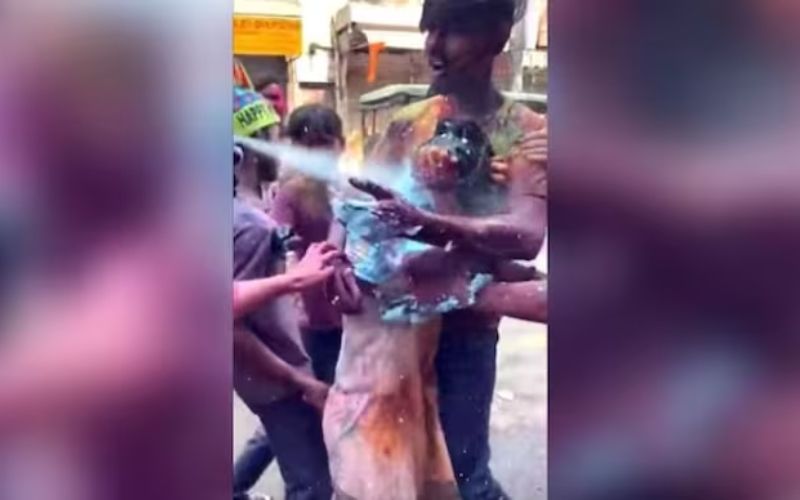 Three people have been taken into custody in connection to the harassment and manhandling of women from Japan in Delhi on Holi. The woman has not filed a complaint so far and she has left for Bangladesh yesterday, the police were quoted as saying by NDTV.

The latest development comes after a young woman from Japan was groped, harassed and manhandled by a group of men in Delhi during the Holi celebrations on Wednesday. A video of the incident, which went viral on social media has sparked outrage and demands stringent action. The viral video featured the men grabbing her and smearing colours on her amid the chants of 'Holi Hai'.
The spine-chilling video also showed a person smashing an egg on her head. The Japanese tourist says 'bye bye' in an attempt to escape the group as she is pushed around. She even slaps a man who tires to hold her before she finally manages to step away, the video shows.
By the end of the video, the woman is completely drenched and almost unrecognizable.
An NDTV report quoted the Delhi police saying, "Prima-facie, on the basis of landmark seen in the video, it seems that the video pertains to Paharganj, however, it is being verified on the ground whether any such incident took place in that area or the video is old one."
The young tourist was staying in Paharganj in central Delhi and three accused, including one juvenile, are also from the same area. "The woman has tweeted that she has reached Bangladesh and is mentally and physically fit," police said in a statement.
The Delhi Police instantly launched a probe after the video went viral and the accused were identified through local intelligence and the probe is currently underway. The officials have also pointed out that they are currently in touch with the Japanese embassy.
Image Source: Instagram