VIRAL! Woman Dressed As Manjulika From Bhool Bhulaiyaa Scares Passengers In Noida Metro; Internet Demands Full VIDEO-WATCH
Bhool Bhulaiyaa was released in 2007 and the film was initiated in the list of cult classics owing to its characters, Manjulika specifically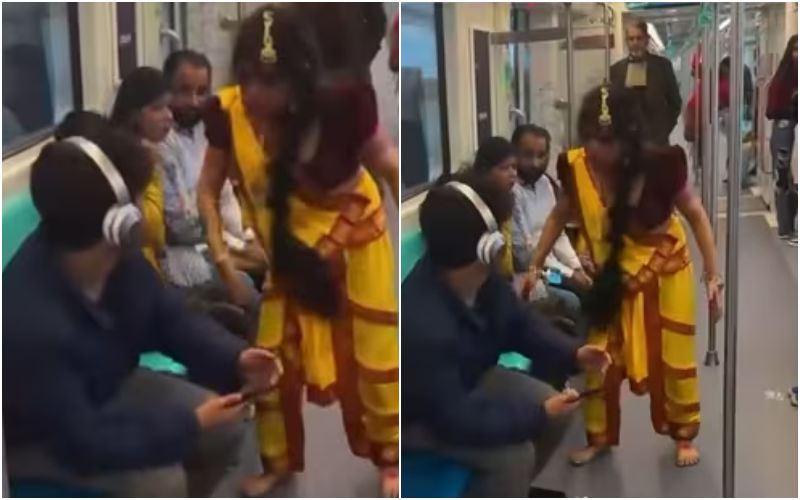 A woman dressed as Manjulika, played by Vidya Balan in the film Bhool Bhulaiyaa, was spotted scaring fellow passengers in Noida Metro's Aqua line. A video of the same, has taken the internet by a storm. However, users seem rather unamused by the act and shared that 'drama is appreciated in theatres', others demanded a full version of the video.

Bhool Bhulaiyaa was released in 2007 and the film was initiated in the list of cult classics owing to its characters, Manjulika specifically. It was Vidya Balan's impeccable performance that managed to impress the audience and it is also known to be one of the most-watched thriller/horror films in Bollywood.
Coming back to the Manjulika from Noida, a video of a woman dressed as the iconic character has been doing rounds on the internet and she was seen walking across a metro compartment. With unkept hair and makeup smeared all over her face, the woman attempted to scare the people sitting in the compartment. While some people looked shocked, others were quite unfazed.
Towards the end, she approaches a boy who is busy with his smartphone, and taps on his shoulder to attract his attention. Though he was unfazed initially, he ran for his life after looking at her. She later sits at the same spot where he was sitting.
The video was shared by an Instagram page with the caption, "Arey behen (O sister)." It was accompanied by several hashtags, including #ViralMetroIncident. A text overlay on the picture reads, "Image being tired and coming back from the office on a Saturday evening and this happens…."
To everyone's surprise, Priya even performed to Ami Je Tomar from Bhool Bhulaiyaa in the same outfit. She also posted a video of herself dancing to the song, and it is also slowly gaining traction online. "AMMI MANJULIKA," she wrote while sharing the video on Instagram.
Shortly after being shared on social media, the post received more than 52,000 likes. It has also raked numerous funny comments from Instagram users
Image Source: Instagram