WWE Star John Cena Shares Former Champion Dwayne Johnson's 'Stone Cold' Picture; Fans Want John Vs The Rock At Smackdown
With Dwayne Johnson recently announcing the news of his return to WWE Smackdown, John Cena sharing a throwback picture of the former WWE champion has definitely upped the excitement. John Cena took to his social media to share The Rocks funny photoshopped picture with Stone Cold's hands visible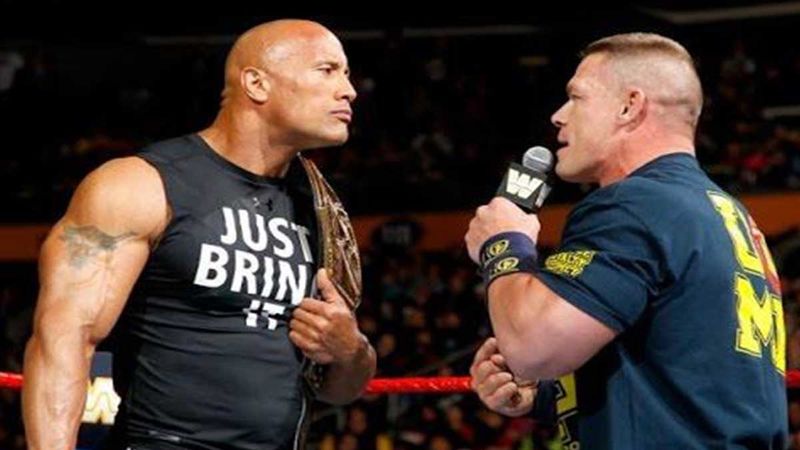 WWE
star John Cena has been hitting the headlines for his activeness on social media. After photoshopping Shilpa Shetty's face on Stone Cold and leaving fans amused, the WWE champion has gotten into some major craziness once again. Amidst Dwanye Johnson aka The Rock announcing his return to the WWE ring, John Cena took to his social media to share a funny picture of the star. John Cena shared a photoshopped picture of Dwanye Johnson's throwback picture with a Stone Cold touch to it.
With the news of Dwanye Johnson returning to WWE, fans of the actor are excited to watch the star perform in the rink. Meanwhile, as John Cena can't get over his hilarious take on several WWE champions and Bollywood actors, the champion has been entertaining fans with his posts. Today, John Cena took to his Instagram to share a photoshopped picture of Dwayne Johnson's throwback picture. What was much more amusing was that John Cena photoshopped the picture of Johnson's face on Stone Cold's body. The picture read, "Stone Cold Smack Down On Fox," and the WWE champion is clearly trying to have fun with The Rock.
Earlier, John Cena and Dwayne Johnson also had a rivalry among each other which hit headlines quite often. While 'The Rock' opened about his rivalry with John Cena on the Jimmy Kimmel Show, John Cena also had an epic response to a threat given by Dwayne Johnson during his appearance on the same show. (Also Read:
Dwayne Johnson announces his return to WWE ring in the upcoming smackdown
)
Meanwhile, John Cena has been treating his fans with photoshopped versions of Stone Cold's body with the faces of Sylvester Stallone, Steve Slofie, Sho Madjozi, Storm Shadow, Schwarzenegger, Simba,
Shilpa Shetty Kundra
and many others who fell prey to his madness. The WWE champion also shared a picture of
Bollywood actor Sushant Singh Rajput
on his social media page, after the release of film Chhichhore. John Cena left fans confused after sharing Sushant Singh Rajput's picture posing with the Indian Army soldiers on his page without a caption, and his account as speculated to be hacked as well.
Image source: Pinterest