WWE Star Maryse Mizanin Turns 'SEXY SANTA'; Drops Her Super Sultry Avatar After Winning 'Ladder Match'-SEE PIC!
WWE star Maryse Mizanian has registered herself as one of the most super sexy Santa this Christmas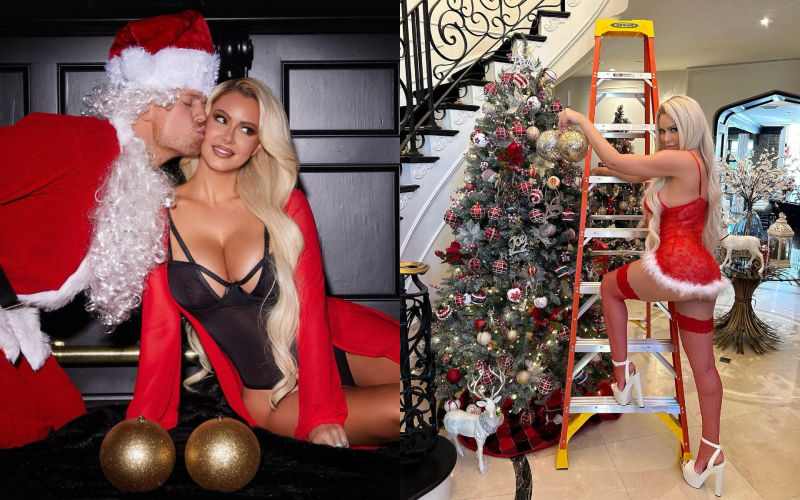 Christmas is undoubtedly one of the most special festivals which is celebrated with much fervour across the globe. While some go an extra mile by dressing up as Santa Claus to make their children feel blessed, someone has seemingly decided to sexualize the outfit, and why not? Even the adults need to feel special!

Now, following a successful ladder match, WWE star Maryse Mizanian has registered herself as one of the most super sexy Santa and her sensual avatar has grabbed eyeballs on the internet.
Taking to her Instagram handle, she teased her fans with an XXX-rated version of Santa Claus in an attempt to make fun of her husband. The Miz was dressed as Mrs Claus while Maryse sizzled as Mrs Santa Claus. The WWE star's pictures have now taken over the internet for her foxy avatar and how she made fun of a "ladder match" while putting up the Christmas tree.
The busty beauty teased her ex-WWE champion husband, Mike Mizanian via an Instagram image and fans couldn't help but gaze at her pictures. Many liked the tweet by the WWE's two-time Divas champion in which Maryse made a clue about the match The Miz will be having on Monday Night Raw.
For the uninitiated, The Miz, a former WWE Champion, competed last night on the WWE brand against Dexter Lumis in a ladder match.
In the picture, she can be seen posing cheerfully while dressing up as Mrs Santa Claus and added the following caption: "Mike The Miz knows... win and he's in #laddermatch".
Her message was in reference to the ladder match that ended just hours after which she posted another image followed by a winking face emoji.
The couple routinely appears in Maryse's Instagram photos; just a few days ago, she published a photo of the couple posing for the holiday season. Maryse still makes the rare cameo with her husband The Miz, despite being less active in the ring than she was in her prime.
Image Source: Instagram