Zendaya Accidentally Tags Kim Kardashian As She Leads New Valentino Campaign, Flaunts Her Sexy Back In Stunning Outfit-SEE PICS!
Zendaya looked gorgeous in a hot pink mini dress as her hair was styled in natural curls with minimal makeup.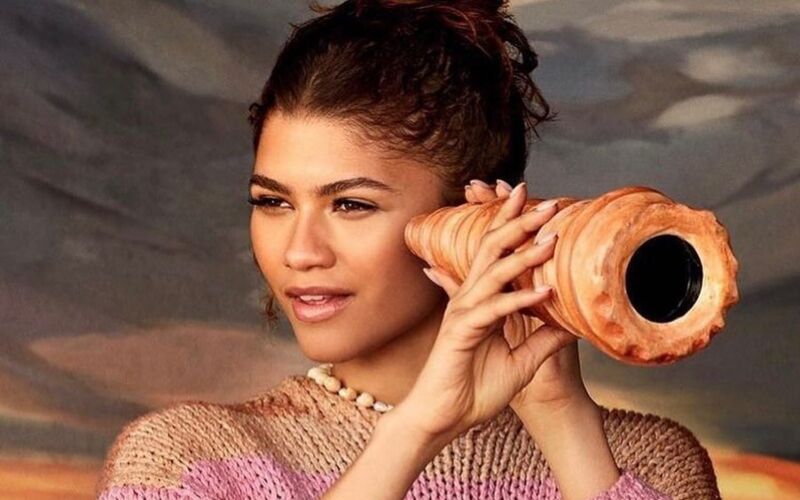 American actress Zendaya has been making it big in Hollywood and she has been one of the most sought after actresses in the industry. Now, she has shared a few behind-the-scenes images of her campaign for the Italian fashion house Maison Valentino.

The 25-year-old looked stunning in a hot pink mini dress with a halter top and strappy sandals as she holds a purse from their new spring 2022 collection. She looked gorgeous as her hair was styled in natural curls with minimal makeup. She completed her look with a chain necklace.
Zendaya caption for the pictures from her photoshoot read, "New @maisonvalentino campaign [bow emoji] #ValentinoRendezVous."
Furthermore, the actress tagged a few industry professionals including Valentino, Pierpaolo Piccioli, Michael Bailey Gates, Law Roach, Sheika Daley, and Kim Kimble. However, she made a major blunder while adding tags in the first image. She accidentally tagged Kim Kardashian instead of hairstylist Kim Kimble. The mistake was quickly fixed later on.
Well, Zendaya's mistake was quickly noticed by fans inviting trolls to take a dig at her. A user posted the screenshots and captioned it, "ZENDAYA CONFUSING THE HAIRDRESSER'S USER WITH KIM KARDASHIAN'S I'M GONNA DIE"
"The campaign also has several commercials with the theme being the actress on a rendezvous. She is seen walking by a vintage car and on a street as if she is going on an adventure. Maison Valentino was founded in 1960 by Valentino Garavani and Giancarlo Giammetti. Since October 2008, the creative director is Pierpaolo Piccioli. Zendaya is not the first actress who has starred in a Valentino campaign. In the past Gwyneth Paltrow and Naomi have done so as well," reports Daily Mail.
Valentino has been teasing the fans of the recent collaboration on their Twitter account through a series of posts.
The first post was captioned, "The Maison encounters the street with @Zendaya for #ValentinoRendezVous​ Discover the full campaign creative directed by #PierpaoloPiccioli, revealed tomorrow at 3PM CET here" The second post read, "An artistic expression and an opening to the world.​ Stay tuned for the #ValentinoRendezVous campaign, starring @zendaya​ Tune in tomorrow at 3PM CET via the link" while the third post's caption said, "A diverse and magnetic humanity.​ The #ValentinoRendezVous campaign comes into focus, starting tomorrow.​ Delve into the story envisioned by #PierpaoloPiccioli and starring @Zendaya tomorrow at 3PM CET, at the link".
Image Source: Instagram/eternellesvacances