Jonita Gandhi started her musical journey as a YouTube sensation but who knew she would make a strong mark in Bollywood in no time. Jonita sung the track- Gilheriyaan from Dangal (2016) and won a lot of accolades for the same.
We presented the SpotboyE Salaam For Best Singer (Female) to Jonita for her melodious voice in Gilheriyaan.
Excerpts from the conversation that followed:
Congratulations on winning the SpotboyE Salaam For Best Singer (Female) for Dangal. How does it feel?

Amazing. Honestly, I didn't expect it and when I found out, I was thrilled to be sharing the SpotboyE Salaam with so many other amazing people who have won in different categories. With my name on that list, I feel really special.
Did you expect an award coming your way when you sang the song?

(Laughs) No. At that time, I was thinking of several other things and awards weren't on the list at all. I just wanted to sing it well and wait for the song to come out. I decided uske baad dekhenge kya hoga.
Rewind. Tell us about your childhood and how did you develop a passion for singing?

I grew up in a family where everyone is fond of music, but no one is professionally a musician. We were in Canada. My dad was passionate about it and he was a musician by hobby during college and work. So thanks to him, music would always be on in our house and he would encourage me to sing. Gradually, I began performing with him in Toronto at all the Indian events. Initially, I was very shy. I would run away the moment my parents asked me to sing, but eventually I fell in love with it.
Growing up in Canada, I started picking up on different influences, but we listened to Bollywood music a lot. From childhood I would sing Ashaji and Lataji ke gaane.
Did you see Bollywood films as well then?

Yeah, I was Madhuri Dixit's biggest fan as I was growing up. Who isn't?
And then?

Then I went to school. Music was purely a passion and I didn't expect to make it my full time career and win awards (laughs).
I did my Health Science degree and immediately post graduation I got a call to perform with Sonu Nigam on his tour to North America. That's really where it all began. I started posting videos online but honestly didn't know the power of YouTube then. It was still new but it suddenly started proving helpful for me to get noticed. A little later in my life, I moved to Mumbai.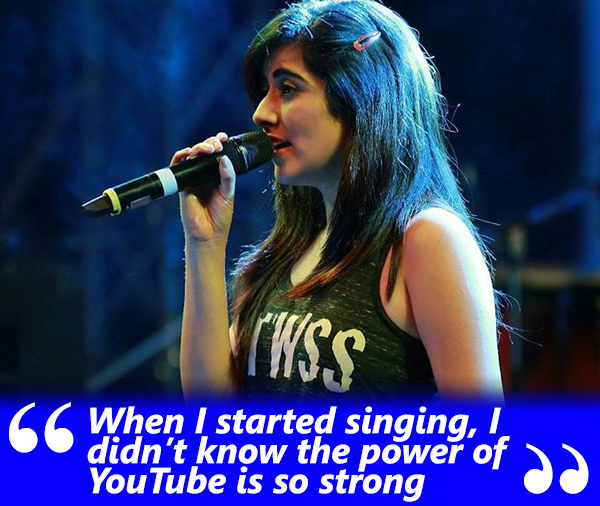 Jonita Gandhi Performing On Stage


What was your dad's reaction when you told him that you were packing your bags to India?
He was happy. He had always been supportive, but wanted me to finish my education.
So did you tell him that you are leaving without completing a degree?

Nahin nahin. I made sure I finished my degree and then told him that I am taking a year off and going to India. The main thing behind the degree was to have a back-up plan.
How did you meet Vishal-Shekhar to start your journey with Chennai Express?

I met Vishal-Shekhar at their studio as their engineer was a friend of a friend. Vishal had already seen my videos on YouTube and knew who I was. That proved to be an ice-breaker. They were working on the song Chennai Express when I went to meet them. It was a perfect case of being at the right place at the right time.
They asked me if I wanted to try singing a couple of lines from the song since they were eager for a female portion. I said, "I would love to." That's it. I was in the studio, recording. I remember being so nervous but happy at the thought that Vishal Dadlani is listening to me sing right now. I pulled myself together and gave it my best. Luckily, they kept my voice in the song and that became my debut (smiles).
I remember asking Vishal during recording as to how does he want the 'baby' word in the line "Get on the train baby' to be pronounced. In an Indian English accent or Canadian English accent? He told me to sing it the way I would and once I did, it was used all over the promos and background score. For me that was my claim to fame. For a good one year, people would know me as the 'Get on the train baby' girl (laughs).
Did the accent come in the way?

No, because growing up I would sing in Hindi. I only get confused when I have to sing in English for Bollywood films because certain terms are more understood when you wing them in a local way. So I always make it a point to ask so that it's relatable to the people listening.
And then you called up your dad to tell him that you are not coming back?

I stayed as a paying guest for 3 years. As soon as Bollywood started happening, my dad was okay. He told me to stay and make the most of it. My mother would visit often and make sure that I settle down here because for me it was a huge culture shock. I was living in India for the first time after spending 22 years in Canada. Eventually, it felt like home.
I began meeting people and got more work. I did a Coke Studio episode before working with Rahman Sir. I continued my YouTube videos and began performing live with Salim-Sulaiman, Rahman sir and his concerts. Nowadays, I am performing with Amit Trivedi. I am lucky that I am getting to work with all the people I wanted to work with.
Talk about the culture shock. What didn't you like about India?

The weather was a big thing. The heat of Mumbai vs the cold of Toronto. It took a while to get used to it. I lived without an AC for the first couple of years as my landlady wasn't okay with me installing one. However, it was okay because my goal was clear. I knew what I wanted to do and everything else didn't matter.
Weather is one part of it. What else– food/people?

Food wasn't a problem because mom would make rajma chawal often (smiles). But people, yes. It's a different ball game dealing with people here. I feel that people here would say 'yes' to something and not follow it up because they are sometimes too sweet to say 'No'.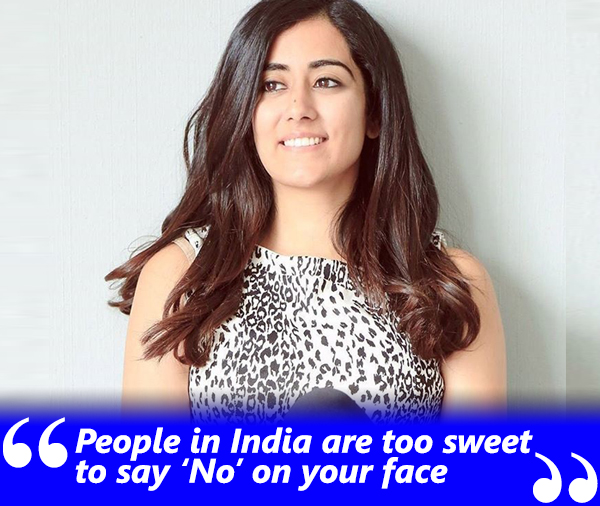 Jonita Gandhi SpotboyE Salaam Winner
People in the West say 'No' on your face?

Yes, they will directly tell you ye nahin ho sakta. They are real about it.
Talking of 'Yes' or 'No', nowadays several singers sing one song. You must have experienced it as well. So how do you handle it if your song does not make the cut?

I sang for Pritam (Chakraborty) for a few years before one song was finalised in my voice. It's all a part of the experience. You learn something new every time you record a song. The experience of learning a song on the spot, recording it, dubbing it and singing it as though it has been your song for ages... yes, it's tough and comes with practice.
I am talking of a situation where a number of singers sing for the same song, A and B are rejected and C is taken up. That's also a case of saying yes initially and not going through...

No, it's not a yes. They (the makers) never promise you. They never say ki aapki awaaz rakhenge. They say, 'Come try the song.' We don't have that expectation, which is a good thing. Having said that, the sense of competition acts as a motivator to kill it when you're singing the track.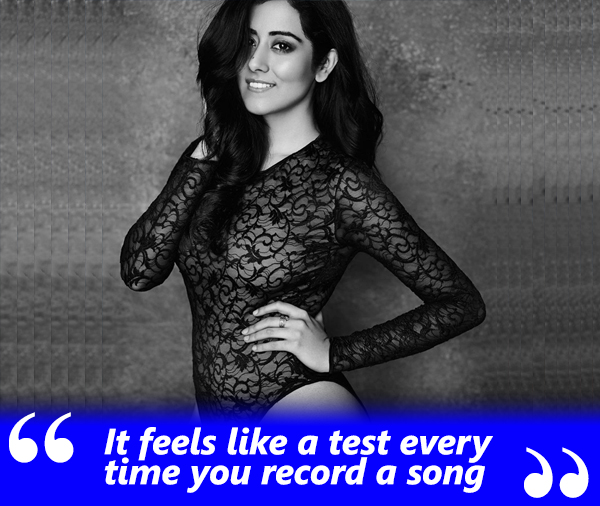 Jonita Gandhi Looks Hot In Black
It's a test...

It feels like that. I have to sing so well that they retain my voice. Yes, it's like a test.
Image Source: instagram/jonitamusic

They say the best things in life are free! India's favourite music channels 9XM, 9X Jalwa, 9X Jhakaas, 9X Tashan, 9XO are available Free-To-Air. Make a request for these channels from your Cable, DTH or HITS operator.