Neerja proved to be a life changing experience for many associated with the film. Apart from some stellar performances, Neerja's screenplay also struck the right chord.

We presented the SpotboyE Salaam, Best Screenplay to Saiwyn Quadras for his impeccable work in Neerja.


Here are the excerpts from the conversation that followed:

Has it been a problem to get into the Bollywood circle?

I would not call it a problem but yeah most people call it a regular phase of struggle. I always knew that I wanted to do something in the media and something related to films. I have grown up loving and watching films and enjoying the process of how they're made.

Do you plan to specialize in biopics? You did Mary Kom and then Neerja…

I don't think biopic is my genre. The true story is that both the films I made fortunately turned out to be biopics but that's not the thing I am going to specialize in.
How much of your original screenplay remains in the films?

In Mary Kom you could say somewhere close to 70-75 percent, but I think Neerja was 100 percent.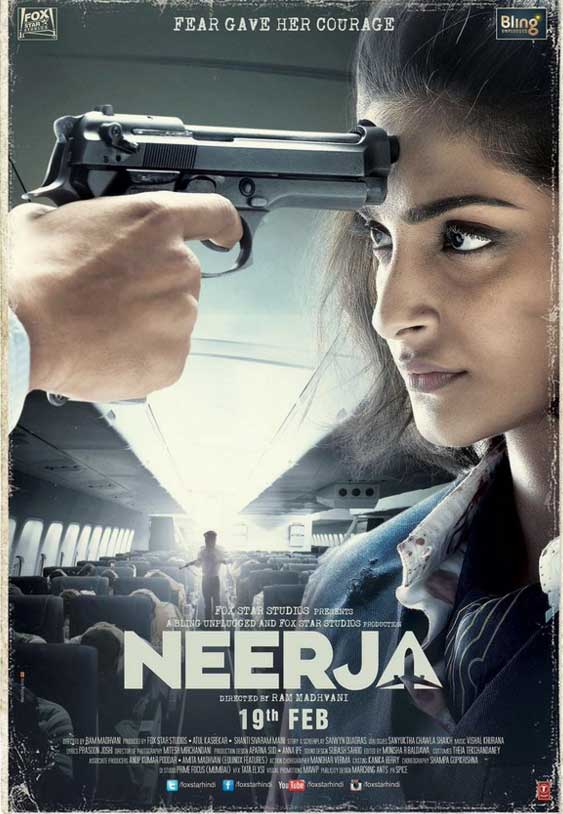 Sonam Kapoor Neerja poster


Do you think writers are treated well?

It's subjective. It's still not as good as it could be. May be the writers are…
Underpaid?

Of course, yes! Also, when it comes to credits and acknowledgments, they are not treated well maybe because writing is such a solitary isolated process that people do not know how much has gone into it.
Screenplay keeps changing on the sets depending on the weather, scene and artistes. Was there any intervention in your screenplay of Neerja?

With Neerja there wasn't any change because Ram, Sanyukta (the dialogue writer) and I worked on the screenplay for almost a year-and-half and before we went on the sets, we had to be script locked.
So any funny narrations you have done?

Funny narrations? Not really. In fact, when Sanyukta used to read out the dialogues of the climax scene of Neerja, which Shabanaji has performed so well in the film, people used to cry during the narration. In fact, that used to be our greatest joy because as writers we managed to move people even when they were just listening to it.
You think you have arrived with Neerja or there is still a struggle ahead?

In my head, I would like to think that every film of mine is my first film, so, I will work with the same amount of insecurity, diligence, honesty...
That's a lot of adjectives.

No, but I want to consider every film of mine as my first. We know how it works in the industry- you can easily be forgotten if you are not on the top of your game.

Are there any scenes in Neerja which you wrote but they weren't there in the final print?

There was a scene where Khalil goes and almost suffocates Dadi Ma with the pillow which…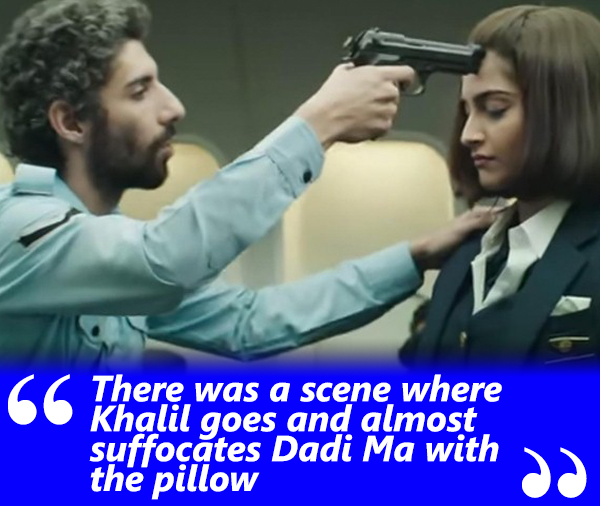 Jim Sarbh as Khalil and Sonam Kapoor as Neerja in a still from Neerja


…why are you smiling about it?

Because originally he was supposed to antagonize her but Jim, who played Khalil, went one step ahead over the script and picked up the pillow that she was leaning on and suffocated her. So, it was a good combination of writing and the actor going beyond the script and still staying in the emotion that was needed to be drawn out. Sadly, it didn't stay in the film.
But isn't that too gruesome?

May be what we showed was less gruesome because what might have actually transpired there and what the passengers must have gone through for 16 hours must have been worse.
How close did you work with the Bhanot family for your screenplay?

We got all the details about Neerja's real life from them. We spoke to quite a few passengers who were present on the flight and a few co-workers to know about her journey as an air hostess. We also spoke to her friends who were there with her when she was modeling. The Bhanots were generous with their time. They gave us full freedom to construct the film the way we wanted. Once we wrote the film, we made them read it. Anish, Neerja's younger brother, read the script and he didn't even have one suggestion or a change.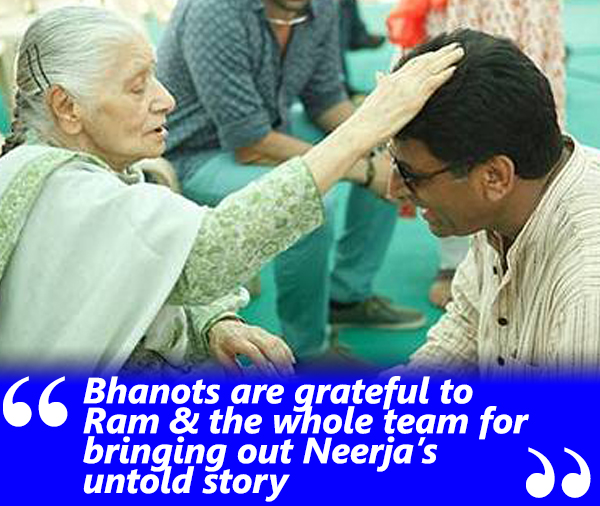 Rama Bhanot and director Ram Madhvani


Wasn't there some controversy later that the Bhanot family is not too happy with the film…
There is absolutely no truth to that. Even now when the Bhanots come to Bombay, Akhil calls me and we have a drink together and we are regularly on calls. In fact, they have been grateful to Ram and the whole team for getting Neerja's story out which was forgotten.

Mrs. Bhanot passed away after the film released?

No, she passed away after we shot the film.


Did she see the rushes?

No, she didn't.

But her presence is there in the film…

Yes, she came on the plane a day before the shooting of the film commenced. She was there to bless all the passengers and the crew members and sadly she passed away a month before the trailer launch of the film. Akhil and Anish said that good she didn't watch the film; because she would have to relive the trauma she went through in 1986. It saved her the pain of going through it again.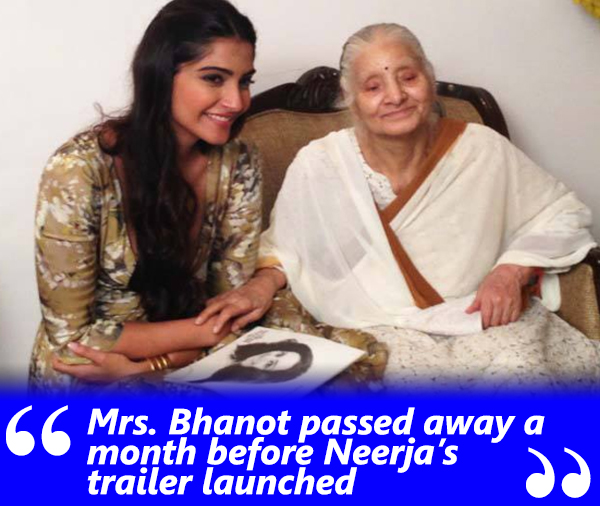 Sonam Kapoor and Rama Bhanot share a light moment


Have you worked with Ram on other scripts?

No, it was my first experience and I am hoping that we get the opportunity again in the future.

So, how many awards have you got for Neerja so far?

One.
Which one?


The Star Screen award and then now of course, I have the SpotboyE Salaams.


So what does the SpotboyE Salaam mean to you?


It is basically just a validation of the fact that maybe I have done something right with this film and it's also an encouragement to do better.


So, where will you keep our trophy?


I don't have a stand made yet because that would be bordering on arrogance that you are going to win that many trophies but I think by the time the award season is over I will see how many I have and then accordingly place it somewhere.

Image Source: youtube/FoxStarHindi, instagram/sonamka

poor &

catchnews