One of the most memorable moments of Neerja belonged to Shabana Azmi, who lent the film a powerful climax, worthy of awards. While playing Rama Bhanot, the mother of braveheart Neerja Bhanot, Shabana steered the character away from the clichés of the 'Maa' of Bollywood.
We presented the veteran actress with the SpotboyE Salaam for Best Supporting Actor (Female) and sat down for a chat with her.
Excerpts:
First of all, how many awards have you won for Neerja and do you credit the closing scene for all the trophies?

This is my fourth or fifth award for Neerja.
And yes, I believe to a certain extent that the last scene sums up Rama Bhanot's character rather aptly. We get glimpses of it throughout the film and in that final scene her character comes out loud and clear.
Here is a mother saying that I taught my daughter to walk with her head bowed but she has shown such extraordinary strength that I salute her. And this sentiment lies within every mother's heart.
I also believe that a lot of credit given to this role goes to Rama Bhanot and her personality. Our writers Saiwyn (Quadras) and Sanyukta (Chawla) wrote it very well and then Ram Madhvani presented it beautifully.
I was discussing the last scene with Anil Kapoor and he was of the opinion that it has the flavour of Mother India and Deewar. What do you think?

I don't think so at all.
Those scenes in Mother India and Deewar were very dramatic. And the scene in Neerja was not, it has been played in a manner which does not resort to tears or sentimentality.
My director Feroz Abbas Khan said a beautiful thing about it, he said that the scene is successful because the actor is playing memory, not emotion.
But there is something called emotional memory. Right?

There is emotional memory and you are absolutely right. But what happens is actors often get tempted to play the emotion. Either play the emotion upfront or to play against it.
But here it was almost as if the mother's emotions were separate and she was just trying to recollect the memories of the kind of upbringing she had given to her daughter and the kind of person she is.
In fact, when Feroz told me, I hadn't thought of it like that but I did think that it was a very interesting observation.
But let me tell you, there are a couple of directors whom I have a lot of respect for, who say, of course this is the finale, this is the last scene, but actually the breakdown of the mother, when she sees the body--- that is the completion for the mother.
Or the denial of the mother when she hears that there has been a hijack, it was so brilliantly pitched by the writers and director. I just played it with the utmost honesty.
In fact, what is very interesting is that in those days my mother was in the ICU and I was staying the night at Breach Candy Hospital, outside the ICU. I used to bathe in the hospital in the morning and head straight for the shoot. I am sure that played its part too.
The only thing I was deeply concerned about was that it would be impossible for me to dub the film or to sync sound. We had found a very nice location but it had problem with sound. It's somewhere in Prarthna Samaj and it is to the credit of Sahu, the sound recordist, who in spite of all the traffic noise and everything, managed to get it right because it would have been impossible for me to replay that emotion.
So you can be pretty tough with directors and I should know (Shabana starred in Khalid's Tehzeeb). How tough were you with Ram Madhvani?

You know, I really don't think that I am tough with directors. Ultimately my discipline is that cinema is the director's medium.
Any kind of differences that have cropped up happen at the level of the script. I can be very taxing when I am working on the script. But once I am on the sets, I might have disagreements but ultimately the director is the captain of the ship for me.
When it's theatre, obviously it's the actor's medium, because the director can tell me what he wants but I will go up on stage and do exactly what I want.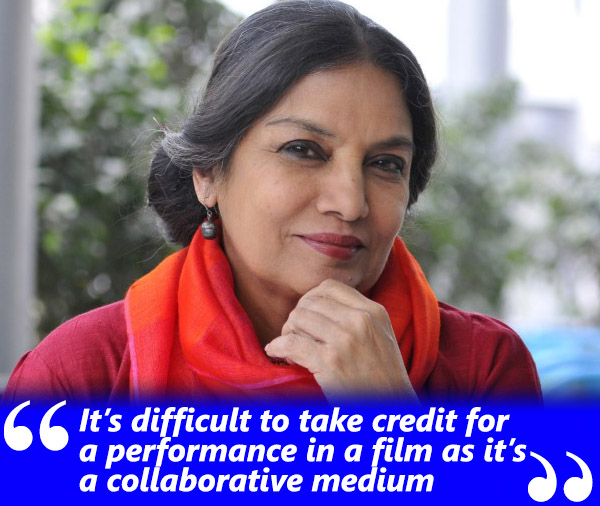 Image Source:
nayalook
I think it's very difficult to take credit for a performance in a film because it's such a collaborative medium. It is dependent on so many other things. I am not saying this with any modesty, but I really think that actors get all the credit because it's their face that comes up in front of the camera. But we know in our heart of hearts that it is the hundreds of technicians behind the scenes who enhance our strengths and cover up our weaknesses on screen. It also depends heavily on the co-star. For example, as a co-star if I look into your eyes and if you are telling the truth it becomes so much easier for me.
You have seen Sonam (Kapoor) as a kid, so was she intimidated by you or was there any understanding, or did you make her easy?

Intimidating is too strong a word, but obviously there is a certain consciousness of the fact that here is an actor with a reputation and years of experience. But I do like to credit myself that one of my abilities is to make younger people very comfortable with me. I think it's extremely important and that's why if you see that the younger people I have acted with, become my friends in real life.
Examples?

Urmila Matondkar, Dia Mirza --- both in your film (Tehzeeb). All the people who where there in Honeymoon Travels Pvt. Ltd. whether it's Sandhya Mridul or Raima Sen or anybody for that matter whom I have worked in the past with.
So, how did you make Sonam easy?

You see, Sonam, I think, was clever. She did not show that she was nervous. For me, warmth towards Sonam came very easily because I have seen her as a child.
The interesting story is that Anil was really worried about her. She was a gawky teenager, she was so tall and she wanted to become an actor and Anil said, 'Usko samjhao, usko bolo ki woh itni acchi hai apni studies mein jaakar Columbia University mein literature padhe'. Toh I looked very serious and I said, 'Haan haan mai zaroor bataungi'. Then a podgy Sonam came to me, and I asked her, 'Sonam what do you want to do in life?' and she said, 'I want to act'. I said: 'Go and act and I will support you'. Anil, till this day, says ki maine tumko kya bol kar bheja tha aur tumne kya kar diya.
But I have been supportive of her. You know when Sunita told me that she wanted Sonam to learn dancing; I was the one who introduced her to Uma Dogra Ji, the Kathak teacher. Anil, Sunita and I are very thick friends.
Shyam Benegal was an ad filmmaker. Ram Madhvani was an ad filmmaker. Did you find any common points?

That's interesting. I have never thought of it like that. Perhaps by a stretch, I can say that ad filmmakers have the mandate of expressing emotion in a very short period, so they understand that quite well.
Is that a good thing?

Of course it's very good for an ad film. If you have the ability to tap into an emotion in a very short period, then obviously it is something that will come to your benefit when you need it. But you know Ram Madhvani's way of working is very different from any other filmmaker that I have worked with. He really believes in simultaneity of action.
So many things are happening at the same time. He is a fan of Asghar Farhadi, so am I. And Ram can drive you crazy on how long he will let a scene last, wanting maybe that magical moment to arrive.
He challenges the actors, he has different techniques.
Give me an example...

It's my favourite scene in the film. Ram came to me and said, 'I can't bear the clichédness of the scene'.
I asked him to explain and he said: 'Go and wake up your daughter. Lekin pehle socho kya kar sakte ho'. I then told him that when I get up in the morning, and even now, I go and slip into my mother's bed. Ram replied: 'Wow, that's really nice'.
And mind you, he did not tell Sonam.
When the scene was shot later, I think the magic of that moment comforted Sonam immensely. The reason why the mother-daughter relationship in Neerja was special.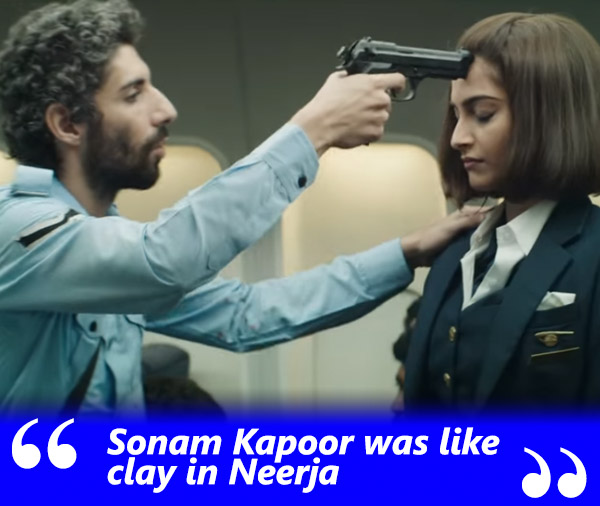 Image Source: youtube/FoxStarHindi

Could any other actor have played Sonam's part?
Sonam's part? You know what goes in Sonam's favour is a certain vulnerability, a certain honesty, a certain lack of being cocksure. All these things helped her, she totally surrendered herself. Importantly, she had no star tantrums. She was there like clay.
Can you see any other actor in your role?

Of course.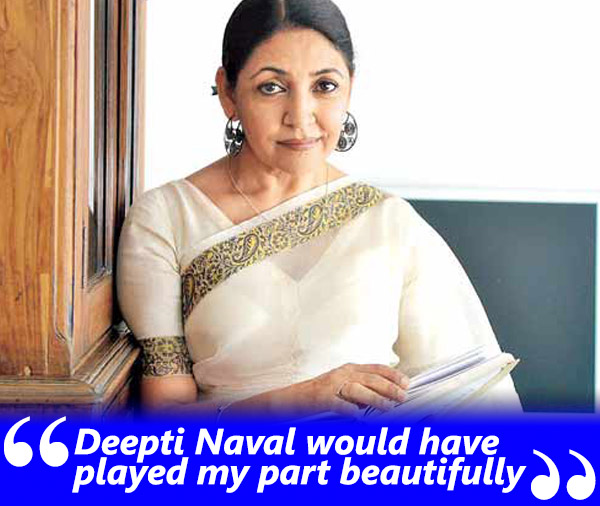 Image Source: farnazfever

Like?
Deepti Naval would have done it beautifully.