Congratulations on winning the SpotboyE Salaam for Best Film (Critics). Pink was fabulous.
Thank you SpotboyE and the jury who thought that the film was worthy of the Best Film (Critics). On behalf of the entire team, I want to tell you that Pink was an inspiring experience for us- devastating also at some point, but we are very happy that you guys have acknowledged it.

Did you think that the film will be this loved? Pink became the topic of discussion, which was, I believe, your agenda as well...
I think I had told you in my last meeting with you that if it can spark a conversation, I will be happy. Pink was just not a film I produced, it was a creatively curated & produced work of mine. Hence, the film is very personal.

To talk of expectations, I don't have them from any of my films (pauses).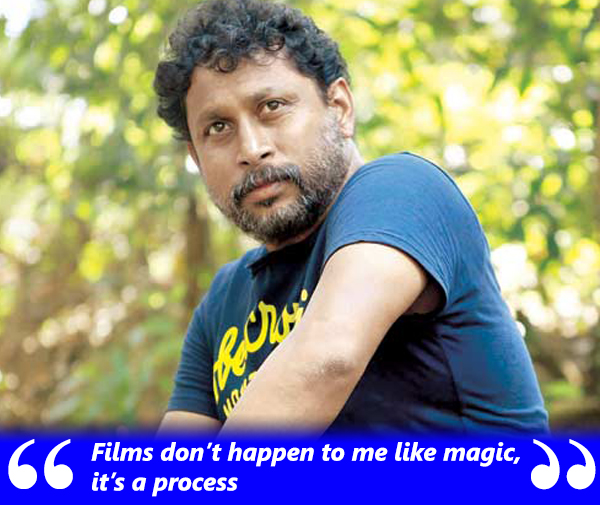 Go on...
How do you know if the film will work or not? Nonetheless, when the first show happened, I was taken aback by the emotional reaction the film got especially by young boys and girls.

The reactions were very energetic- as if woh log abhi kuch kar denge, abhi kuch karna chahte hain. It just went on from there, it almost became like a cult. People spoke about the 3 girls, the lawyer and the arguments he gives in the court, how the opposition and judge reacts to them, and lots more.

We picked up facts for the venture. These cases have happened. For instance, four days after the film had released, a woman called up from Kolkata thanking me for Pink and began crying. She said, 'I wish my daughter was alive.' On asking her I came to know that she is the mother of the Park Street rape victim. Jabb takk court kaa decision aaya, her daughter had passed away. She told me that every day "the same situation (as shown in Pink) would take place in court". It was the biggest reaction I got for the film.

Yes, many of us could relate to the film. What inspired you to make Pink?
Aniruddha and Tony had told me way back in 2012-13 that they want to make a socially relevant film based in Kolkata. At that point in time, I had casually said yes but wasn't too involved in it. Then suddenly, two incidents happened with me which made me want to attempt the film.


What exactly?
Films don't happen to me like magic, it's a process, word by word, performance by performance, editing, music – everyday the film is developing. There's a lot of work which goes into making a film because it needs a certain depth, otherwise what's the point.

Coming back to the two incidents- one was the day our satellite entered Mars' orbit, we were clued into our TV screens. My wife and I were watching news when she passed a comment saying, "This is 2016. On one hand our satellite is going to Mars and on the other the newspaper has articles on women empowerment'. Do you see the comparison?" I sensed a lot of guilt and sarcasm on me as a man, husband and as a father. I could relate to what she was trying to say.
Secondly, one day, my 13-year-old daughter (Shoojit has two daughters) got back after a game of tennis and threw herself on the bed. My mother-in-law came in and told her: 'Theek se betho'. She responded: 'Main theek toh hoon.' However, my mother-in-law, still insisted she sits properly.
That particular moment hit me badly and I began discussing the incident with my wife.
We spoke about how it is at this age that we begin crushing a girl's confidence. In this case, the 'theek se bethna' begins by 13-14 and by the time the girl is 22-23, she has lost the courage to protest because you have unknowingly crushed her confidence on a day-to-day basis. Yeh chala aa raha hai.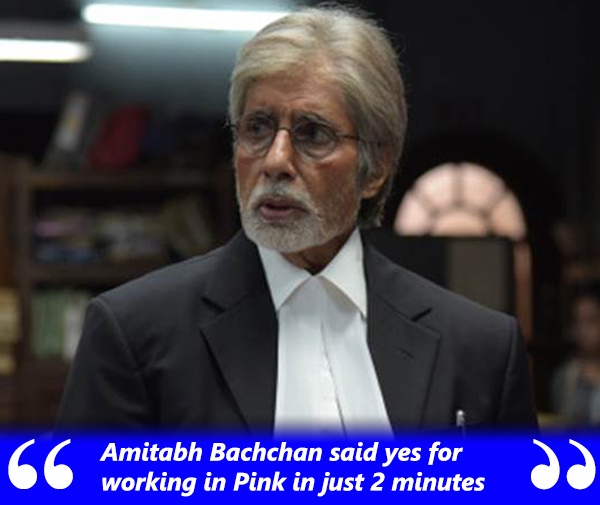 Haan, ye pehno, woh pehno...
Yes, exactly, and these diktats are created by us. If a boy is listening to the episode, he will grow up to think that this is how women are supposed to be. She (my daughter) can lie down on the bed the way she wants to, isn't it? That's when I decided to begin working on Pink.
You brought forth the double standards we have in our society...
Isn't it a fact? There are so many things engraved in our society that it's very difficult to take it out. Aap bolte ho ladki ko ki tum raat ko akele matt jana. Abb aapne bol to diya lekin aapne ladki ka confidence khatam kar diya. Abb wo kabhi jaa hi nahin sakti raat ko akele. You see what I am trying to say? Aapne ladke ko to woh same cheez nahin boli.
Has the atmosphere in your house changed since the incident?
See my mother-in-law will continue saying things because that's how she has been for so many years. Ek dum se change nahin hoga. It will change when we talk about it every day, engage parents, girls and boys on an everyday basis.
What did your mother-in-law say when she saw the film?
She has not watched the film actually, unko zyada Hindi samajh nahi aata hai but she knows what this film is. But my family has loved it, as it is an everyday fact. My wife said that she hopes people understand it, so we we're only going to try.
One reaction was very beautiful from a 19 year old girl who came out of a Delhi show howling and crying and said that Pink dekhne ke baad she had decided to go back home and tell her parents, "Yes, you are my parents and you're taking care of me, you've been thinking good about me par aaj tak mujhe jo aapne sikhaya hai vo galat sikhaya hai, I will go out in the market, I will keep my head up and walk, and if something happens to me let it happen, like Minal Arora (played by Taapsee Pannu). Like Taapsee Pannu in the film, I'll go and stand in the witness box but I'm not going to put my head down, so, I think that is quite a brave reaction from a 19-year-old girl (pauses).

Go on...
So, I am nobody, this one film is not going to make a difference, it needs participation of everybody, it's like an everyday mindset change, so it's going to take a lot of time. Yes, I am happy even if I have been able to change 2-3 people to think about it, like someone just told me that, "I just delivered a baby boy, as soon as my boy is 10-years-old, the first thing I'm going to show him is Pink".


So, tell me about the casting, were the girls cast first?
Actually I had done a film with Tapsee, before Vicky Donor, which was Running Shaadi.com (it released only after Pink), which was directed by Amit Roy.


My friend and producer Ronnie Lahiri suggested that I should think of casting her as Minal Arora.


Kriti Kulhari came in through auditions.


Actually I'm from Delhi, I've lived there and I know you can't make a movie on 3 girls if there is no North Eastern girl and how they are treated in Delhi and how they are looked upon, and she says it in the film too, so I kept it this way in the film as well, which is why Andrea Tariang came on board.


And you will not believe it that Mr Amitabh Bachchan agreed to do the film in 2 minutes.


I walked out of his house, was standing on the road and wondered what do I do now, since I was not fully ready.


In fact, I went back to him later and we shifted the date a little ahead!

You had to change Bachchan's character…?
Yeah, a little bit, but not much because I didn't know that he would do it, so we just made the character a little calmer and easy and we didn't go deep into the disease he had- the bi-polar disorder.


Wasn't there any temptation to make the courtroom climax a little bit louder in terms of dialogues?
All lawyers are big actors. You will be amused if you see them in courtrooms. At times, judges even tell them that they should tone down their histrionics. We didn't want to go that route.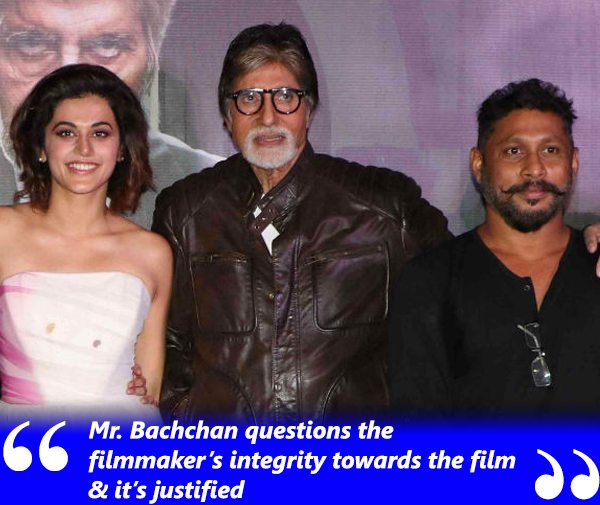 Did he have any questions when he was supposed to speak words like Sex, Virgin and many more?
Yeah, he had a lot many questions. That's what is amazing about Mr. Bachchan, he continuously questions you. He will question the filmmaker's integrity towards the film as well. It was his greatness as I think he was totally justified.



Image Source: moviereviewpreview, alchetron & punjabijunktion