102nd Birth Anniversary Of Manna Dey: The 1997 Interview Of The Singer When He Said 'The Music Directors In India Never Tried To Find Out My Worth'- EXCLUSIVE
Manna Dey would have been 102 today. The legendary singer and Padma awardee had given a rare interview in 1997 to journalist Subhash K Jha, here are the excerpts.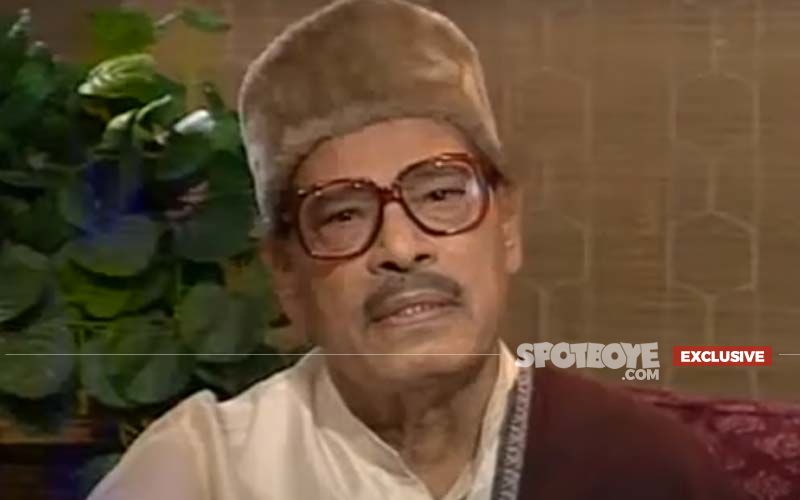 As we remember Padma Awardee Manna Dey on his 102nd birth anniversary, we take you down memory lane and give you a preview of one of his rare interviews. The interview was conducted by veteran senior journalist Mr Subhash K Jha in the year 1997. Read the full text of the 14-year-old interview exclusively on SpotboyE!
Excerpts of the 1997 interview in full text:
Think of Manna Dey and a dozen classic classicals begin to play hide-and-seek in the corridors of our minds. This constantly shortchanged singer has given Hindi music listeners such glorious evergreens as Kaun aaya mere man ke dware' (Dekh Kabira Roya), 'Ae mere pyare watan' (Kabuliwalla), *Kasme vaade pyar wafaa sab' (Upkaar), 'Laga chunri mein daag' (Dil Hi To Hai) and "Tujhko chalna hoga' (Safar). Though he's now on the wrong side of 70, Mannada, as he's known among his (many) friends and (few) foes, is still as alert and outspoken as he used to be in his heyday.
Ask him to comment on a colleague and he gives you his frank opinion, though occasionally qualified by," you may not write this." During his flash visit to Mumbai from Calcutta I spoke at length with Mannada on his career and colleagues. Often during our conversation, the singer broke into snatches of his memorable melodies to make a point on his musical literariness that always stood in the way of his achieving success in Hindi films.
Your repertoire may be limited, Mannada, but most of your songs qualify as classics. How did you achieve such good results as in a 'Poocho na kaise maine?
You see, when I'm asked to sing a song for a particular situation I get totally involved with the song. I gave an extra something to that song because it was composed by Mr Burman who was almost a brother to me. The other songs for the same hero (Ashok Kumar) were sung by another singer, Rafi. But when Mr. Burman chose me to sing 'Poocho na kaise' he told me to forget that I was Manna Dey and to sing for Ashok Kumar. I did my very best. I love to take on challenges.

You just mentioned that all the other songs in Meri Surat Teri Aankhen were sung by Rafi while the most challenging number went to you. This, I feel, has been the history of your career. You were invariably called for classical numbers.
I've always been a good student of classical music. The little knowledge that I have has been used in my singing. But classical singers are always dreaded by the masses, so I wanted to make it as a popular singer. Many times I had to sing shoulder-to-shoulder with Rafi. I accepted that he was a great singer. If I didn't put in that extra something then I had very little chance to compete.

But music directors those days were more educated, weren't they? Then why did your classical background prove a hindrance?
Yes, but then there was a very very big sce which proved himself (Mannada means be far more popular and in-demand)

But you sang some very popular numbers for Raj Kapoor like 'Aaja sanam', 'Yeh raat bheegi bheegi', 'Dil ka haal sune dilwala' and 'Ae bhai zara dekh ke chalo'. Do you think it would have helped your career if you had forged a lasting bond with Raj Kapoor as Mukesh did?
The fact that Raj Kapoor chose me to sing a few songs for him was in itself a very big boost for my career.

You were raised to be softspoken and family-oriented. But such values hardly help one to become successful in a competitive business like showbiz.
My father or uncles never raised their voices in front of me. Those values were instilled into my songs. Whatever I put into my songs I learnt from my family. My uncle, the renowned singer K C Dey who trained me, was a very hard taskmaster. Ours was a joint family. I was born in the same house as my Kaka (Uncle). We used to have nightlong music performances all the time. Woh sur jo kaan mein padaa, that was a great learning experience. It was a perfect joint family. My first uncle used to earn the money, my second uncle used to take decisions and my father used to implement those decisions. Even now we all live together. Kabhi miljul ke batata

aur bhat bhi kha lete hain toh khush rehte hain. I for one wouldn't exchange my family for anything
The other day I was speaking to a music director. He said, "Manna Dey was too much of a gentleman to become a success in Mumbai."
(Laughs). I keep myself away from the industry. Certain things there never appealed to me. For instance the drinking. I don't drink. Secondly, there is gossiping. My uncle's doctrine always played in my mind. He said, 'If you don't deserve it, don't desire it.

Competition in your times was rigid. Perhaps your lack of pushiness prevented you from claiming the success that was rightfully yours?
You are being too lenient about my failings. When I started singing there were quite a few stalwarts all around me - Mohd Rafi, Talat Mehmood, Mukesh, Kishore Kumar, Hemant Kumar. There were only a limited number of songs in films. If a hero wanted Mr Rafi to sing for him, naturally it had to be him. Then if it was Dilip Kumar, who is a soft-spoken man, he naturally wanted Talat Mehmood. Raj Kapoor wanted only Mukesh. All of them had beautiful voices. Now you tell me, where did I stand a chance? I was given to sing songs like my uncle, in a stentorian voice.

I think they branded you a character singer.
Absolutely. In Bimalda's Do Bigha Zameen I sang a popular song 'Dharti kahe pukar ke' for Balraj Sahni. But in that film, he looked emaciated, down-and-out. So that became my image. My song 'Chali Radhe rani' became popular. But it was filmed on a beggar: So they branded me a side singer. You wouldn't believe it. But I used to weep about this. A young man like me had to sing only one type of songs! I don't know how their minds work in this film industry.

Would you say being part of a team is important for success?
Yes, unless he's taken in hand by a capable composer, a new singer has no chance. Of course, Rafi Saab had talent. But Naushad took him under his wings and groomed him. Seen in that way even Lata Mangeshkar wouldn't have been what she is without the confidence shown in her abilities by Sajjad Husain, Ghulam Haider and Naushad.

But when Lata was coming up the other lady singers like Zohrabai Ambewali and Shamshad Begum didn't have her sophistication. Lata has a very very rare talent. I wouldn't say she has been taught music. Woh sun sun ke bani hai. She learnt from Noor Jehan. She even learnt by listening to Geeta Dutt. But Lata polished all the weaknesses in Geeta's throat.
At a time when you were hardly given love duets to sing how did you manage to get the haunting 'Soch ke yeh gagan jhoome' in the film jyoti?
Oh, I love that song! I don't think I was chosen by Burmanda. The picture Jyoti was produced by a gentleman called Alexander. He was a football buff like me. He insisted ke yeh gaana Manna Dey gayega.

But isn't it tragic that a singer like you who's sung such lovely love duets needed recommendation?
Believe me, I've thought about it many times. At one point I made up my mind to leave the film industry. I didn't have a Godfather and I didn't believe in asking for work. Yeh sab mujhse hota nahin tha. The turning point in my life was my marriage. Even though my wife was a Keralite she could sing Rabindra Sangeet beautifully. After marriage, we would sing together at home.

Were you against her singing publicly?
Yes, to an extent. We continued to sing together at concerts abroad. But after we had our children she said she wanted to - at home. She's my perfect partner. I remember one incident where V Shantaram insisted that I sing a song. But the music director wanted to sing it himself. I told him to go ahead and sing it because his voice suited the song. But Shantaramji was adamant. I reluctantly returned for the recording. The music director had modified the tune to suit my voice. Shantaramji argued that if it's difficult for the singer to sing then the listeners can't sing it either. In the evening I narrated this incident to my would-be wife. She argued that if the tune was difficult shouldn't I have made an effort to sing it? She was absolutely right. I had a kind of defeatist attitude towards my profession.

But is it absolutely necessary to be pushy to make it big?
I'll tell you about an incident. Years back, once when I was in Calcutta I got a call from Raj Kapoor's office informing me that I was to attend his daughter's wedding. I refused. Even Raj Saab called me, which was a big happening. But how could I abandon all my recordings in Cálcutta and go running? This kind of attitude did a lot of damage to my career. I feel, apart from a few composers like Sachin Dev Burman and Madan Mohan, the rest could hardly sign even their names. I was the only singer who made notations before recording a song. I taught the same to Lata and Asha but they never made good use of it. I used to work on the songs beforehand. When I came for recordings I could sing the number after only one rehearsal. I've always been a perfectionist. I took utmost care over every song that I sang so that even today people want to listen to them.

Did you turn to singing comedy songs for Mehmood for want of better opportunities?
Yes, that aspect of my singing was due mainly to Padosan. Earlier SD Burman had made me sing for Mehmood in Ziddi ('Pyar ki aag mein tan badan jal gaya'). He trusted me with his songs. I believe, to be genuinely humorous, one has to be a little educated. Without education, you end up with the sense of humour of a rickshaw wallah. I won't take names but there were those singers who indulged in such things. And crowds would rave over them. But when I introduced some polished humour into our songs I was criticised for it.

Your Jodi with the B-grade composer Chitragupta was quite successful.
Rafi and I sang many songs for Chitragupta. Once we were recording a song together. I was practising my own style of humour. When Rafi stepped in with his lines, Chitragupta said to me, 'Mannada aap bade mazey mein gaa rahe the. Jab Rafi saab ne entry li toh woh sab aapka bilkul pheeka pad gaya.' I was shocked. Chitragupta was an educated man and I used to like him. I told him, 'Your brand of comedy doesn't suit me. Next time you have a duet with Rafi, you sing it yourself.'

I think he was just trying to please the more popular singer.
Absolutely. All the music directors were like that. The one who was really outspoken was C Ramachandra. He could never stand the most popular male voice, you know who I mean.

Tell me more about your experiences while singing with Rafi.
Once we went down to Madras to record a duet. The song situations in their films were so bizarre, Rafi was singing for Hanuman and I was singing for Raavan, C Ramachandra corrected Rafi saab. He became red in the face. I asked Anna (Ramachandra) 'How could he do this?' He replied, "How could I not do this? My song was being spoilt (laughs)." C Ramachandra always knew what he wanted.

Mannada, somewhere you were once quoted as saying that Madan Mohan was too taken up with Lata Mangeshkar to pay attention to other singers. Did you really say that?
(Laughs). I think Madan Mohan made some immortal songs for Lata. If he didn't make those ghazals for her, would Lata be known as a ghazal singer?

Let me ask you something, Mannada. If Lata wasn't there would Madan Mohan have been inspired to compose those ghazals?
I might as well tell you that ghazal singing is not Lata's forte. I'd prefer any other singer to sing ghazals. Lata's ghazals were known because of Madan Mohan. She later recorded ghazals with other composers. They didn't make the same impact. Lata could sing bhajans and geets but not ghazals.

Do you listen keenly to other singers, besides yourself?
Being a student of music I listen to everybody. Kavita Krishnamurthy is like my daughter. Her father was posted in Geneva. Once when he was visiting India he brought Kavita to me. Hemant Kumar had recommended her to me. Kavita sang at my concerts in all corners of the world. I used to choose her songs for her. I'd say she has been a very very good student of music.

Which other singers of the post-Mangeshkar generation had potential?
Anuradha Paudwal had a lot of potential. If whatever happened in her life didn't happen she would have taken Lata's place 10 years ago. She could surpass herself in certain songs. Her voice quality is terrific.

But don't you think Lata's influence on her voice is really heavy?
Why not? Lata's influence had to be there. Someone has to serve as an inspiration for all singers.

And whom did you copy?
I used to copy my uncle KC Dey when I was young. When I'd sing his bhajans in college my friends would scold me for singing old men's songs.

Among male singers who do you mire?
I'm a great fan of Mohammed Rafi. Suresh Wadkar's pronunciation is faulty. I think now they're making too much of him. It does a lot of harm to the singer. The composers we grew up with, Burman Saab, Shankar-Jaikishan, Roshan, Madan Mohan, they used to compose songs according to the characters on screen.

But most of Madan Mohan's songs were sung by Lata.
Then who else would have sung those songs? Asha is a great singer. Lata's and Asha's repertoire are two different things. When Asha was in her element, my God! She could sweep you off your feet. So many times when we sang together I used to marvel at her singing. If I'd put some ornamentation in my singing she'd request me to put one in for her.

I've heard that music directors those days weren't at all to open suggestions. Is this true?
Oh no. Any song that I sang, I'd offer my suggestions. There came a time when even Laxmikant-Pyarelal used to take my suggestions. Invariably I'd be at the recording studio by 10 am before everyone else. I'd say it was very nice of the composers to place their faith in me. Except for Naushad Saab. He was too much of a perfectionist to take anyone's suggestions.

Do you know of any other singer whose suggestions were accepted by composers?
Lata. When Lata was given a free hand by certain music directors she used to excel herself. The nuances that she put into her songs, no one else could.

The last Hindi film song you sang was for Prahaar. Haven't you been approached for other songs?
They call me up sometimes. Jatin-Lalit called me the other day. I told them, "Tum ga lo na. Tumhari awaaz toh acchi aa rahee hai telephone par.' (Laughs).

You've always been ruining your own career.
Look, unless I'm absolutely at home with a composition I can't sing it. I know what they'll compose for me. Even for the song in Prahaar, Nana Patekar came personally to request me. I refused. But he refused to budge unless I agreed. Laxmikant-Pyarelal also called. When I rehearsed the song, I found it was almost made for me. But Laxmi-Pyare had their own way of thinking. I didn't subscribe to their theory of romantic composition. SD Burman, Shankar-Jaikishen, Roshan knew the art of romantic compositions. But Kalyanji-Anandji and Laxmi-Pyare wouldn't think the same way.

Don't you wish you had more hits in Hindi films?
You should listen to my Bengali songs. I've sung any number of them. My entry into Bangla films was very late. Calcutta was full of Hemant Kumar. They wouldn't let me enter there. A producer, Saroj Kumar De, promised that he'd let me sing when he made a film. He made me sing for Uttam Kumar. That really helped my career. After that, each and every song of Uttam Kumar was sung by me. Hindi composers want to know how I infused so much romanticism into my Bangla songs. But where are such songs in Hindi?

Did you record private songs in Hindi because of the lack of opportunities in Hindi films?
Again, those are my tunes. The music directors in India never tried to find out my worth. The poet Madhukar Rajasthani once came to me with the lyrics Yeh sunsan ganga ka kinara/Pyar ka antim sahara so raha koi kismat ka mara ... I tuned it there and then. Rajasthani said, "Mannada when you tune songs so easily I feel like calling producers to hear the end results." Then I sang Nathni se toota moti re. I got a letter from Mehndi Hassan Saab. He wanted to know how a film singer could sing a non-film song so well.

What do you think of today's composers?
I don't like them. My wife and I think we're going back to the jungles (laughs).

Image Source: Instagram/manna.dey.sahab, youtube/soorajitmukherjee/gaanesuneansune/teddypeter/bollywoodclassics/shivamaharjan/mastkalandr