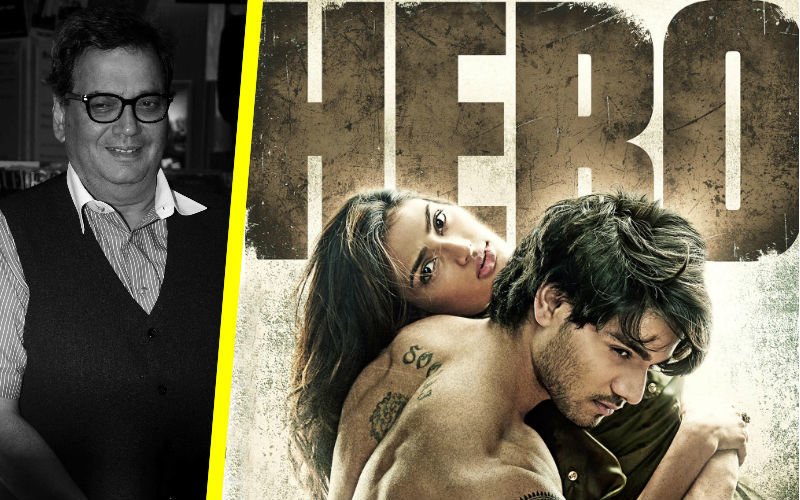 The filmmaker has seen 71 autumns but the spring in his stride makes it clear that he is still hungry and fit to hit a few more punches. Subhash Ghai promises never to give up. We met him for a chat and came back stuffed with his birthday cake! Excerpts:
How old do you really feel now?
I don't feel old. I'll feel old perhaps the day I am in the grave. We have 100 years to live and we have no business feeling old before time. The secret to my youth is the fact that I mingle with youngsters, understand their vibe and follow a healthy routine. People feel bad when they realise that I'm not hurt despite so many falls. Main waqt se kadam mila kar chalta hoon, peeche palatkar nahi dekhta.
But if we really look back, the last five years have been extremely difficult for you. In hindsight, do you think you fought the wrong battle?
Har jung mein sirf jeet aur haar nahi hoti! When you go through crisis, you realise how many people you've earned in your life. I gauged who my friends really are in those five years of turmoil. That is an invaluable lesson. You can feel lonely even with Rs 2000-4000 crore in your account. I don't have that money but I have priceless friends. Yes, I had a bad time between 2010 and 2014 but that's over. I don't want to live with its memories, but I won't forget its lessons.
Do you think that the pain was worth it?
Ram ko vanvaas nahi hua? Krishna ko kasht nahi hua? Mahatma Gandhi took a bullet and Mother Teresa and Narendra Modi have been often abused. Irrespective of the result, I had to fight this battle. Humein jhukna pada, maaare maaare phirna pada. We had to painfully explain the utility of a school like Whistling Woods and what had gone into making it. Thankfully, the court supported us. And I'm sure the government too will support us. I invested every penny I had. I still live in a 3-BHK flat. I've not bought a fancy bungalow. I sold off all my other property to support Whistling Woods. That was my sacrifice, my contribution towards a better future for Bollywood's filmmakers.
Between 2010 and 2014, you announced a couple of films. Sarbjit was one of them. Today, someone else is making it. Shouldn't you have waited on it a bit? Why did you give it away?
I didn't want Omung Kumar and his team to wait. My monetary troubles forced me to give away Sarbjit. I was going through a cash crunch. I am happy that it's getting made with a good cast (Aishwarya Rai, Randeep Hooda).
When do you plan to return to direction, now that things seem more streamlined in your personal and professional space?
I've made a lot of films and seen a success ratio of about 85 per cent. I ventured into other businesses and my film school. While moving forward, I had to leave something behind. I stopped it for a few years but now I think that will get back to it. However, let's not put a date to it.
We hear, there are three films you've planned to produce this year and one is with Sanjay Dutt. Would you like to direct that one?
I have to make a film for Sanjay Dutt. I've committed to him. We have two subjects and we will meet when he returns. We met and had a long conversation about films when he last come home. Subjects find their directors. Sanjay Leela Bhansali won't ever make a film like me, and I can't make a film like Imtiaz Ali.
What happened to your conversation with Sanjay Leela Bhansali for Khalnayak?
After that lunch that he came over for, Sanjay never called me. Everyone makes films on his/her personal likes and dislikes. He's free to do what he wants. If he has other plans he can go ahead. He had expressed his desire to remake Khalnayak and I have given him the nod. But the rights are still with me. Let me tell you, he's not the only one who is eager to remake Khalnayak. It's my call. I have to decide the price. Sanjay is my first choice but who knows, the rights might just be bagged by someone else.
You think he will leave the rights for money?
Sanjay never leaves a film for money. If at all he does, it would be for the subject. He will take it at any price. And I will give it to him at the price he quotes. I can't say 'No' to him. I won't ever burden him with money. It's my honour if he remakes the film. But I won't insist. I have other filmmakers in queue. Karan Johar is one of them.
Don't you think you're handing over a great collection? Remakes have often bombed!

Why would I feel bad if my films are being remade? It's an honour that so many of films are being remade or being negotiated for a remake. It just reassures me that my work has resonance even today. Award nahi mila tha tab...but 30 years later, when the young generation wants my films, I feel like a winner.
What do you think will be the fate of Ram Lakhan's remake, especially after Rohit's Dilwale didn't live up to expectations?
Karan Johar is a capable writer-director. Rohit and he will make a good team. It will be an entertaining film, I am sure. And so what if Rohit was rejected with Dilwale? It doesn't make him any less capable. He is a bright filmmaker. You people wrote me off after Yuvvraaj. So, does it mean that I don't know how to make films? Even Steven Spielberg has seen flops. It doesn't mean he's any less talented. Rohit is energetic. It's a foolish thing to think that he's over. He made a mistake but he'll be wiser in future, I am sure.
Would you creatively supervise Ram Lakhan's remake?
Only if I'm asked to! Once I've given away the rights, I don't interfere. If they ask me, I might suggest who should be cast.
We've seen the result of two of your remakes: Hero and Karz. Aren't you afraid?

No, I've made my films well. Karz had the same fate as Hero. Remaking is about a filmmaker's interpretation of another filmmaker's work. A simple story becomes fascinating when a good director and a writer team up.
What went wrong with Hero?
I saw Hero at its premiere. Hero felt like a beautiful body with no soul in it. A beautiful carcass! I spoke to Salman about it when he called me to ask how I felt. And he agreed with my opinion. He said that something had definitely gone wrong with the film. Beyond that, we didn't speak.
Digressing a bit...It has been years since you left FTII. All through the protest at the institute, you kept mum. Why?
Gajendra Chauhan doesn't have anything to do with the daily functioning. I am pained by the students and their attitude. If my children tell me they don't like the teacher, I ask them to change the school and not the teacher. Why protest? Why shouldn't the students just finish their courses and leave? Ten years later, they will repent it.
Would you have become the FTII chief?
I could never have become the FTII chief. It would have interfered with my Whistling Woods. And FTII is good for parallel cinema. I am more into mainstream cinema. My hands are full here. I think people like Adoor Gopalakrishnan and Mani Kaul are the best fits to head such institutes. Even as students, we've all abused FTII. Parallel cinema ki training leke, David Dhawan, Sanjay Bhansali and I became disciples of Manmohan Desai.
While you are grooming filmmakers of the future, do you see the current state of CBFC to be an alarming issue for them?
Of course, we need more educated members to watch and certify films. But we also need to understand where to draw the line. There's no harm in going with the flow, with the way the society has shaped up today. But this war of right v/s wrong has been on for 50 years now and will never end. There's no definition for what is right and what is wrong. We have to understand that the freedom of speech also comes with a lot of responsibility. You can't be callous with it. Films are for mass consumption. Filmmakers should always remember that.
Image Source: Manav Manglani, eventcombo,eros & imagearcade