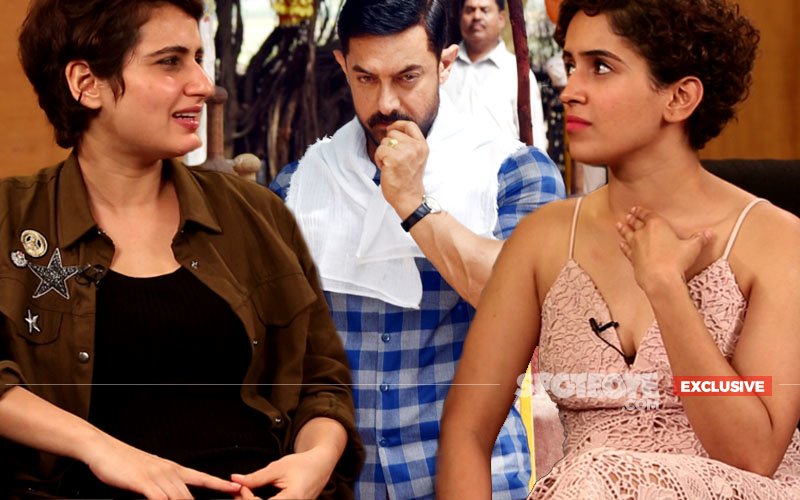 Your browser does not support the video tag.
Not many know a lot about the two 24-year-old cheerful and spirited girls — Fatima Sana Shaikh and Sanya Malhotra –who are making their big debut with Dangal starring Aamir Khan, tomorrow (Dec 23).

Thanks to Koffee With Karan's last episode, we got a glimpse of their personality that is oozing enthusiasm and confidence at the moment. They are not your usual star kids! There's frenzy of promotions happening right now. Tomorrow is the release, and Fatima says, "We are not nervous at all. We are not feeling anything. We are numb." And Sanya supports her completely while she remembers her last day of the shoot, "I started crying because I was with the crew for last one year. So it was a very sad feeling. Right now also, I don't want the film to release because I don't want to leave." And Fatima quickly adds, "She doesn't want to leave me. She loves me and she will miss me. I am very important to her." (Laughs)

Both revealed how they went on to become good friends during the making of Dangal. The level of comfort between Aamir Khan and the two girls will instantly give you just another reason to watch Dangal. Both are not at all intimidated by Aamir Khan anymore.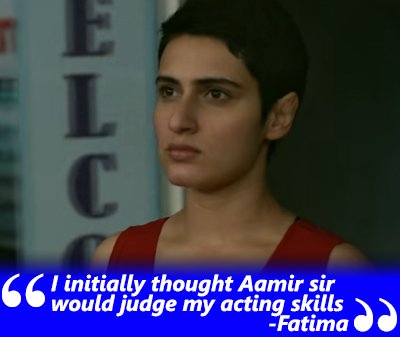 Image Source: youtube/UTVMotionPictures

While Sanya was not nervous at all, Fatima confessed, "I was nervous only during the first scene of the film with Aamir sir and Sakshi mam. I was scared that they might judge me. After all the training and sessions for 6 months, I thought when I give my first shot and deliver the dialogue, they will say- Is Ladki ko liya hai, ye karegi?"

Working with Aamir Khan is a dream come true and I had to ask them which was the first movie they saw of the actor and they both mutually agreed on 'Hum Hain Rahi Pyaar Ke'. Fatima and Sanya never thought they would work with Aamir Khan in their debut movie! While Fatima aspired to become a wrestler in her childhood as she used to watch a lot of WWE and was in awe of Undertaker; Sanya always wanted to be an actor!

Post the shoot of Dangal, Fatima and Sanya are interning with Aamir Khan aka AK (as they call him). "So what's AK's most annoying habit?" I asked.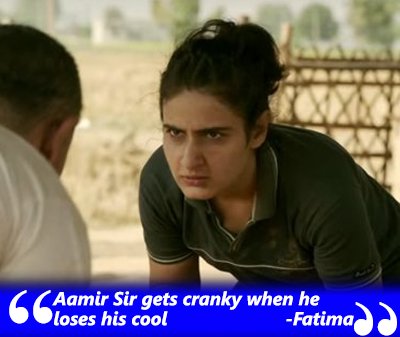 Image Source: youtube/UTVMotionPictures

"When he loses, he becomes very cranky," said Fatima. While Sanya said, "He keeps touching his beard always. It is irritating and we tell him also-Kya Kar Rahe Ho Sir?"

I added if AK was helping them build network and meet other actors in the industry, to which Fatima said, "That's not our agenda. We are a part of his work schedule and we observe what he does. He's meeting people for his work and we are just around."

There were rumours that Fatima and Sanya were dating each other, so what's the full story? Fatima controlling her laughter, "Sorry to disappoint but we are not dating each other. We are very much single but we can go on dates. Now that the film is over, we have a lot of time."

The girls have interviews lined-up, life has changed for them, they are now busy, so I quickly asked them if they have seen Sultan and both confessed, "Yes, and we loved it". But they are not at all worried about the comparisons with Sultan as they feel both are different movies with one common background 'Wrestling'.

Which brings me to my next question, who is their favourite Khan? While Fatima's favourite is Shah Rukh Khan, Sanya is in awe of Aamir Khan.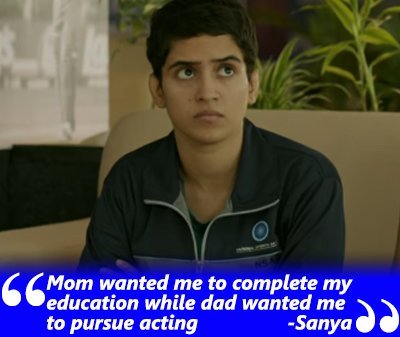 Image Source: youtube/UTVMotionPictures

And what was their parent's reaction when they decided to join Bollywood? (I had to know because they say that Bollywood is one big bad world). Fatima says, "My mother put me in acting. I was very young and she took me to these auditions and I got the film. Since then, I have been acting." and Sanya said, "My parents were very supportive. I am from Delhi and I used to dance professionally because there are no acting opportunities in Delhi as such. My mother wanted me to finish my post-graduation but my father said you go to Mumbai and pursue acting."

Seeing their dedication and sincerity, I was curious to know what was more important to them– career or family, to which Fatima said, "That's a personal choice. I want to work right now and marriage is not my priority." While Sanya said that she can balance out her career and family life easily.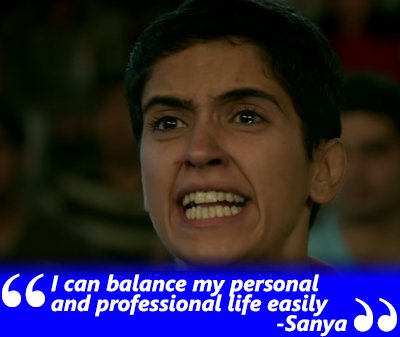 Image Source: youtube/UTVMotionPictures

Later, when I asked them if girls should learn wrestling to protect themselves, Fatima said, "I don't think a situation should come wherein a girl needs to protect herself. We should have a society where you are not threatened by anybody. We should work towards a better society and not be in the defending position."

Fatima and Sanya's chemistry is adorable and they have an innocent charm. They might not appear as the most glamorous girls around but definitely have a hint of grace. A certain level of excitement indicating that they are on the verge of making it big...hope you guys know these girls a little more now than what you did at the start of the article.


Thumbnail Image Source: APH Images