Aayush Sharma On Son Ahil: He Carries A Tag Of Being Salman Khan's Nephew. Loveratri Actress Warina Hussain Joins In
In an EXCLUSIVE chat with SpotboyE.com, Salman Khan's brother-in-law, Aayush Sharma and Warina Hussain spoke at length about their upcoming film Loveratri and the upcoming actor opened up on many things including Tubelight and Race 3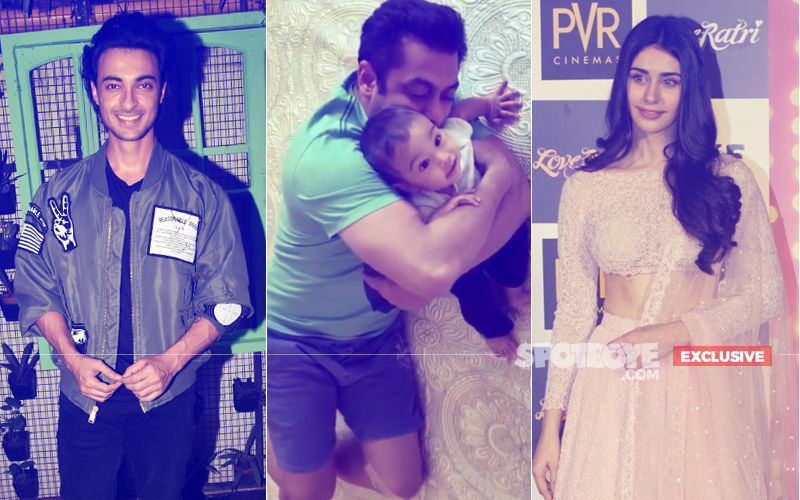 Last week, I caught up with the star cast of Loveratri – Aayush Sharma and Warina Hussain who are debuting with Salman Khan Films' upcoming movie. During the interview, I took the opportunity to ask Aayush about his film, his wife Arpita Khan Sharma, his brother-in-law Salman Khan and his cute li'l son Ahil Sharma. I started the conversation with Warina asking her how she was approached to be the leading lady in Salman's production. She replied, 'While I was modelling, I was auditing for movies as well. Aise hi auditions ke beech mein, I got a message that I had to send an introduction video to Being In Touch app. After a month I got a call from Mukesh Chabra (casting director)."

Talking about their first meeting and how they reacted when they came to know that they are going to work each other. Aayush replied to the question saying, "We didn't. Before shooting we had met for rehearsals. The first time I met her was, when she was almost locked for the film." Further talking about if they already knew each other before shooting for the film, superstar's brother-in-law said, "Honestly, I didn't know her. I had seen her dance videos, and I was like, she is from Afghanistan and will she be able to play Gujarati ladki and will she play Garba?" Warina continued saying, "That was a scene when I Googled his name. When I came to know he's a businessman, so I was like if he's making a movie for himself."
We also asked Aayush how it feels to be launched with SKF and which production house he would have wanted to be launched with if not SKF. Aayush Sharma also revealed what were the dos and don'ts that the Dabbang star had given him while shooting his debut film. Aayush also spilled the beans over what Salman and his father Salim Khan told him after watching the film.

Not only this, the upcoming actor also spoke about the nepotism. The actor said, "Yaa, nepotism rocks. I was the one who was running the hashtags."

Apart from asking him questions about his film, we also spoke about his son Ahil's bonding with his Maamu jaan Salman Khan.
A few days back, we brought you what Aayush said when we asked him about the rumour of Katrina Kaif refusing to do a film with him. "We can't do a film together, for obvious reasons." Further, talking about his son Ahil, the upcoming actor said, "Today he carries a tag of being a Salman Khan's nephew, if he goes to school being known as Aayush Sharma's son, That's going to be a more happy moment for me. So, I want him to be a proud son, walk around with his head held high," he had said in the same interview which we bring to you in full now

Well, listen to the fun conversation where he also spoke about Salman Khan's last two films- Tubelight and Race 3.


Image Source: prokerela, newkerela