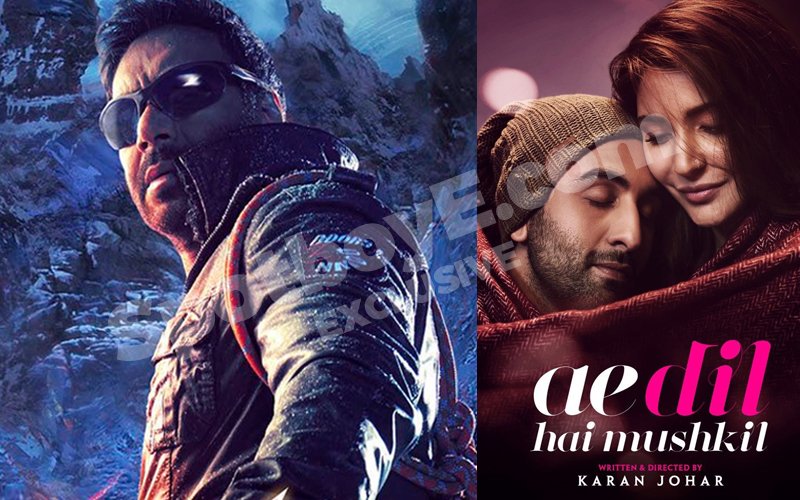 Your browser does not support the video tag.
Ajay Devgn's Shivaay is just few weeks away from clashing with Karan Johar's Ae Dil Hai Mushkil on the box office. The stage is set for a heated battle but Ajay is relaxed.

In an exclusive chat with SpotboyE.com, the actor-director opened about his relationships in the industry, Shivaay and lots more...

Was Shivaay difficult to make?
Not difficult, but tough. After I decided to make the film, my team said: 'You've designed it in such a way... how are you going to pull it off? It doesn't seem practical.' But touch wood, I have been lucky.

The shoot went off smoothly even though we had designed some very difficult sequences. It was tough because we were shooting in -25/ -30 degrees in locations jahaan na koi baithne ki jagah thi--- my team supported me a lot; they thought of Shivaay as their film.



Image Source: twitter/ajaydevgn

Shivaay is mounted on a huge budget...
It's a big film, not a big-budget film. If you compare its budget to any other big film, it's the same. For instance, if you are making a film with a budget of Rs 10 crore, you will spend Rs 5 crore on the star cast and the director, then you only have Rs 3 to 5 crore to make the film.

For this film, if I had Rs 10 crore to spend, I put the entire 10 into making the film. I haven't taken any fees for myself, and other actors have practically worked for free as they were newcomers. This, in turn, makes Shivaay the most expensive film ever shot. But we haven't gone over budget.

How comfortable were you directing Shivaay as your earlier directorial U Me Aur Hum belonged to a completely different genre?
The technical aspects of shooting a film come naturally to me. Besides that, the dramatic bits worked out well. Even the action in the film has an emotional connect to it. You will not see cars flying in the air. It is shot on a large scale but it's realistic.



Image Source: youtube/t-series

How did you finalize the cast?
Casting was very tough. It took me more than 8 to 9 months to cast, as it's a performance oriented film. Most of my cast was not supposed to be Indian, so I was casting all over the world. I am very lucky to eventually have found this cast because when you'll see the film, you will realize that the performances are stellar.

What about Erika Kaar and Sayyeshaa Saigal?
Erika is fabulous! She is not only very real and pretty but a good performer too. She is someone who didn't need make-up, which is exactly what I wanted. I feel make-up is 'fake'. Your expressions and inner beauty gets concealed in make-up. Beauty should be rooted in reality. People are more lovable and look prettier when they are real. When I did her screen test, she turned out to be a great actress too. And that's exactly why she is in the film.

Sayyeshaa again was a tough call because I wanted a young girl, new face, someone who looked good but could perform too.. When I screen tested Sayyeshaa, she was raw but she had the potential. So we decided to go ahead with her and worked on her. She has come out fabulous in the film.

Let me add here that we got really lucky with the most important character in the film, which is the child (Abigail Eames). I challenge anybody to find a better performer than her.



Image Source: twitter/ajaydevgn

Shivaay is clashing with Ae Dil Hai Mushkil. Nervous?
I am not tense about anything. I know my film.

But when two films clash, people end up going for one...
That is the moviegoer's call. They will choose the better film.

If you're nominated as the Best Actor/Best Director for this film, will you go to the award function in question?
Where? It depends where am I nominated. Are you talking about the National Awards or the rest of the commercial awards?

Commercial awards...
No, I won't go.

Why?
Because they are commercial awards. They are functions which end up becoming TV shows.

Why have you taken this stand while your contemporaries queue up for such shows?
How does it matter? If they think it's right for them, they should go ahead with it. I am nobody to judge who is right or who is wrong! I do what suits me. I can't be happy and satisfied by manipulating my way to an award, especially when I know that I don't deserve it. It all depends on what your priority is.



Image Source: Manav Manglani & twitter/karanjohar

So what's next on the production and direction front?
Right now I am concentrating on Shivaay. Then I'll start Baadshaaho. On the production side, we are starting a film with Kajol, post which I'll start with Golmaal 5.

Coming back to Shivaay. The box-office clash can have an adverse impact on your relations with industry peers...
What relationships are you talking about?

Your relationship with the rival film's banner (Read: Ae Dil Hai Mushkil) which releases with you?
There is no personal clash. Everyone is making films and everybody is releasing their films. So if two films release on the same day, how does it matter? If the two films in question are nice, both will work. And, whichever is better will earn more.


Thumbnail Image Source: twitter/karanjohar & ajaydevgn