Alaya F On Winning Filmfare Best Debut Award: 'My Mother Was Asleep, Next Day She Scolded Me For Not Waking Her Up To Share The News'- EXCLUSIVE
Alaya F speaks on her recent Best Debut Female Award at the 66th Filmfare Awards for Saif Ali Khan and Tabu-starrer Jawaani Jaaneman, her debut music video, Aaj Sajeya and what's in store for her now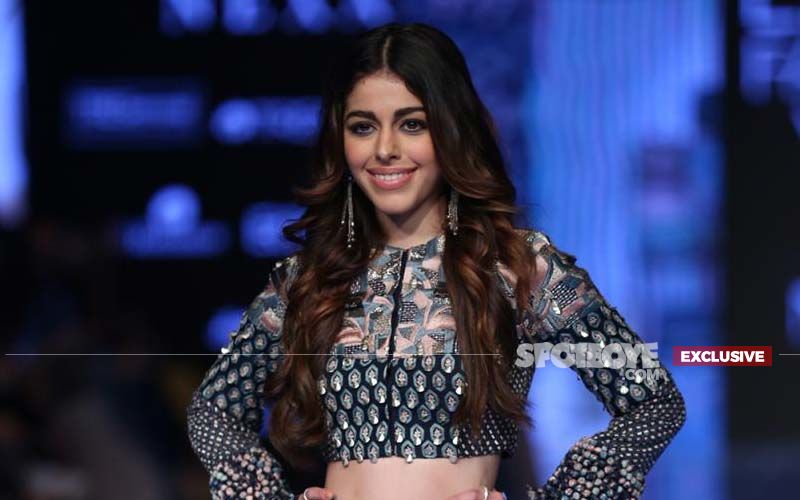 Alaya F made a promising debut last year as a daughter looking for her father in Saif Ali Khan and Tabu-starrer Jawaani Jaaneman. The newbie got rave reviews for her performance but Covid and lockdown played spoilsport in her journey.
However, Alaya seems to be having a good 2021 as she got her first award for Best Debut Female at the recently concluded 66th Filmfare Award, followed by the release of her debut music video Aaj Sajeya with Taaha Shah Badussha, and the actress is over the moon.
In an exclusive chat with Spotboye.com, Alaya talks about her win, the celebration that followed, her experience of working on Aaj Sajeya and more. Read excerpts from the interview:
How was it winning your first Filmfare Award?
It is a feeling that I can't even describe, as I wasn't even sure if there would be a Filmfare Awards this year due to the pandemic. I was afraid of missing out on such big things as it is something that I really wanted. Best Debut is an award that you get only one chance at; you get it or you don't, there's no second shot at it. And the Filmfare Award was right at the centre of my vision board that I see every morning after waking up.
Sometimes, I still can't believe that it has happened. At those times, I go back to see all my photos and videos from the event to make myself believe it again. It's like a stamp of approval on the work that I have done. It's such a special feeling that has motivate me a lot more that I am setting a couple new goals for me now.
Your social media indicates that you are keeping the trophy close to you at all times…
I didn't leave it for a long time after the win. I have come to Kerala for a brief vacation as I was so pumped with everything going around me. It's a small Ayurvedic holiday in Kerala and I am missing it terribly already. Before leaving I had said a big bye to it. I don't ever want to let go of it. I put up shelves on my wall the day I got to know Filmfare was happening. I just thought I am going to manifest it even more and these shelves are going to be just for that.
How did the celebrations with your parents go?
Both my parents were so proud and overwhelmed that they were crying. I didn't even tell them that the awards were happening as it meant so much to me and I was scared of not winning. Although, I was confident that I did the best I could in my first film.
The moment I sat in my car after winning the award, I recorded a video to send both my parents. My father saw it immediately and called all excited and overwhelmed, but my mother was already asleep, so she only saw it the next day. She called me the next day and started by scolding me saying this is the kind of stuff I need to wake her up in the middle of the night for, even if it means calling hundreds of times. The next day, she flew in to surprise me while I was celebrating at my dad's. As for wishes from other people, I haven't got these number of messages for all my birthdays combined as I have got for this win.
How did your Holi go this year with the win under your belt?
Holi was extremely special this year and I think black will be my favourite colour for a long time after this win.
Your mother, Pooja Bedi, was also an actress but she never got to win the coveted black lady. Does your win kind of fulfils her dreams too?
My mother's career in this industry has been very interesting as it wasn't her first goal to become an actress. She sort of fell into it due to the circumstances, the money and the offers she was getting. It was never a great passion of hers, although she did enjoy it a lot. However, that mad passion that goes with this profession is what she loves seeing in me and that's why she believes that I have good potential in this industry. She was proud regardless as she is always proud of me for any and everything. She has seen my movie way more times than I have and trust me, I have watched it a crazy number of times.
Does this win instil a sense of responsibility regarding your future choices?
Right after the win, someone said to me that since now I have won this award, the whole country would be looking at me on how I make my next choices. I was a bit surprised as I hadn't thought that way yet. However, every time I stress out, I go and do some classes. So, till the time I am giving my 110 percent every day, doing my work respectfully, honestly and without stepping on anyone, then I feel I will have my peace of mind. Later on, in life, I wouldn't have to look back at my choices and think I could have done more. So, this is what I do whenever such thoughts cross my mind. And as for my choices, I have very different and exciting roles in my upcoming line up.
Your on-screen dad, Saif Ali Khan, also won an award the same night as you. Was it a double celebration for the duo?
It was amazing. The next day he messaged me to congratulate and I replied to him, you too. Saif sir has always been the best, the most supportive and encouraging person. The whole night got so special with him winning too, and it will surely go down in my memories as one of my favourite nights.
Your on-screen parents from Jawaani Jaaneman, Saif and Tabu, both also won the Filmfare Best Debut trophies…
Oh really…That's too good to know. I didn't even know this but I am going to use it now everywhere.
You recently featured in your debut music video, Aaj Sajeya with Taaha Shah Badussha. How was your experience different than being on a film set?
Here we had two days to shoot the whole video and it felt so good as before this, I had got maximum four hours for any song. I had the luxury of time and it felt great. However, there were certain things that you think won't be so hard but end up being really challenging. The thing I struggled the most with was giving beauty shots as I didn't know how to do it. I have never learnt how to give beauty shots. You can go to an acting, dance or even kickboxing class but where do you learn to give beauty shots? Every other time on set, everyone would say don't care how you look and just act, whereas here, I had to worry about how I was looking. I learnt a lot actually while shooting this video though.
You play a new-age bride in the video who chooses sneakers over heels for her wedding. Does the video give you any goals for your wedding, whenever that happens?
I really am that kind of girl even now. If I have to go to any event wearing Indian clothes, 90 percent of the time I am wearing high heel sneakers or heeled boots. They are far more comfortable than heels.
It was a dream team on the video with Punit Malhotra, Dharma Productions, Sa Re Ga Ma involved, Manish Malhotra sir doing my clothes and Mickey Contractor sir doing my makeup. The concept was so modern and contemporary and I could relate to it personally. It was like a wedding that my character in Jawaani Jaaneman, Tia, never got. It was even in tune with that character as even Tia was a lot like me and so was this character in the video. All of the people on set had so much fun shooting for it, and I even read a comment on the video that said, "I think it is reality not a shooting".
You did a music video with Dharma, so any film with them on the cards?
Umm… I don't know what I am supposed to say to this.
When will your fans get to see you on screen next?
I still have five days of shoot left for my second film, that are left from before the lockdown. But soon there should be a few announcements. My fans should be seeing me this year on screen hopefully.

Image source: Instagram/alayaf/poojabediofficial/SpotboyEarchives